Brentwood Real Estate

Brentwood lies in the heart of the Westside of Los Angeles, burrowed in the slopes of the Santa Monica Mountains. It is just far enough from the bustle of the city while being close enough to the beach and with Hollywood just around the corner. An idyllic destination, Brentwood's main streets are San Vicente Boulevard, Wilshire Boulevard, and Sunset Boulevard.
A sanctuary for its residents—who range from high-profile individuals and Hollywood A-listers to affluent families and UCLA students and faculty— Brentwood is a microcosm of Los Angeles culture. Neighborhoods within Brentwood include Brentwood Park, Brentwood Country Estates, Brentwood Circle, Brentwood Glen, Crestwood Hills, Mandeville Canyon, and Kenter Canyon. Brentwood real estate features an array of mid-century modern, Spanish Revival, Cape Cod, and Tudor-style homes.
Residents and tourists can find the area to be quite commercially driven, with its high-end boutiques and trendy restaurants, but it offers the utmost privacy as well. The area has the perfect blend of suburban comforts, a luxurious yet relaxed lifestyle, and a surprisingly hip vibe. When the neighborhood was developed at the turn of the century, it hosted several of the 1932 Olympic games. Rich in Hollywood history, Brentwood is now home to sprawling upscale single-family residences with impeccably manicured lawns, the Getty Center, and several hiking trails.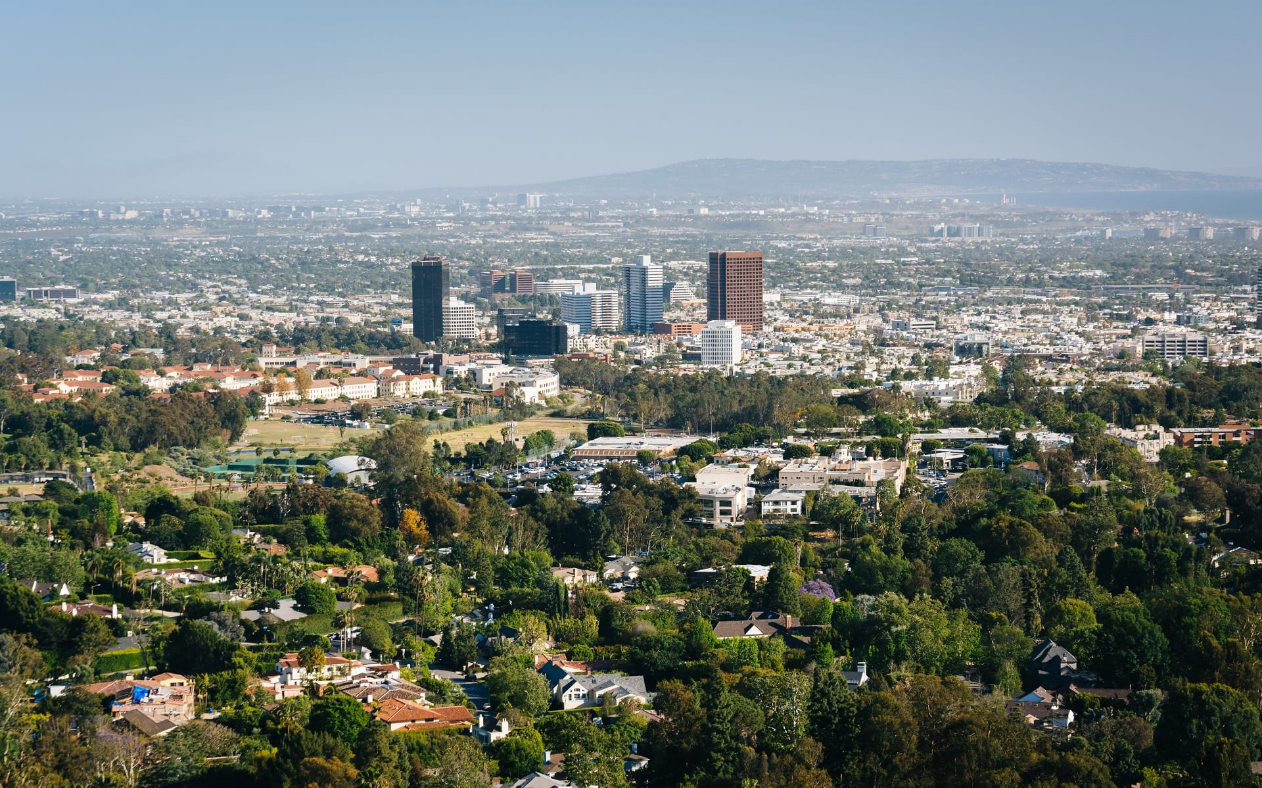 Local Favorites
Brentwood Country Club

590 S Burlingame Ave, Los Angeles, CA 90049
A favorite among writers ans studio execs, 'deceptively challenging' but with a family atmospere, beautiful pool and tennis courts.

VIEW WEBSITE

The Getty Center

1200 Getty Center Dr, Brentwood
A cultural and philanthropic institution dedicated to the presentation, conservation, and interpretation of the world's artistic legacy. The Getty is one of LA's most visited museums with permannet and revolving exhibits from the collection of the J. Paul Getty Trust.

VIEW WEBSITE

Brentwood Country Mart

225 26th St, Santa Monica, CA 90402
The Brentwood Country Mart is a local shopping village in the Brentwood

VIEW WEBSITE

Skirball Cultural Center

2701 N Sepulveda Blvd, Los Angeles, CA 90049
This contemporary facility offers Jewish historical exhibits & a range of courses, readings & talks.

VIEW WEBSITE

Geffen Playhouse Theatre

10886 Le Conte Ave, Los Angeles, CA 90024
The Geffen Playhouse is a not-for-profit theater company founded by Gilbert Cates in 1995, and produces numerous theatrical and dance related performances each month

VIEW WEBSITE

Brentwood General Store

1230 Montana Ave #108, Santa Monica, CA 90403
Cozy boutique carrying an assortment of gifts, fragrances, jewelry & housewares, plus gourmet foods

VIEW WEBSITE

Baltaire

11647 San Vicente Blvd, Los Angeles, CA 90049
A contemporary restaurant with classic genes, Baltaire is where to enjoy lunch or brunch in the sun and dinner under the stars. It's the perfect place for cocktails and conversation or an intimate dinner any night of the week

VIEW WEBSITE

Compartes Chocolatier

10250 Santa Monica Blvd #1625, Los Angeles, CA 90067
Indulge in artisanal chocolates by Jonathan Grahm. Offering over 100 varieties of chocolates – all made in-house – the luxurious chocolate combine natural ingredients, unique flavors, and high design aesthetics.

VIEW WEBSITE

Tavern

11648 San Vicente Blvd, Los Angeles, CA 90049
Clear your dinner plans and head over to Suzanne Goin and Caroline Styne's acclaimed Tavern, a true destination restaurant that has attracted everyone from local foodies to President Obama

VIEW WEBSITE

Pizzano

11712 San Vicente Blvd, Los Angeles, CA 90049
Pizzana is what happens when Neapolitan-style pizza meets sweet treats, all thanks to Candace and Charles Nelson of the Sprinkles Cupcakes empire, and their partners, Chris and Caroline O'Donnell.

VIEW WEBSITE

Katsuya

11777 San Vicente Blvd, Los Angeles, CA 90049
Combining the service and quality of a fine dining restaurant with the lively energy and casual vibe of a neighborhood hotspot

VIEW WEBSITE

Jon & Vinny's

11938 San Vicente Blvd, Los Angeles, CA 90049
Jon & Vinny's has long been heralded as a red sauce staple, this famed location also houses a snappy wine list from Helen Johannesen.

VIEW WEBSITE

Mount Saint Mary's University, Los Angeles

12001 Chalon Rd, Los Angeles, CA 90049
Mount Saint Mary's University is a private, Catholic liberal arts college, primarily for women, in Los Angeles, California. Women make up ninety percent of the student body.

VIEW WEBSITE

Brentwood Science Magnet

740 S Gretna Green Way, Los Angeles, CA 90049
Lauded one of LAUSD's best Elementary schools, with a strong Science leement

Paul Revere Middle School

1450 Allenford Ave, Los Angeles, CA 90049
Consistantly meets a 9/10 ranking each year.

VIEW WEBSITE

Brentwood School

100 S Barrington Pl, Los Angeles, CA 90049
Brentwood School is an independent, secular K-12 coed day school with two campuses located four blocks apart in the Brentwood neighborhood of Los Angeles, California, United States. The school is regarded for academics, arts, and athletics.

VIEW WEBSITE

The Archer School for Girls

11725 Sunset Blvd, Los Angeles, CA 90049
The Archer School for Girls is an independent, college preparatory girls' school, grades 6–12, located in West Los Angeles, California, United States. Archer currently enrolls 490 students from 79 different zip codes and 141 feeder schools.

VIEW WEBSITE

Milken Community High School

15800 Zeldins Way, Los Angeles, CA 90049
Milken Community Schools, colloquially Milken, is a private Jewish high school and middle school

VIEW WEBSITE

Berkeley Hall

16000 Mulholland Dr, Los Angeles, CA 90049
Berkeley Hall School is a coed independent school for grades Nursery through 8th located on 66 acres off Mulholland Drive near the 405 Freeway in Los Angeles, California, US. The school is accredited by the California Association of Independent Schools and the Western Association of Schools & Colleges.

VIEW WEBSITE