Hollywood Real Estate
Engrained in its unrivaled entertainment mecca, cultural identity, and historical significance as the birthplace of American cinema, Hollywood emanates authentic prestige that everyone from young professionals to wealthy families to actors, musicians, and entertainers yearn for. Residences in this vibrant community are some of the most luxurious and sought-after not just nationwide, but globally.
Whether walking along the famed Hollywood Boulevard, or admiring the Dolby Theater where the Oscars are held year after year, it is impossible not to feel like you are walking on the red carpet.
To live in Hollywood is to live in the midst of it all – from the numerous historic music venues, arguably Los Angeles' most popular hiking trail boasting panoramic city views known as Runyon Canyon, celebrity hotels, and an endless parade of the most charismatic and unique entertainers and performers. Hollywood living offers an unparalleled combination of amenities and experiences that enhances, empowers, and elevates life.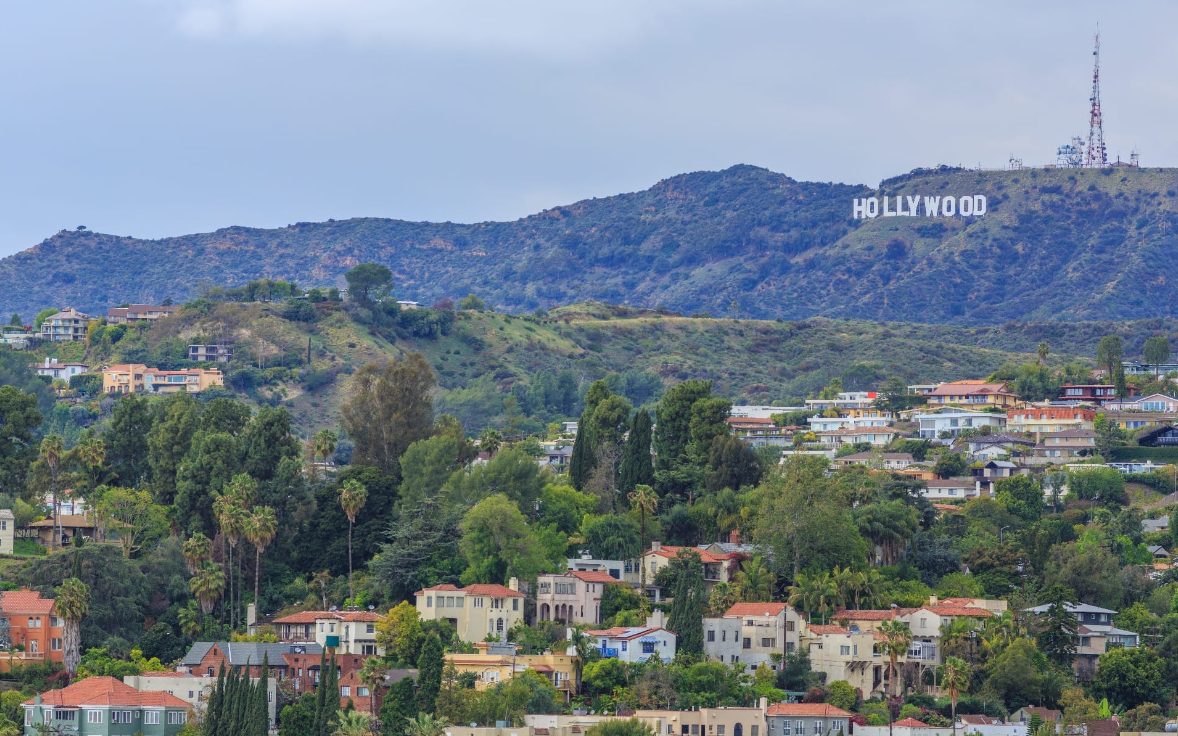 Local Favorites
El Compadre

7408 Sunset Blvd, Los Angeles, CA 90046
Eatery dishing out Mexican fajitas, tacos & margaritas in a casual, colorful environment.

VIEW WEBSITE

Bonhams

7601 Sunset Blvd, Los Angeles, CA 90046
Bonhams is a privately owned international auction house. Founded in 1793, it is one of the world's largest and most renowned auctioneers of fine art and antiques, motor cars and jewelry.

VIEW WEBSITE

Frolic Room

6245 Hollywood Blvd, Los Angeles, CA 90028
Photos of movie stars deck the walls at this historic, no-frills bar, famous for its jukebox.

Trejo's Coffee & Donuts

6785 Santa Monica Blvd, Hollywood, CA 90038
A coffee & donut shop from Mexican-American actor Danny Trejo, with inventive fritter flavors.

VIEW WEBSITE

Pink's Hot Dogs

709 N La Brea Ave, Los Angeles, CA 90038
Creatively topped dogs (some named for celebrities) draw long lines at this historic roadside spot.

VIEW WEBSITE

Just One Eye

915 N Sycamore Ave, Los Angeles, CA 90038
Plush gallery & boutique in Howard Hughes' old digs for designer clothes, jewelry & art.

VIEW WEBSITE

The Hollywood Roosevelt

7000 Hollywood Blvd, Los Angeles, CA 90028
iconic hotel

VIEW WEBSITE

Supervinyl

900 N Sycamore Ave, Los Angeles, CA 90038
Lovingly curated vinyl records and turntables, Hollywood California.

VIEW WEBSITE