Venice Real Estate

Originally a beach resort set on two miles of oceanfront property, Venice is now among LA's hottest neighborhoods and is a top global tourist destination. In good company, Venice is adjoined northwesterly by Santa Monica, northeasterly by Culver City, Del Rey and Marina Del Rey, southerly by Ballona Creek, and westerly by the Pacific Ocean. Known for its canals, beaches, and classic Southern California architecture, Venice is one of Los Angeles' most vital beach communities. Booming with modern architectural homes built along the boardwalk with panoramic views of the Pacific Ocean as well as newly developed luxury apartment complexes, property in Venice continues to be among the most highly sought-after in LA. While the lots are traditionally smaller in size, the homes are impeccably designed, perfectly blending the sensibilities of a beach town and an eclectic urban hub.
The Venice Boardwalk—a nearly three-mile stretch of a pedestrian promenade boasting an endless parade of the most charismatic and unique entertainers and performers—is the city's most well-known tourist attraction. Abbot Kinney Boulevard attracts a plethora of artists, restaurateurs, and designers, as well as new and high-end businesses. The neighborhood maintains a vibrancy and creative spirit unlike any other area in Los Angeles. Venice can be an entertainer's dream or the ultimate sanctuary.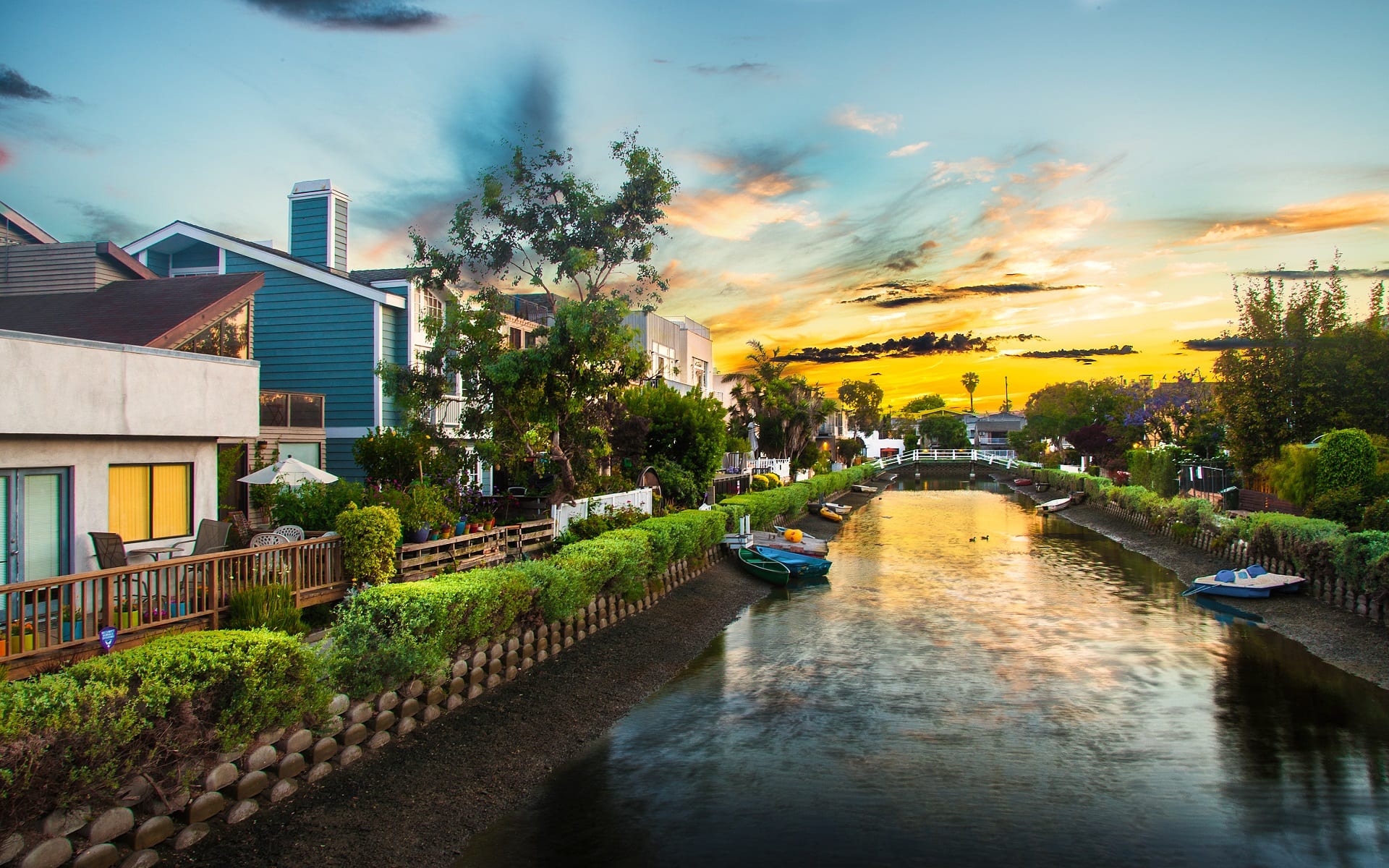 Our Showcase
Sold Properties
Our Showcase
Sold Properties
640 Milwood Ave | Venice
Radius House is a context-specific, architectural residence and the first ground-up residential project by the Los Angeles-...
605 Westminster Ave | Venice
Welcome to Westminster Place, founded in 1912, a historic, private compound of 8 newly renovated bungalows that retain the ...
241 Carroll Canal | Venice
Breathe in the ocean air in this incredibly rare find located in the Venice Canal. This 5 bed / 3.5 bath contemporary home ...
2310 Strongs Dr | Venice
LEED certified modern Mediterranean w/one of the biggest backyards on the Canals.Spectacular outdoor spaces w/rare 35ft d...
237 Windward Ave | Los Angeles
This newly constructed Robert Thibodeau designed architectural masterpiece is located in the heart of Venice just steps fro...
720 Indiana | Venice
Prime Venice significant architectural compound with pool.Upon entering this home, one is immediately struck by the lack of...
Local Favorites
Gjelina

7 Abbot Kinney Blvd, Venice, CA 90291
This Venice destination restarant still performs year after year, head chef Travis Lett sperheads this 'be seen location as well as the amed GTA next door.

VIEW WEBSITE

Great White

1604 Pacific Ave, Venice, CA 90291
A restaurant that served local produce, was built by the owners hands and would become a hub for the creative, inspiring people that lived in the area.

VIEW WEBSITE

Hama Sushi

213 Windward Ave, Venice, CA 90291
Established in 1979, Hama Sushi can be traced back in time to being one of the first sushi restaurants on the westside. Known for it's unique ambience and casual setting it remains a Venice favorite.

VIEW WEBSITE

Shuhari Matcha Cafe

1522 Abbot Kinney Blvd, Venice, CA 90291
Authentic, organic, pure Japanese matcha and a variety of highest quality green tea fresh from Japan, to your cup

VIEW WEBSITE

The Butcher's Daughter

1205 Abbot Kinney Blvd, Venice, CA 90291
From juices and "wellness lattes" to cauliflower grits and an entire section of the menu devoted to avocado toast, everything about it is a California cliché but is a welcome Oasis for vegeatrians and vegans alike.

VIEW WEBSITE

Le Magazyn

904 Pacific Ave, Venice, CA 90291
Focusing on mindfully-made goods from Brazilian-bred artisans, this new boutique and art gallery offers an eclectic range of handmade clothing, footwear, accessories, jewelry, home furnishings, art, and decor.

VIEW WEBSITE

Aesop

1504 Abbott Kinney Blvd, Venice, CA 90291
Meticulously formulated products containing ingredients of the highest quality. Superlative head-to-toe care created with efficacy and sensory pleasure in mind

VIEW WEBSITE

Alexis Bittar Jewelry

1612 Abbot Kinney Blvd, Venice, CA 90291
Best known for hand-carved lucite bangles, designer of the year Alexis Bittar is the eponymous name of the jewelry brand.

VIEW WEBSITE

Shinola Detroit

1623 Abbot Kinney Blvd, Venice, CA 90291
The Los Angeles neighborhood of Venice is known for its beautiful beaches, eclectic shops and bohemian spirit.

VIEW WEBSITE

General Store

1801 Lincoln Blvd, Venice, CA 90291
General Store is an arbiter of beautifully well-imagined works from the creative minds of many inspiring craftsmen, bringing thoughtful, functional design to our local community and abroad.

VIEW WEBSITE

Linus Bikes

1817 Lincoln Blvd, Venice, CA 90291
Venice boasts the flagship store of this much coveted bike store, along with carefully created leather accessories, a bike ride is not compete in Venice if your not riding one.

VIEW WEBSITE

Nick Fouquet

2300 Abbot Kinney Blvd, Venice, CA 90291
Beloved by hat lovers like Pharrell, Madonna, and Bob Dylan, Venice milliner Nick Fouquet crafts handmade toppers — each finished off with his signature matchstick — with a beachside bohemian vibe.

VIEW WEBSITE

Venice Muscle Beach

1800 Ocean Front Walk, Venice, CA 90291
This famour outdoor voyeuristic gym is home to chiseled bodybuilders, where curious onlookers can watch from outside the fence of the postmodern, dumbell-shaped building or from the stands at the competition stage.

VIEW WEBSITE

Venice Canals

Venice, CA 90292
Take a stroll through these three canal-lined blocks—hence the name, Venice—and you'll discover an idyllic scene: arching pedestrian bridges, charming beach houses, bunches of ducklings

Venice Skate Park

1800 Ocean Front Walk, Venice, CA 90291
When surfers were bored with flat waves—like Venice's legendary Z-Boys—they took to the sidewalks and thus birthed skateboarding in the process, now this more modern park has easily become one of the worlds most iconic skate hangouts.

VIEW WEBSITE

2308 Grand Canal, Venice CA 90291

51 27th Ave, Venice, CA 90291