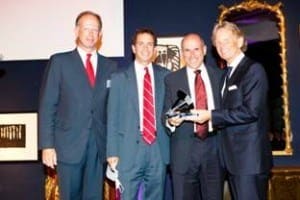 Jeff Hyland Accepts Trophy at the Christie's International Real Estate Network's 2011 Global Annual Leadership Conference in London
London, U.K. — Christie"s International Real Estate, the world"s leading network of luxury real estate specialists, presented the Affiliate-of-the-Year Award, Large Market Category to Hilton & Hyland Real Estate of Beverly Hills, California. The real estate brokerage—a member of the Christie"s International Real Estate network of 130 international Affiliates—was presented the trophy at the 2011 Global Annual Leadership Conference in London.
"Hilton & Hyland was one of the original affiliates in the Christie"s International Real Estate network," says Neil Palmer, Chief Executive Officer. "The company had an unprecedented two closings last year from our highly-specialized Bespoke Marketing Program: Frank Lloyd Wright"s Ennis House in Los Angeles and Porcupine Creek in Rancho Mirage, California. Our winner then trumped those two sales by closing the network"s top sale of the year: Petra Ecclestone"s $85 million purchase of Candy Spelling"s Holmby Hills Estate. Rick Hilton and Jeff Hyland represented seller and Rick Hilton and David Kramer the buyer."
The Affiliate-of-the-Year Awards recognizes excellence in branding and marketing throughout the Christie"s International Real Estate network. Top brokerages are selected in small (population less than 275,000), medium (population in online casinos between 275,000 and 1,750,000), and large (population over 1,750,000) markets. The overall Affiliate-of-the-Year is chosen from the three winners in the market categories.
The recipient of the small-market award was Jackson Hole Real Estate Associates, while the winner of the medium-market award was Profusion Realty of Montreal, Canada. The other finalists across the three categories included Fenton Lang Bruner & Associates of Jupiter Island, Florida; Wetag Consulting Immobiliare inLocarno, Switzerland; Premier Estate Properties of Boca Raton, Florida; Residence Fastighetsmämaklerifrom Stockholm, Sweden; Long & Foster Real Estate of Chantilly, Virginia; and Harry Norman, Realtors, in Atlanta, Georgia.
Submissions were received from all corners of the international network, which is comprised of the world"s top luxury real estate brokerages. The Senior Vice Presidents of Christie"s International Real Estate—Kathy Coumou of Northeastern USA and Canada; Rick Moeser, who oversees the Southeast, Caribbean, Central and South America; Zack Wright, in Western North America and Western Mexico; and Joachim Wrang-Widèn, who manages the EMEA region—were also charged with nominating worthy brokerages from their regions.
The Senior Vice Presidents make the first cut and the finalists are then sent to the company"s Executive Management Committee. This is a group that includes Mr. Palmer; Jarvis Slade, Managing Director, Americas; and Mitch Lewis, Managing Director, Asia Pacific. This group decides on the finalist order.