On Angelo Drive in Beverly Hills, a legendary estate once home to Hollywood stars and later owned by Microsoft co-founder Paul Allen returned to the market with plans that would dramatically reshape the prized property as a sustainable compound.
Hilton & Hyland real estate specialist Jesse Lally, who is co-listing the $95-million property with Jeff Hyland and Zach Goldsmith, said that his team wanted to find a creative way to both rebrand the estate. Lally said that the new plans for the property, which was once home to cowboy film star Fred Thomson and his wife, Oscar-winning screenwriter Francis Marion, are now in line with a "buyer mentality" has shifted during the global pandemic.
"What today's affluent buyer wants, particularly among the younger homebuyers, and what they want to build for future generations has evolved," Lally said. "The idea of being able to create a self-sustaining lifestyle within a single property is the new normal, and even more so when dealing with ultra-high-net-worth individuals."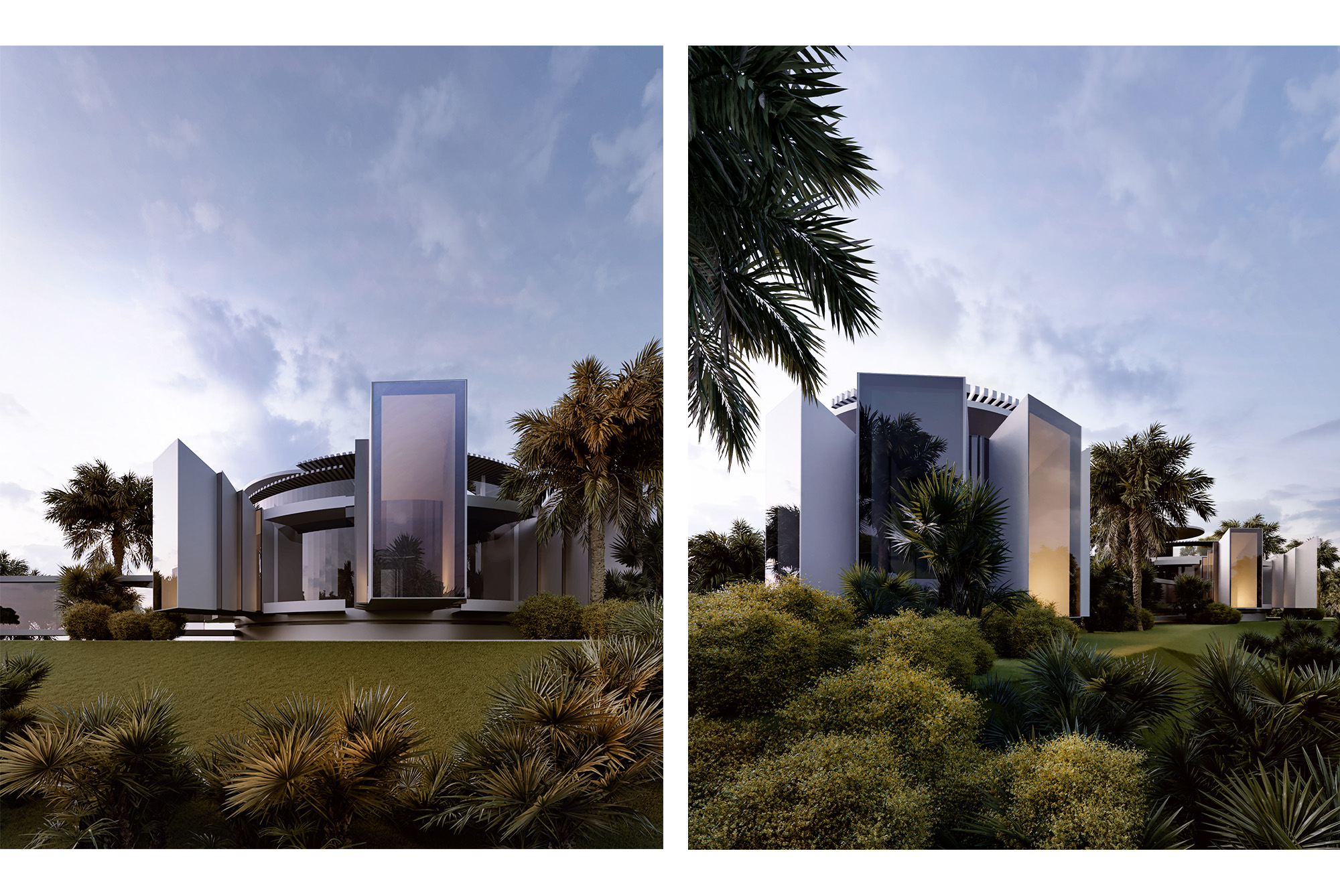 From the start, Lally knew he needed to find someone with the vision to realize a sustainable project of this magnitude. He first sought out creative minds at local universities to work on the project and later solicited the help of the USC School of Architecture to get students involved.
His breakthrough came last year when he discovered an Instagram post shared by a futuristic home concept designed by Russian architect Alex Nerovnya.
The Moscow-based Nerovnya and his team of designers have garnered a global following for their conceptual designs of private villas, hotels and glamping sites in Canada, the United States, Europe and the Middle East. In addition to being visually stunning, the forward-thinking concepts often incorporate principles of ecological minimalism to foster a connection to the natural settings that surround them.
As Lally puts it, meeting Nerovnya was like having everything fall perfectly into place for project called Angelo Park at the Enchanted Hill.
In considering rebranding, we had played around with the idea of sustainable development and finding an architect who could realize that vision," Lally said. "Alex was the perfect choice for this project considering his passion for sustainable architecture."
Forbes recently sat down with Nerovnya to discuss the Enchanted Hill concept, the current state of sustainable building and other emerging trends in the architecture space.
Forbes: Tell us about your compound concept for Angelo Park at the Enchanted Hill.
Alex Nerovnya: This project was done completely along the lines of our philosophy of architectural ecological minimalism with maximum connection with the environment, landscape and greenery. The images show elements of architecture, which in themselves are an extension of the natural environment – roofs and terraces, populated by plants and lawns. The core geometrical shape that became a foundation of this project was the simplest cylinder—all architectural and design solutions were created around this form. This approach is also one of our signature features – we take an object or a simple shape that reflects the philosophy of a particular project, and use it as a basis for developing architectural solutions.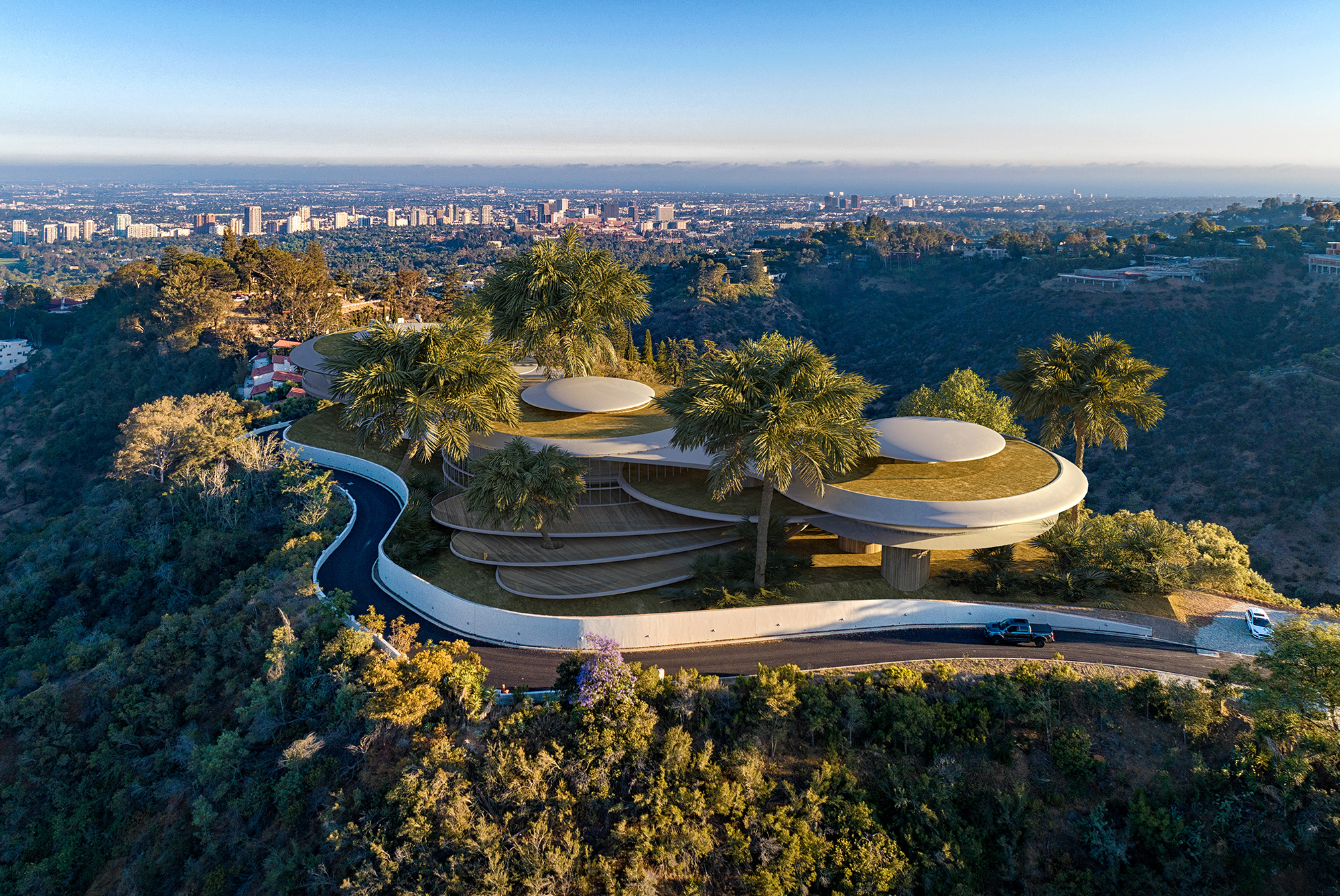 Forbes: What was your approach to the concept for Angelo Park at the Enchanted Hill, which is essentially a mountaintop?
Alex Nerovnya: Each building plot can be viewed as a separate truncated hilltop, for which it was necessary to come up with a laconic architectural form that would not only fit into the landscape itself but also organically interact with other buildings along the road and did not get lost among them, did not seem like some single concept that was cloned throughout the five buildings. Due to a large amount of green space, we tried to visualize our designs as a series of hilltops within Enchanted Hill, each offering attractive views of the neighboring buildings.
Forbes: Angelo Park at the Enchanted Hill is a rare trophy for its size and scale. What are some of the challenges that come with designing a home for such a large property?
Alex Nerovnya: One of the challenges with this project was the organization of zoning and the correct allocation of various structures on the already predefined building sites within Enchanted Hill. The development of each object began not only with the definition of its purpose but also with its axial shape that would organically fit on a certain building site, its orientation relative to the surrounding landscape and the views that opened from this point. An important aspect of a project like this is to keep the whole compound interconnected, to give purpose not only to individual structures but to the entire network of buildings as a single unit.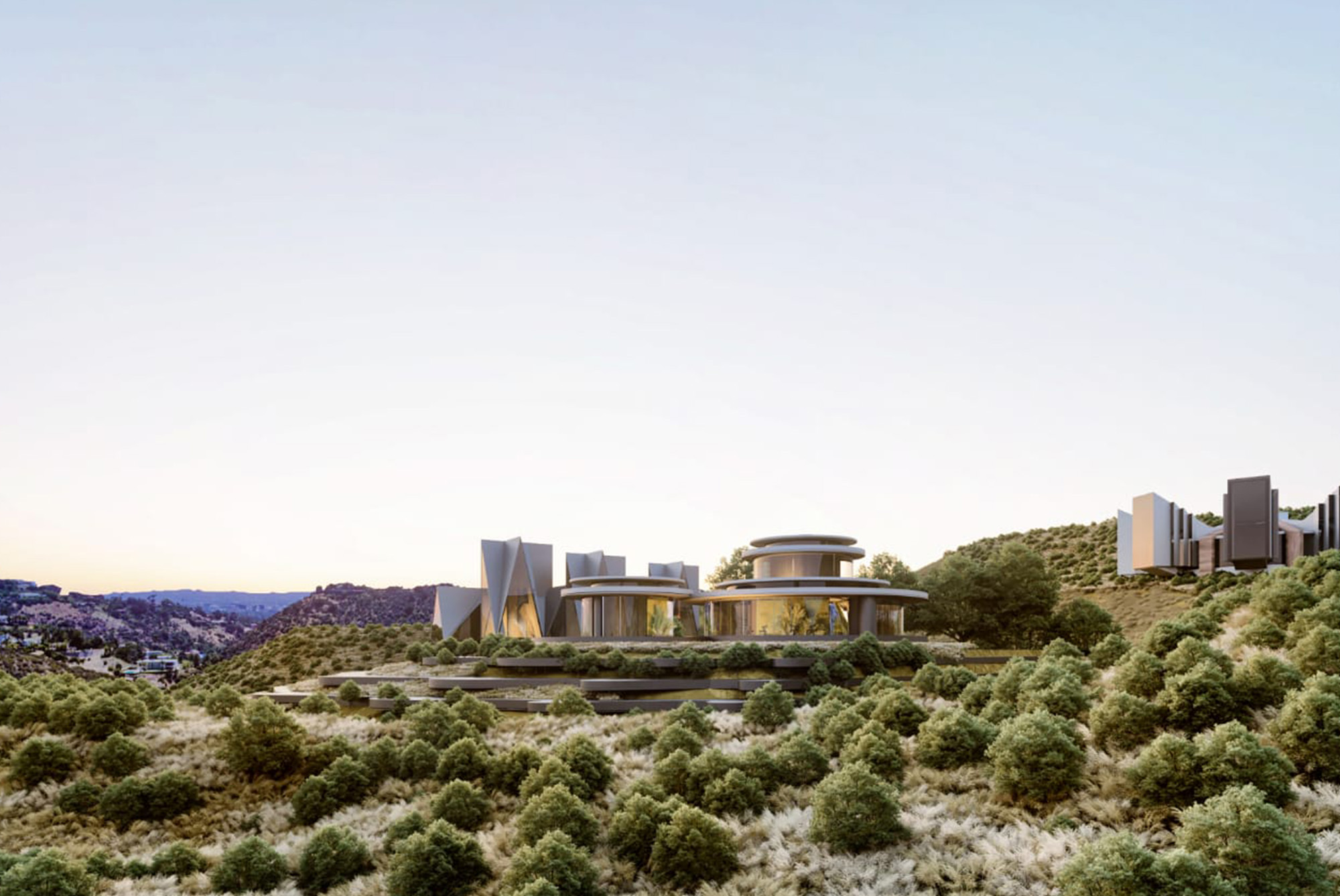 Forbes: Does the design's shape have any special meaning?
Alex Nerovnya: We love using architecture to interact with the natural environment. By utilizing glass walls, we are able to visually erase the separation between the indoors and the outdoors. One of the beautiful effects of this approach is that throughout the day, the mood and feeling of the interior change drastically due to a massive role of natural light, penetrating through the glass.
Forbes: This project and many of your past works display a strong connection to nature. What is your approach when it comes to designing a home to its surroundings?
Alex Nerovnya: Humanity has always been and remains a part of nature, for our eyes, there is nothing more beautiful than what nature has created. From this understanding, I have drawn my desire to maintain parity between the concepts of "home" and "nature" in my work. The little things that we as a species can bring to our environment do not have the right to redraw our ancient natural home but can only try to become a part of it. In the process of creating our architectural designs, we certainly always rely on the surrounding landscape. If we design a building, we try as much as possible to create an alliance between the structure and the surrounding nature, not to conquer it.
Forbes: Sustainability is a big topic right now. How is a focus on sustainability changing how we design homes?
Alex Nerovnya: When you go through the necessary steps of conceptual design, it is important to take into account the factors of the area where the building will be located, the location of the house relative to east and west, its exposure to light. The main factor that affects the energy efficiency of a building is the usage of electricity (light, heat) and water. Therefore, we pay a lot of attention to the research of new building materials and technologies, which allow us to maximize the usage of natural light, minimize water usage, manage the energy expenditures of central heating and air conditioning by implementing hi-tech insulation solutions, rather than hiking the system's power output.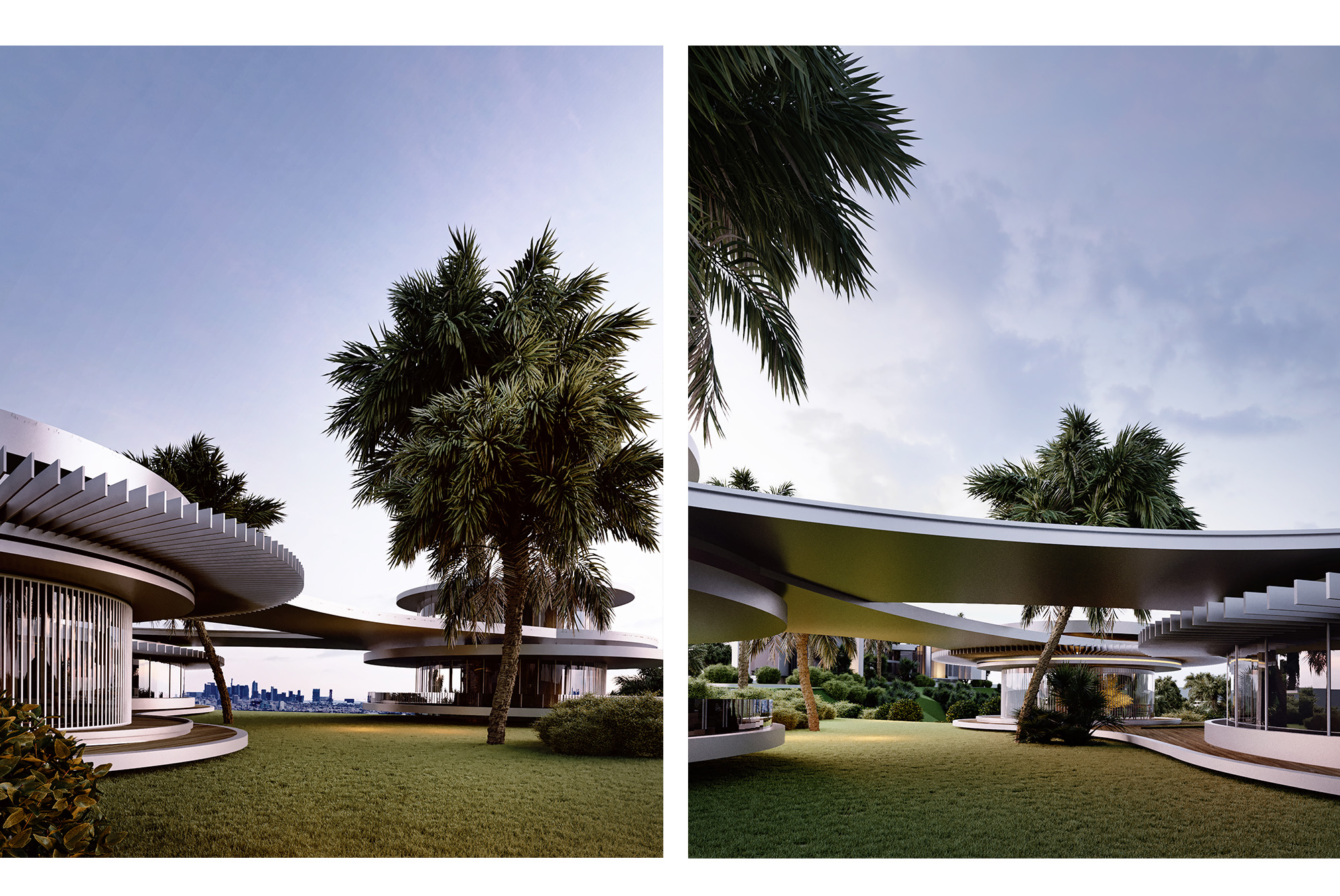 Forbes: What trends do you see emerging this year in the architecture/design space?
Alex Nerovnya: We love to see the attention of the architectural and interior design community to start paying more attention to sustainability issues, to ways to reduce the energy expenditure and the carbon footprint of a particular dwelling or public area. In the near future, we expect to see a great number of iconic architectural projects promoting green, eco-friendly, minimalist architecture, where the emphasis is given not only to the functional side of the structure but also to its eco-neutrality and the well-being of its inhabitants and users.
Follow Alex Nerovnya on Instagram
Enchanted Hill | Offered at $95,000,000 | Represented by Jeff Hyland, Zach Goldsmith, Jesse Lally and Rick Hilton | View Listing
Story courtesy of Forbes