With a career as a renowned art auctioneer and founder of Los Angeles Modern Auctions, Shannon Loughery knows a valuable masterpiece when she sees one—and Loughery's recently listed Midcentury Modern-style home in Encino is just that.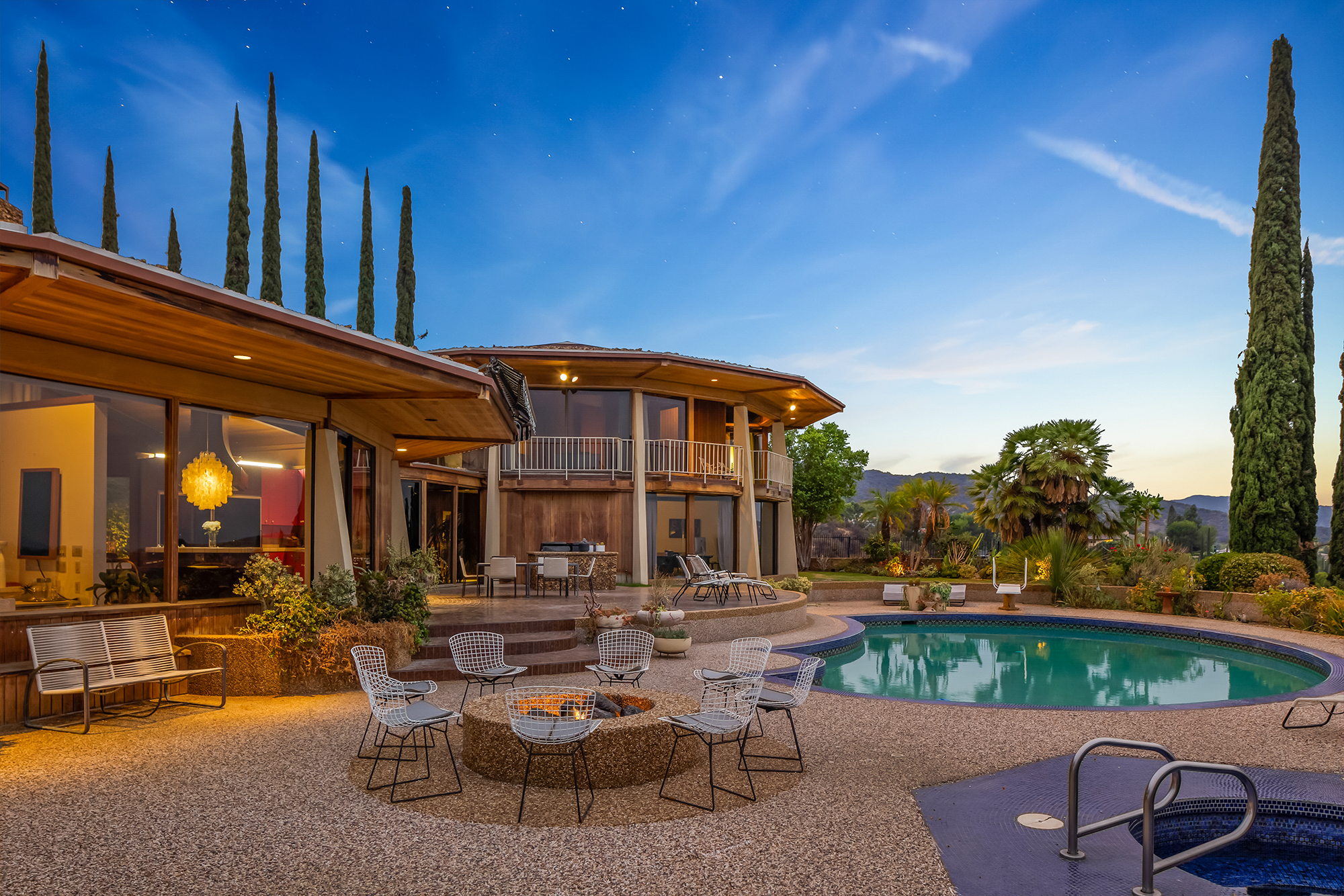 Determining the value of a work of art is not so different from that of a home. Ask any art auctioneer or real estate broker around the globe, and they will tell you about the litany of factors that go into determining the worth of something and how many of those factors might overlap—like artist, uniqueness and condition.
The artist, in this case, is celebrated Los Angeles architect Donald G. Park, who designed the 1972-built home.
Known as the Lewis Estate, this abode may perhaps be Park's magnum opus, or at the very least his most architecturally significant. A modernist marvel, the house consists of three expansive dodecagon structures bridged together with a glass pavilion.
Perched upon an acre of the Encino Hills with stunning views overlooking the San Fernando Valley, this one-of-a-kind house spans over 6,800 square feet of interior space with six bedrooms and six bathrooms.
The home's unique design gives way to a spectacular interior with soaring wood panels that stretch across the geometric ceiling, walls of glass windows that allow for a 200-degree view, and warm-toned tile in a circular pattern that encloses a recessed living area with a fireplace.
Freestanding stones walls help to separate the floorplan but also allow ample space for displaying art.
The kitchen is styled with a retro feel but is outfitted with modern appliances like a smooth top stove located on the island with an overhead vent.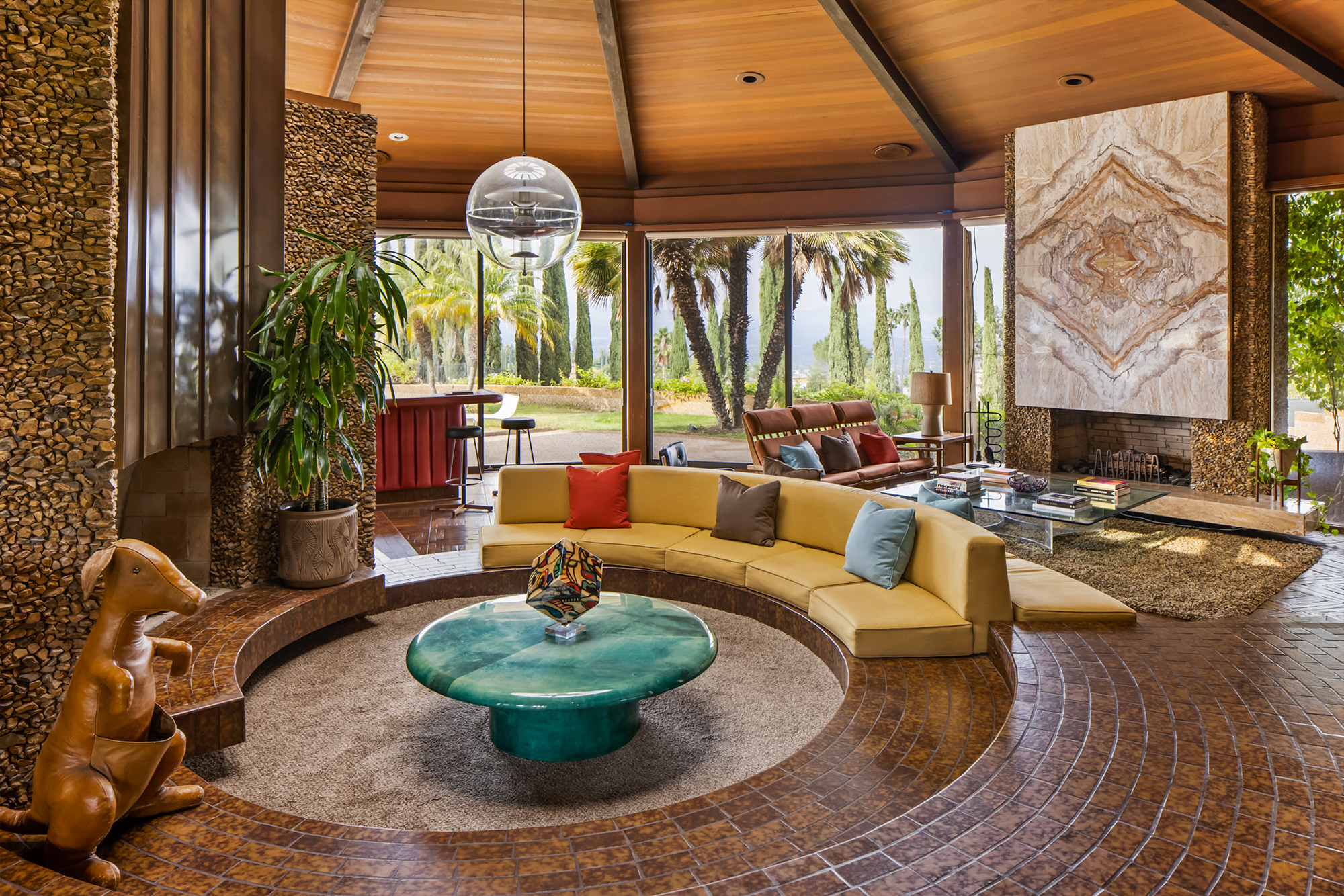 A variety of flooring is used throughout the house, including patterned tiles, parquet wood and mint green carpet that covers a sleek, spiral staircase. Rich color accents are ubiquitous and on full display in places like the deep green of the tub and sinks of the upstairs bathroom, the vivid pink and purple of the kitchen cabinetry and the built-in couch's soft yellow.
Completing the floorplan are a separate vintage bar, two dining areas and an atrium opening to a breathtaking beamed skylight.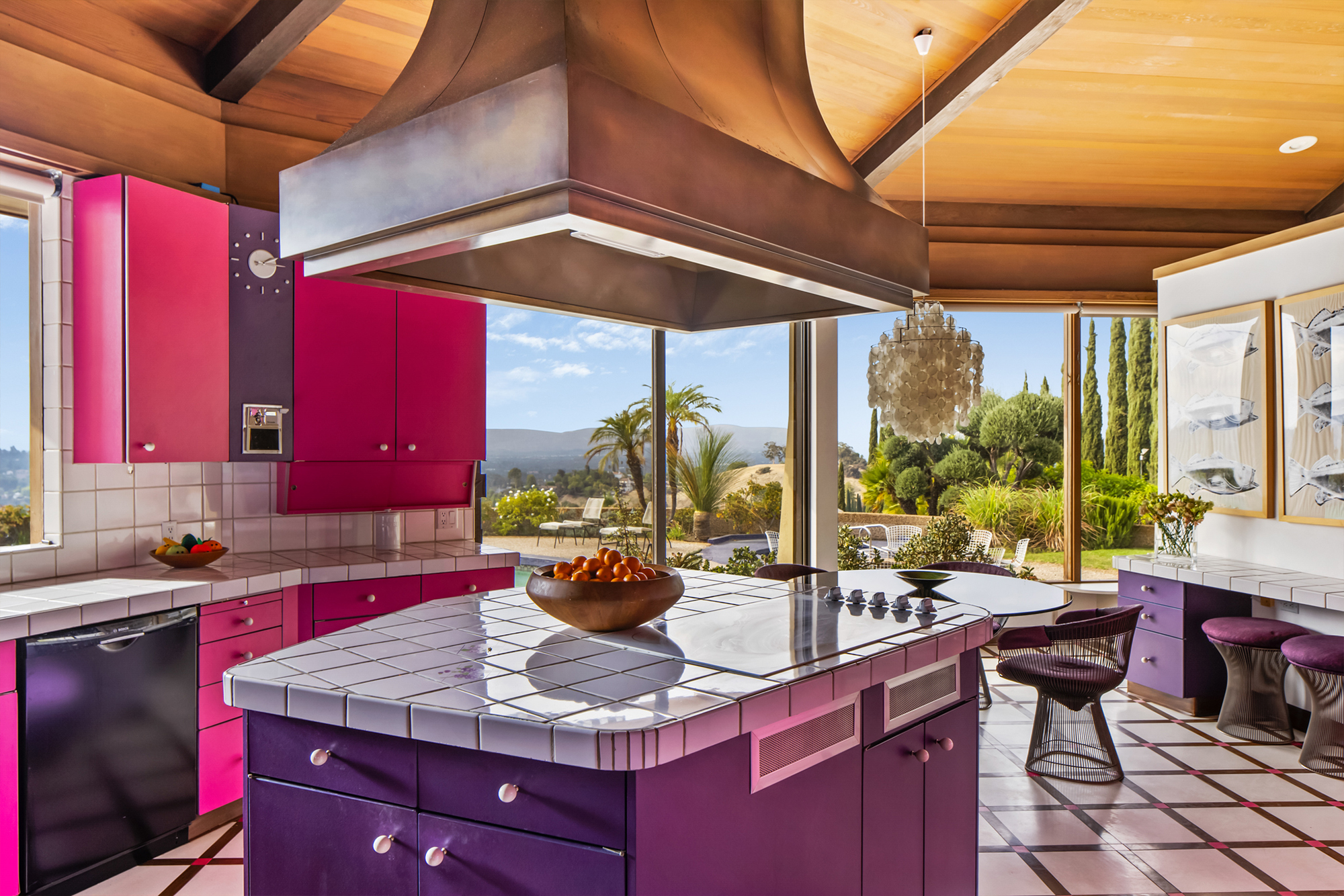 Outside, the patio faces the valley, where residents can gaze upon a landscape of mountains and city lights as they soak in the heated spa, swim in the pool or sit around the gas fire pit.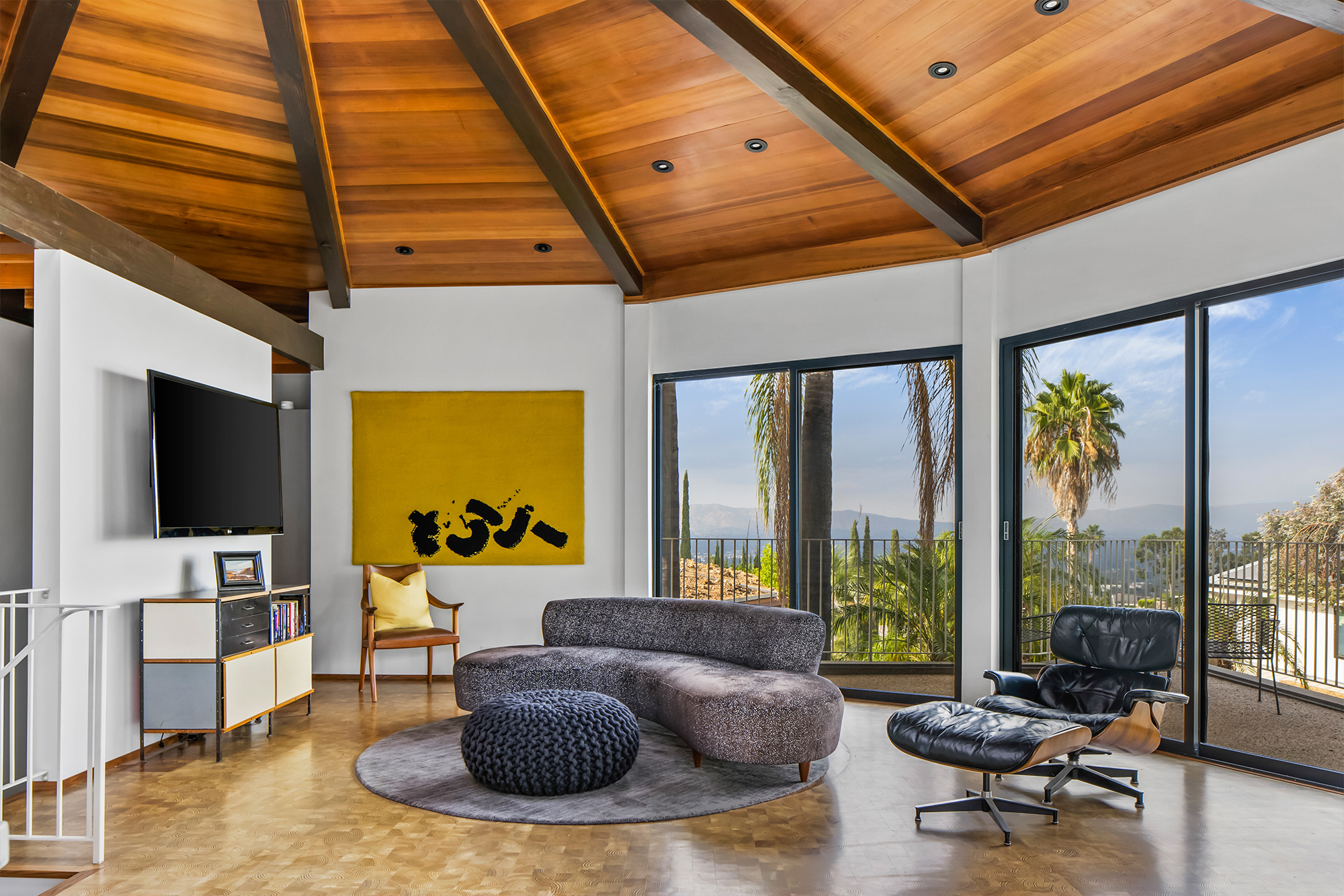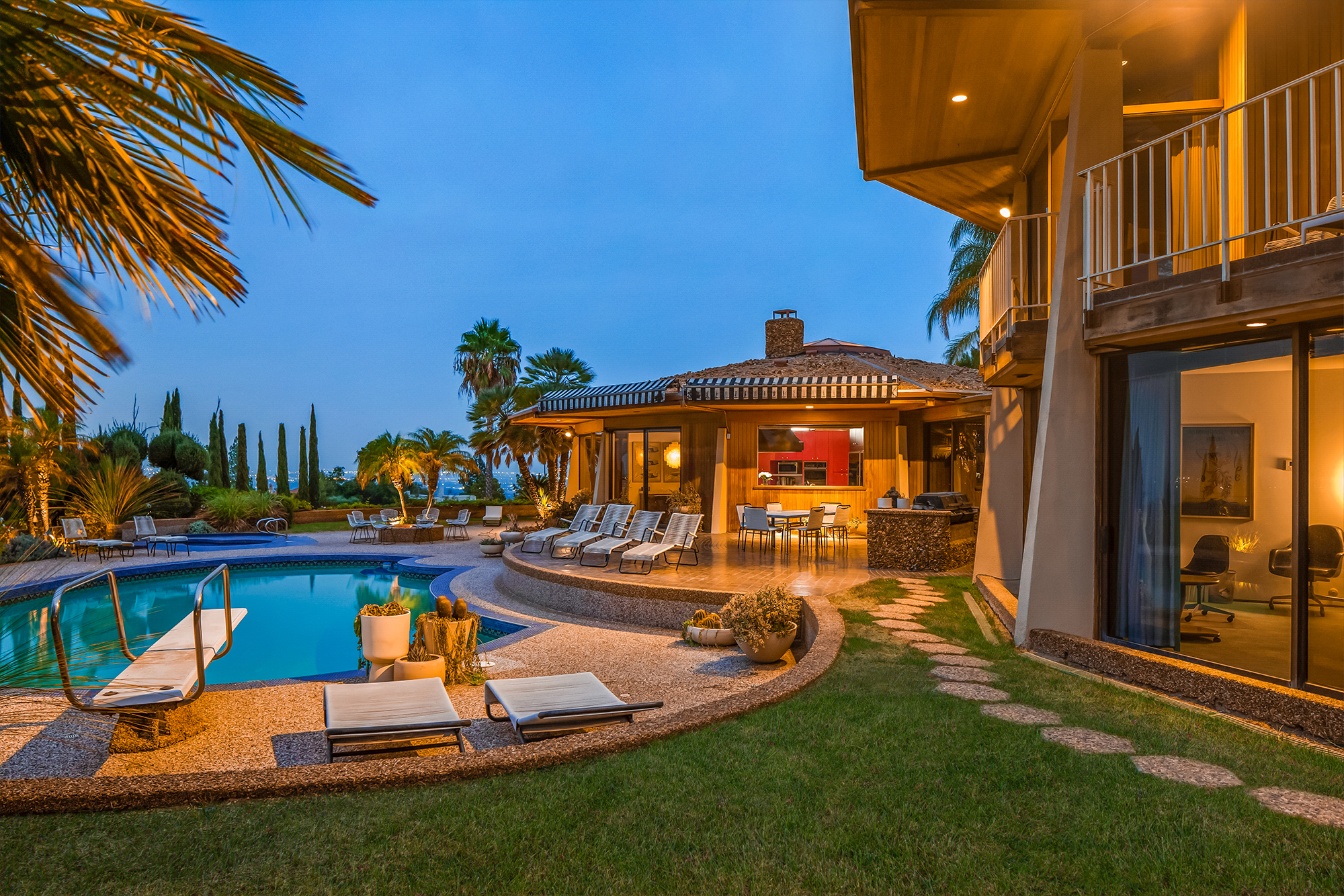 This rare home, located at 17862 Via Vallarta, is priced at $8,495,000. Mick Partridge of Hilton & Hyland is the listing agent.
---
Story courtesy of Forbes