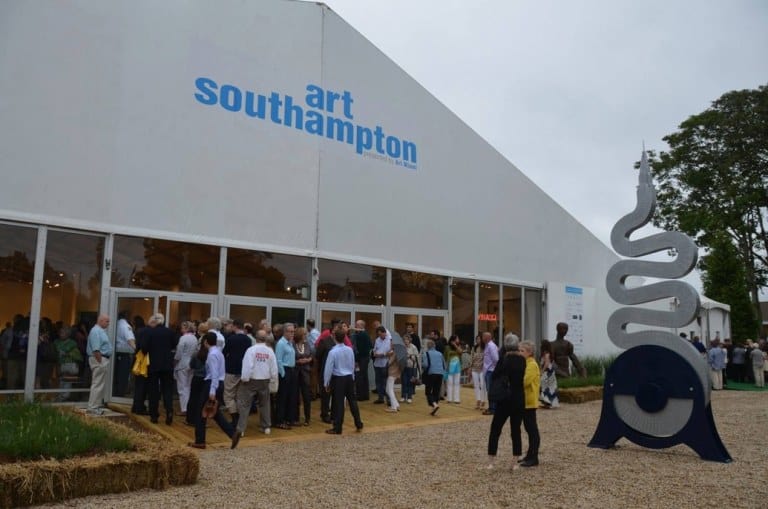 One of the most notable trends in luxury real estate of late has been the increased importance of art in the home. New construction homes are often designed to feature large walls on which owners can showcase their magnificent art collections. Hilton & Hyland, an affiliate of one of the world's leading art dealers Christie's, enjoys an unparalleled standing in the both the real estate and art worlds.
Hilton & Hyland, along with Christie's International Real Estate, the world's leading luxury real estate network, is proud to have served as the "Official Luxury Real Estate Partner" of Art Southampton. The premier international modern and contemporary art fair in Bridgehampton, New York, Art Southampton featured a carefully selected group of 80 international art galleries.
Art Southampton took place July 7th through 11th at the fabulous Nova's Ark Project. The annual fair offers collectors, curators, designers, and art advisors the opportunity to acquire the finest blue-chip modern and contemporary works of art from the emerging, mid-career cutting edge, Post War, and Pop eras, with a focus on design and functional art. The amenity-rich event, with an unrivaled ambiance and design, presents easy access for residents of Long Island, New York City, and the Tri-State, as well as global travelers who frequent the Hamptons in the summer months.
Christie's International Real Estate has served as a marquee sponsor of the internationally acclaimed Miami-based fairs Art Miami and Art Wynwood for consecutive years.
"Hilton & Hyland is honored to be an integral part of this cutting-edge event – one that defines the contemporary art scene and brings with it a mesh of collectors, curators and art enthusiasts from around the world," said Jeff Hyland, President of Hilton & Hyland. "We are proud to have taken part in this unique opportunity to showcase our estate portfolio."
"This is a great exposition that features a multitude of potential clients for our firm, and it's nice to have a strong presence at an event that caters to our clients' demographics," said Rick Hilton, Chairman of Hilton & Hyland.
To learn more about Art Southampton, click here.