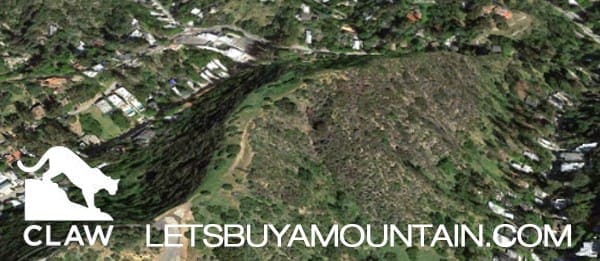 As part of its ongoing commitment to serving communities, Hilton & Hyland Helping Hands contributed to "Let's Buy a Mountain," a program initiated by the Laurel Canyon Association and Citizens for Los Angeles Wildlife (CLAW) to purchase 17 acres of nearly pristine hillside in historic Laurel Canyon.
The purpose of Let's Buy a Mountain is to preserve the land and its wildlife. The Laurel Canyon Association and CLAW want to protect the open land in their community before it can be turned into houses and parking lots.
They have a year and a half to raise $1.6 million to purchase the land, which lies above the Laurel Canyon neighborhood. If the groups are successful, they plan to turn the land over to the Mountains Recreation and Conservation Authority, a local government agency that will manage it as a preserve to be enjoyed by people and traversed by coyotes, bobcats, deer and raccoons.
"We support growth and development at a sustainable pace," says Jeff Hyland. "However, in a city with such high density as Los Angeles, it's important to protect and preserve the wildlife that has lived here for hundreds of years."
According to CLAW's website, Laurel Canyon is one of the oldest hillside communities in Los Angeles and was founded as a nature retreat accessible by foot and donkey. However, current ongoing development is tearing apart habitat as well as disrupting the sensitive biodiversity in and around Los Angeles.
Hilton & Hyland Helping Hands is a program in which we volunteer time, expertise and financial assistance to organizations that help empower people and causes in need. With the fundamental foundation that remarkable properties, destinations, and locations are the heart of our business, Hilton & Hyland is committed to actively serving each of these very special communities.