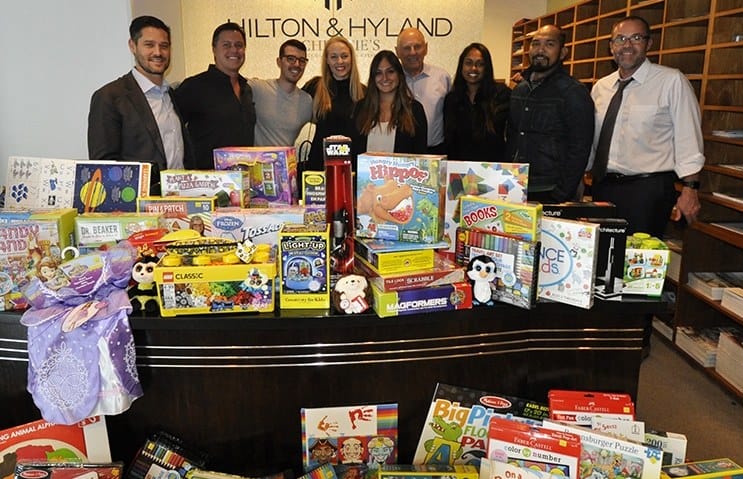 Hilton & Hyland Helping Hands is helping make the season bright for children in the Los Angeles area by holding a toy drive benefiting the Exceptional Children's Foundation (ECF). The philanthropic arm of Hilton & Hyland partnered up with Beverly Hills neighborhood toy store, Tom's Toys, who also donated a large number of toys to the ECF.
The owner of Tom's Toys, Ted Frankel, exclaimed, "We're very happy to partner with Hilton & Hyland this year for their toy drive. We enjoy opportunities to work with businesses and foundations in our local community to help make children smile."
Gift items – art sets, puzzles, Legos, books, toys, and more – were collected for both early start children and K-12 students at ECF's Kayne Eras Center, a nonpublic school that partners with the Los Angeles Unified School District and others to offer a general education curriculum for diploma-track and college bound students.
Since 1946, the ECF has remained the only organization of its kind in California that provides a lifespan of services for children and adults with developmental disabilities.
Rick Hilton, Chairman of Hilton & Hyland stated, "We are grateful to be able to play a role in the Exceptional Children's Foundation's Toy Drive. Every child deserves to have a joyous holiday season."
Jeff Hyland, President of Hilton & Hyland added, "The Exceptional Children's Foundation ensures that their young members feel that support and warmth throughout the year. Hilton & Hyland is proud to help them in their efforts and be hands on in the cause. I found great joy in personally selecting Frank Lloyd Wright Special Edition Legos in hopes that it would have an impact not only on their holiday but their future careers."
Treating tens of thousands of children and adults with special needs live with dignity, self-respect and happiness year-round, the ECF provides the highest quality of service to people of all ages. Over 3,800 children and adults living with special needs received help from ECF this year, the most the organization has served in a single year. If you didn't get a chance to donate, you still can help provide life-changing services for individuals with developmental disabilities by clicking here.