From opening our new office to selling over 25 homes over $10 million in the first half of 2018, we would be remiss to embark on the new year without taking a look back at our milestones from our 25th Anniversary and how we raised the bar for 2019.
Hilton & Hyland Returns to Christie's Palm Beach Modern + Contemporary Art Fair
Presented by the Art Miami Group and hosted by the City of West Palm Beach, the fair kicked off the area's vibrant winter season from January 11-15. Art on display at the fair showcased an array of Modern and Contemporary works from the likes of Jean-Michel Basquiat, Pablo Picasso, Andy Warhol, Jeff Koons, and more; as well as Post-War works from over 50 top international galleries and luxury properties from the world's leading real estate network.
"This is just another great service that we offer to our clients," said Rick Hilton, Chairman of Hilton & Hyland. "We get to put our homes in front of some of the most esteemed collectors in the world, and it's a unique opportunity to attract numerous qualified buyers."
"As the founding affiliate of Christie's International Real Estate, we really relish the opportunity to attend this fair," added Jeff Hyland, President of Hilton & Hyland. "In recent years the lines between art and luxury real estate have begun to overlap like never before and the two industries are very connected."
Hilton & Hyland Rebrands and Rolls Out New Website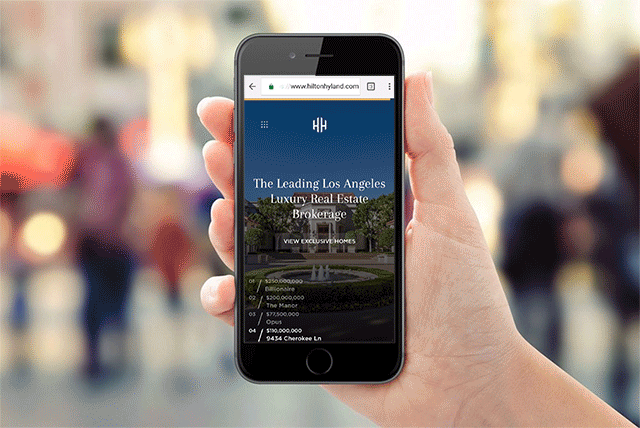 While it may not seem like technology and marketing savvy would be important to the purchase of a home – it is. Particularly in the luxury sector, where many buyers and investors are purchasing from outside of the immediate area, ease of communication can be crucial. Therefore, every two years, Hilton & Hyland makes sure to launch a new website that would not only modernize our brand, but make responsiveness seamless, search engine optimization enhanced to maximize incoming traffic, and load times faster than before.

Hilton & Hyland Sells the Most Expensive Home in Los Angeles
This past April, Branden and Rayni Williams of Williams & Williams broke LA's record for most expensive home sale, offloading this Billionaire's Beach house for $110 million. The previous county record was $100 million, for the sale of The Playboy Mansion, represented by Hilton & Hyland's Gary Gold and Drew Fenton.
Rick and Kathy Hilton Raise Drug Prevention Awareness at Brent Shapiro Foundation Gala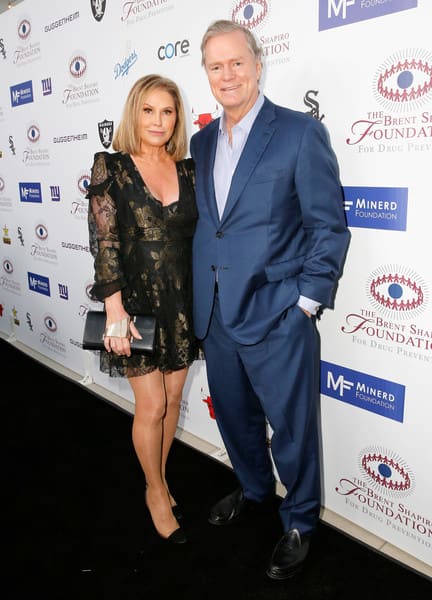 Rick Hilton and Kathy Hilton attended The Brent Shapiro Foundation for Drug Prevention's 13th Annual Summer Spectacular at the Beverly Hilton. The highly anticipated event has raised over $3 million in the past for drug awareness and prevention in high risk-communities. Hosted by Mario Lopez, the soiree's guest list brought prominent entertainment leaders and celebrities to rally around the growing movement to end illegal drug use among teens.
"Much like ours, the goal of The Brent Shapiro Foundation for Drug Prevention is to change the way our youth views peer pressure by getting them involved in their communities," stated Rick Hilton, co-founder of Hilton & Hyland.
Hilton & Hyland Joins Habitat for Humanity for Annual Home Build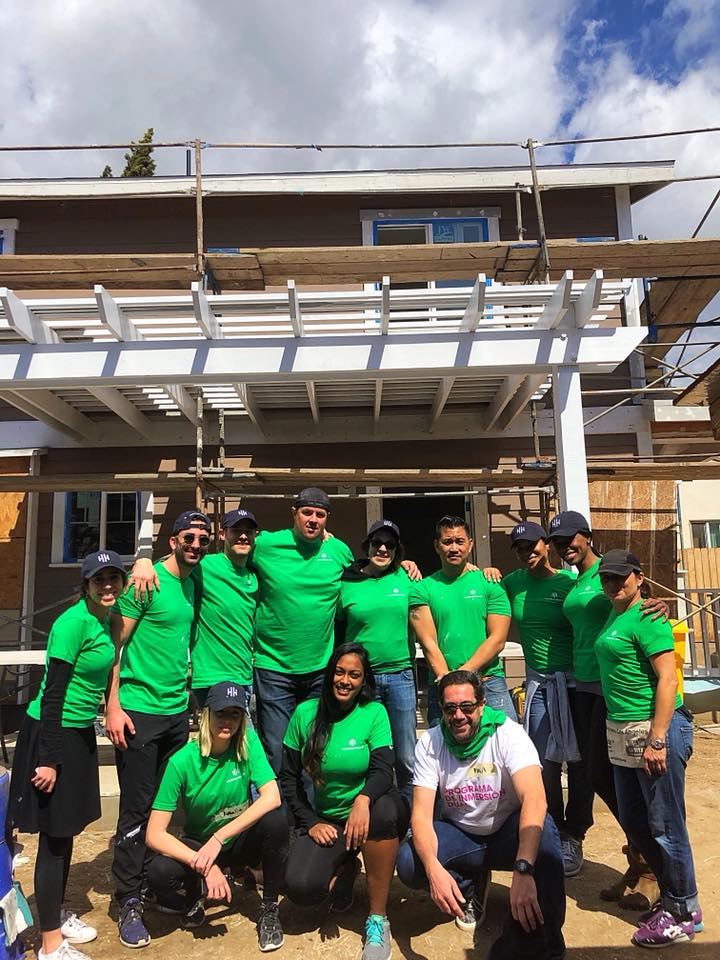 Hilton & Hyland agents and staff met with the construction team from Habitat for Humanity of Greater Los Angeles at a build site located in Long Beach. This coastal neighborhood, located in South Los Angeles County, is a place where growth and development is gaining momentum as it transitions into a revitalized and desirable area in Los Angeles.
Our Hilton & Hyland Helping Hands volunteers spent the day either on the roof or inside of a modest three bedroom, two-story home currently under construction. They lined the unfinished wooden roof with tar-paper and fastened the lining down with cap-nails. Others primed and painted the walls of the kitchen, bathroom, laundry room and family room.
"My passion for architecture lends itself well to Habitat, and my team get hands on experience in the construction process. Observing a different stage of real estate development while helping those who need a hand up in the community is an awesome opportunity," stated Susan Smith, whose entire team spent the day working at the build site.
Hilton & Hyland Sells 25 Homes Over $10 Million in First Half of 2018

Hilton & Hyland is thrilled to announce the conclusion of yet another record-breaking first half in the company's history with 25 sales over $10 million. A phenomenal 2018 continued when The Los Angeles Times profiled the most expensive sales for single-family residence in Los Angeles for the month of May. Commanding 24% of the market share, Hilton & Hyland once again emerges as the dominant brokerage in Los Angeles.
Jeff Hyland, President of Hilton & Hyland, continued, "At Hilton & Hyland, we know how to effectively manage the market in any climate and these numbers are a testament to that. We're incredibly proud of our agents for joining together to help make 2018 such a stellar year."
Hilton & Hyland Celebrates 25 Years of Leading the Industry in New Canon Drive Office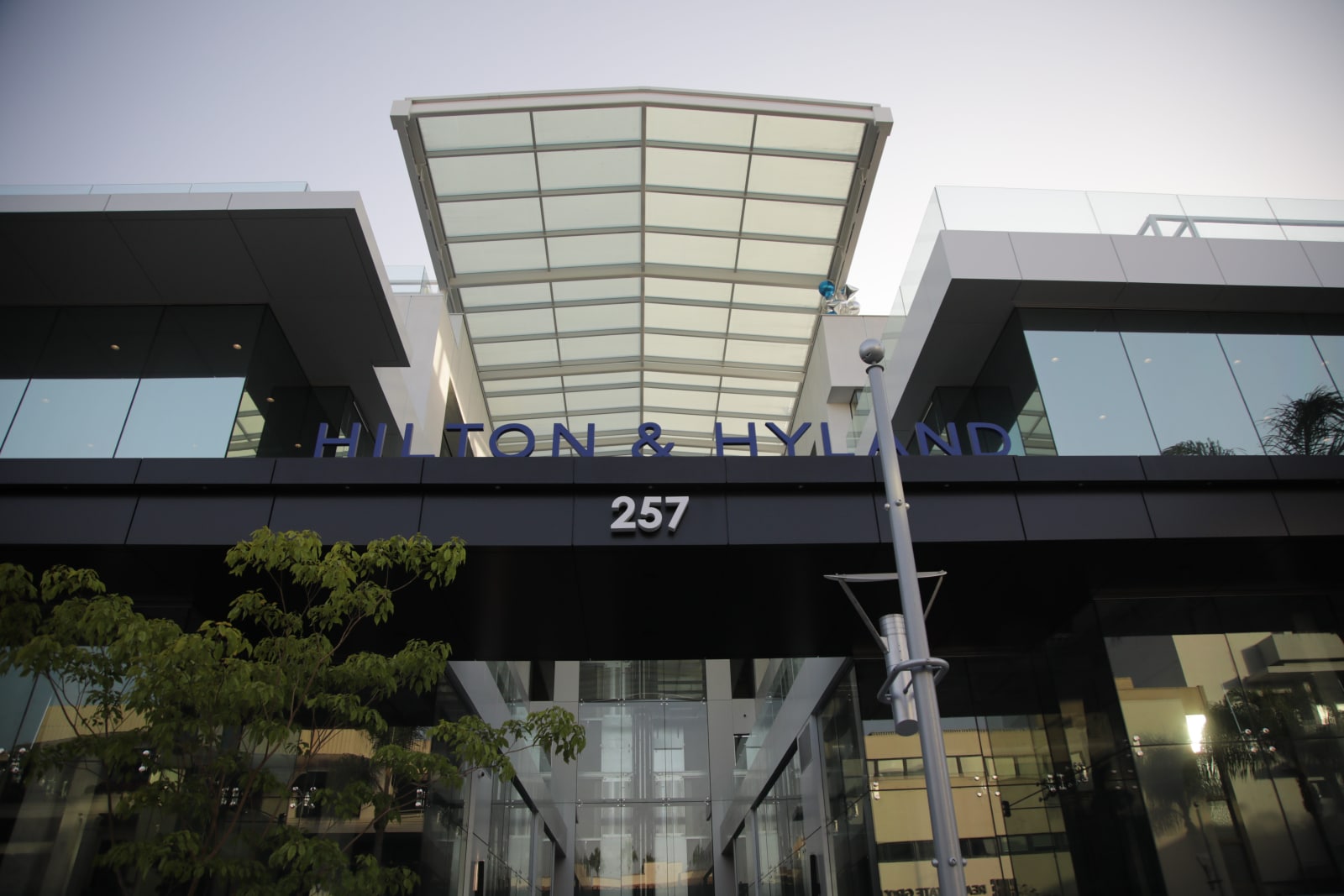 To celebrate our Silver Anniversary, Hilton & Hyland hosted an opening night party for our incredible new location. The event saw high-powered agents, high-profile individuals, celebrity clients, and potential buyers flood the breathtaking penthouse to tour our new digs at one of the newest building sites on historic Canon Drive.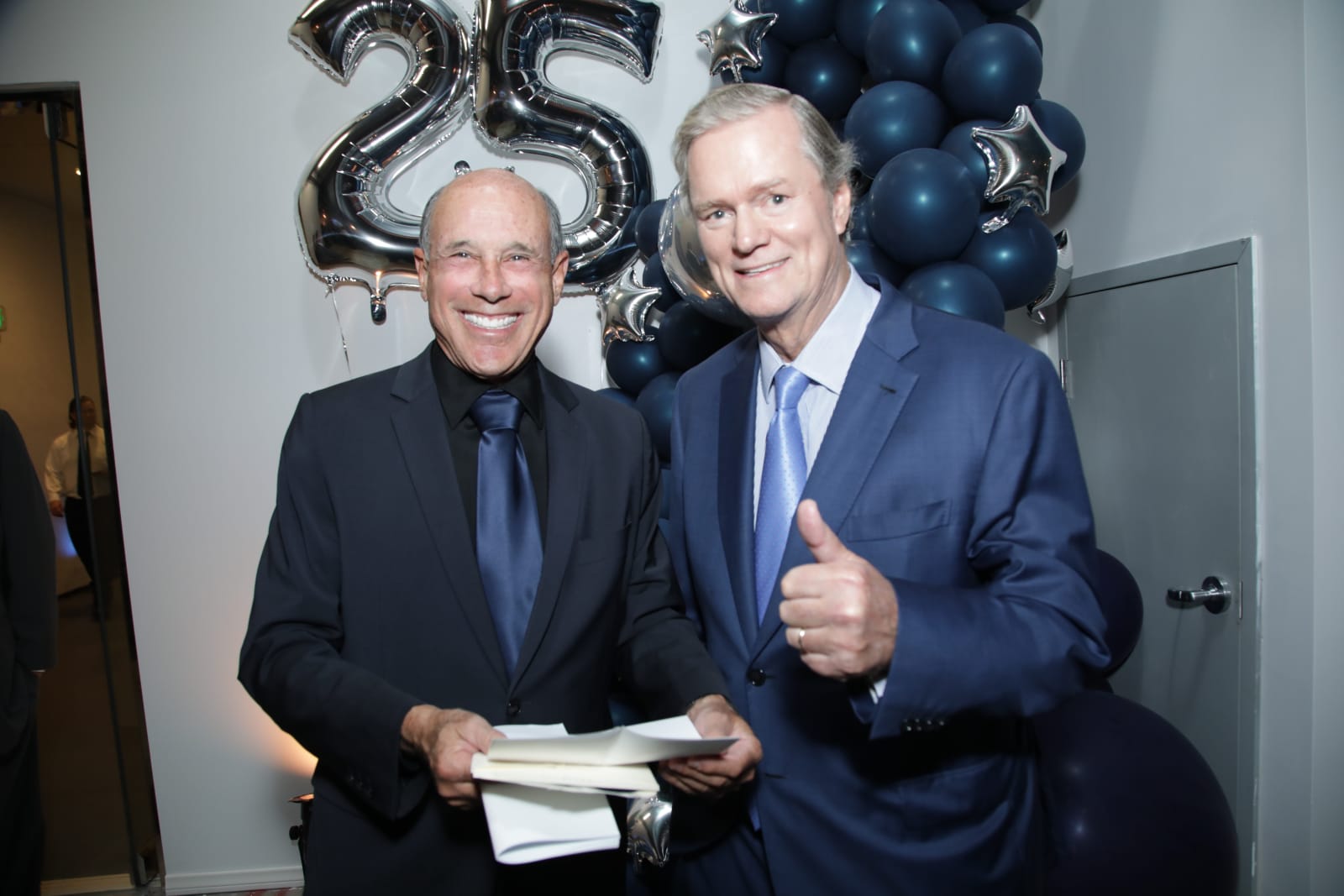 The newly constructed building is luxury in its purest form. "We sought to deliver an environment with only the highest finishes, materials, and design – and what better way to celebrate such an incredible milestone," said Jeff Hyland, President of Hilton & Hyland.
Hilton & Hyland Named the Exclusive Real Estate Partner of Inaugural Infinity Film Festival in Beverly Hills
Hilton & Hyland was thrilled to join the Infinity Film Festival Beverly Hills as their exclusive real estate partner for their debut event this past November.
Presented by Epic Games and Unreal Engine, makers of Fortnite, the IFF was designed with the idea of bridging Hollywood, Silicon Valley, and Silicon Beach in mind. From a fireside chat with Julian Gold, Mayor of Beverly Hills, to the premiere of Woody Harrelson's "Lost in London," IFF offered over 75 hours of screenings, 30 technology exhibits, blockchain-focused panels and over 100 industry speakers altogether. The first two days featured screenings and programming for industry professionals while whereas the final two days were open to the public.
Jeff Hyland and Rick Hilton, co-founders of Hilton & Hyland, exclaimed, "With its original village design, walkability, world-class restaurants and shops, and globally recognized destination brand, Beverly Hills is an ideal location for a film festival. We were thrilled that Karén Setian, BHIFF's chair of the Beverly Hills Chairman's Council, invited us and our company to participate in a festival designed specifically for our great city."
The Los Angeles Business Journal Recognizes Six of Hilton & Hyland's Top Agents in "Who's Brokering LA"
The Los Angeles Business Journal presented its first ever "Who's Brokering LA" section focusing on real estate professionals who have proven to be the most dynamic forces in the industry. In fact, they have shed a light on six of our most successful agents: Branden & Rayni Williams, Drew Fenton, Linda May, Jonah Wilson, and Tyrone McKillen. Together, these individuals combine a comprehensive knowledge of Los Angeles with an artistic, competitive and stylish lens to the real estate process.