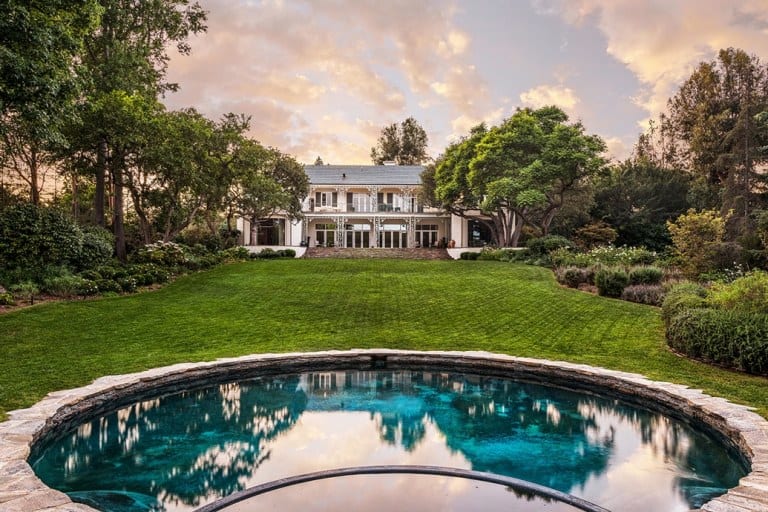 There are certain homes that rarely come to market because of their unique amenities and incredible stories. Jeff Hyland and Drew Fenton's newest listing, located at 300-320 Delfern Drive is one of these homes. Known as " The Edie Goetz Estate ", this incredible property is now on the market for the first time in over 25 years.
A magnificent example of Georgian Revival architecture originally completed in 1938 and designed by Gordon Kaufman, classic elements of this home include high ceilings, grand public rooms and ornate wrought iron details. The Goetz Estate is a trophy compound in the heart of Holmby Hills. Sited on two contiguous properties and totaling over four acres, this is a rare opportunity to own a piece of Hollywood history.
In 1947, Edie Goetz enlisted legendary Hollywood designer Billy Haines to enhance the main house as a showplace for lavish events. One of the most iconic rooms is the paneled art deco modern library and bar also designed by Haines. On what many consider the finest street in Los Angeles, this private paradise is set behind large gates and offers complete privacy. Features of the estate include a verdant manicured grounds, three guest houses, 11 bedrooms, two swimming pools, a tennis court, and rare specimen trees (Mediterranean Palms, Arizona Cypresses and Japanese Maples).
Beginning in 1947, the residence was the longtime home of prominent film producer William Goetz and his wife, Edith (Edie) Mayer Goetz, daughter of mogul Louis B. Mayer. The home was the center of Hollywood social life at the height of the studio era and is famous as the site to which Elizabeth Taylor fled after her first breakup with Richard Burton — and where the couple soon reconciled. Edie was well known as one of Los Angeles' primary luminaries, titled The Hollywood Princess. Her gatherings quickly became a staple of the city's socialite scene, and a Goetz event was not to be missed. Soon, her parties coupled with her robust art collection (which boasted works by Pablo Picasso, Vincent Van Gogh and others) helped elevate Edie to the highest echelons of the upper-class of Los Angeles.
To learn more about this spectacular offering, click here.