The Garden of Eden has nothing on LA's luxuriously landscaped properties.
by Kathy McDonald. Original article appeared on L.A. Confidential.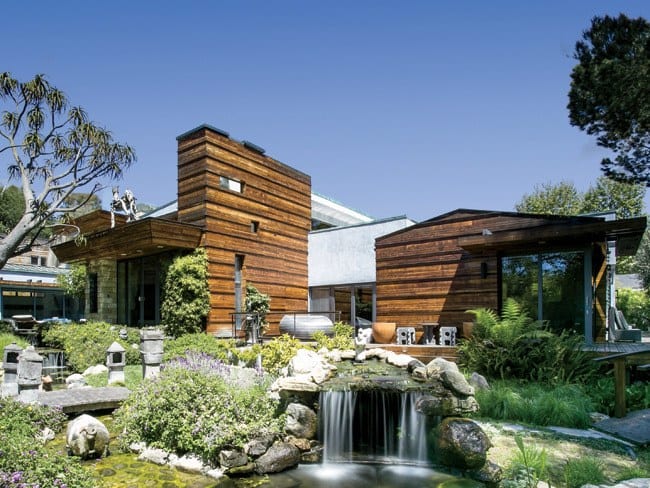 Paradise found: This eight-bedroom Asian inspired two-home compound in Santa Monica showcases its own lily-pad-strewn stream as well as lushly planted flowers and native grasses.
There's a reason curb appeal is a real estate maxim: A home's exterior can woo and intoxicate. And although no agent would list a house solely on the merits of its flowering shrubbery and sculpted trees, many would argue that a verdant garden can help sell a property. "As with falling in love with a person, if the outside of a house is really attractive, the buyers are in love with it before they walk in the door," says Gary Gold, executive vice president at Hilton & Hyland.
The most appealing landscaping feels organic rather than fabricated, as indeed it must be in LA's semiarid climate. And when garden and house interconnect ideally, the result can be magical, contends Gold, who is representing, along with associate Marcie Hartley, such a paradigm in Santa Monica: a $12.75 million, two-home compound replete with a meandering creek and azalea-filled Japanese garden.
What's the key to inspired garden design? According to landscape architect Jeffrey Gordon Smith, whose work can be found from Napa to San Diego, it's about understanding as much as possible about a site—its spirit, in a way. "Architecture is fairly static once it's done, whereas landscape is dynamic and constantly changing," he says. In Southern California's temperate climate, the array of options is extraordinary, from lush tropical foliage (palms, bromeliads, and ferns) to drought-resistant plants like succulents, native sage, and ornamental feather grasses.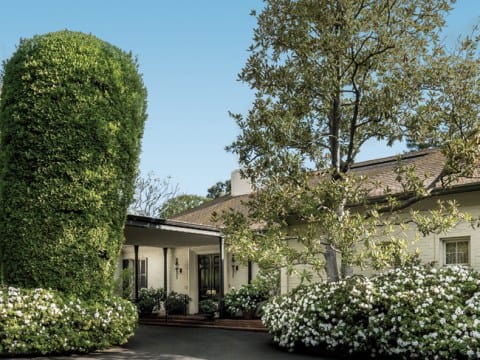 The $43 million Doheny estate boasts an Arcadian expanse of flame trees, prize roses, and other rare flora.
The
parklike 3.63 acres of the late William H. Doheny estate in Bel-Air
, listed for $43 million by Hilton & Hyland, illustrate this range. In addition to the 10,000-square-foot, high-style Hollywood Regency manse built in 1963, the carefully tended hilltop was the love affair of Doheny's late wife, Onnalee, and is a botanist's paradise of towering exotic palms, flame trees, colorful camellias, lush greenery, and a hillside covered in daylilies, irises, and roses. "It's an iconic, important piece of land in old Bel-Air— the lower part of East Gate—and it was among the first estates developed," explains listing agent
Judy Feder
, vice president at
Hilton & Hyland.

Read the rest of the article at
L.A. Confidential.