Enter Text…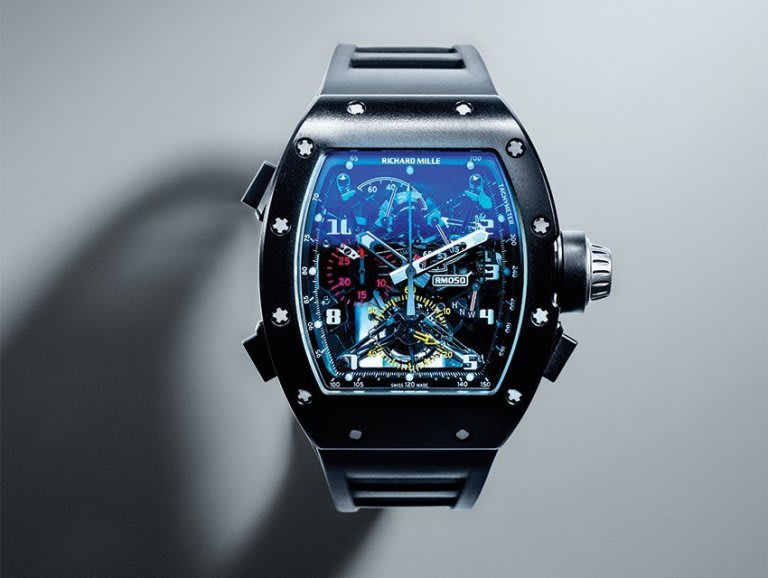 In the Los Angeles Magazine article "The Watchmen," writer Ed Leibowitz talks to Jeff Hyland of Hilton & Hyland about his timepiece collection. Here's an excerpt:
In Los Angeles Jeff Hyland is the dominant force in what some might call "extreme residential real estate." He had a hand in selling Aaron and Candy Spelling's former estate for $85 million. His company, Hilton & Hyland, landed the $135 million listing for William Randolph Hearst's former Beverly Hills digs—29 bedrooms, 40 bathrooms. Also listed on the firm's website this summer was a cute three-bedroom, two-bath number in Pacific Palisades that was essentially a $25 million tear-down.
People in the market for such houses tend to be movers and shakers. Hyland is good at cultivating this type of customer, and his watch preferences reflect a similar currency. Don't get him wrong—he has enormous respect for heritage brands like Patek, but they don't much interest him. "I'm more into the fun of the here and now," he says.
When it comes to timepieces, what "fun" means to Hyland are see-through skeleton watches or, as they're often described, "race cars for the wrist." Like a Formula 1 vehicle, the extreme skeleton is a precision-built machine designed by technicians who don't so much follow tradition as tear it to shreds. It can perform functions that even the most imaginative watch freaks might deem impossible were the proof not visible through both sides of its clear case.
Extreme skeleton watchmaking is only about 15 years old, launched by a handful of maverick companies, most in Switzerland. Production is low. Richard Mille, the leader in the field, makes fewer than 4,000 pieces a year. Prices are stratospheric: The cost of entry can be more than $70,000, and things go sharply up from there.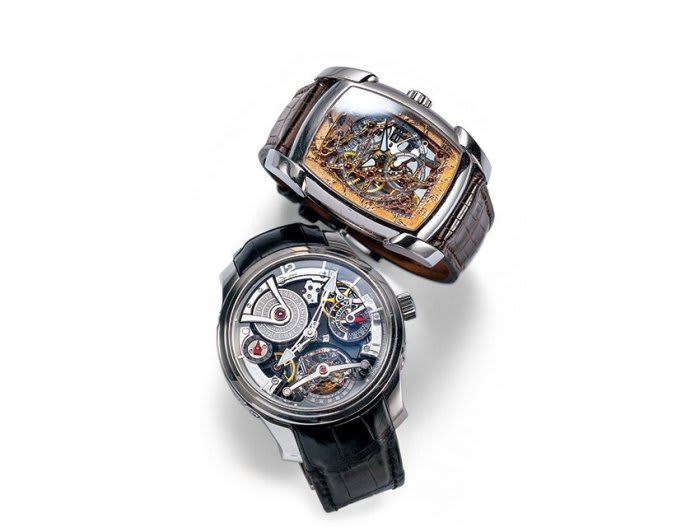 Hyland is on his third Bentley and is conversant in collectible fashionable artists such as Ed Ruscha and Sam Francis. Nevertheless he arrived rather late to the WIS party. During the '90s and most of the aughts, he sold multimillion-dollar homes sporting a rubberized knockabout watch that set him back no more than a few hundred dollars. "Wearing a watch," Hyland says, "was like wearing a pair of Keds to me."
In 2007, Lori Hyland decided to intervene, surprising her husband with a stately Dubey & Schaldenbrand watch. It was difficult to fully appreciate the Swiss craftsmanship, given his concerns about its sheer weight. "I don't have a big wrist," Hyland says, "and my first reaction was 'That thing is huge'."
When I visit him at his ground-floor Beverly Hills office, Hyland is hard-pressed to remember the model or even the make of that first watch (he had to check with his wife later), so thoroughly has he moved on to extreme skeletons. "The mechanics of watching them is so much fun," he says. While all skeletons are low production, Hyland focuses only on the rarest of the rare. "It's limited editions," he says, "that make the watch stand out."
Hyland is slightly built. His forehead, made larger by male pattern baldness, tends to amplify the assurance of his smile and dark brown eyes. He conveys his enthusiasm in hushed tones as he begins a survey of his collection. He straps on the black alligator band of his Double Tourbillon 30° Technique by Greubel Forsey and winds it to life. Hour markers and platinum hands float almost to the surface of its transparent case. One antigravitational chamber rotates inside another. The wind-up power plant consists of four coaxial mainspring barrels, including a 120-hour energy reserve. There is something transfixing about all this visibility, unencumbered by an actual watch face, and also something disorienting, as if this timepiece has emerged from a steampunk fever dream and somehow landed on Hyland's wrist.
Sizewise the Greubel Forsey is a monster, considerably thicker and wider than the watch Hyland's wife had bought him (and larger than most men's diver's watches, for that matter). But Hyland's slender wrist seems to be bearing its weight well. "Today this is not a very big watch," he says. "I probably get the most comments on it because it's so architecturally superior."
His next exhibit is an HYT extreme skeleton, conceived by self-described "hydromechanical horologists." The watch tells time via hour and minute hands and through the ebb and flow of green-tinted liquid that moves inside a tube at the margins of its case. The pumping mechanism resembles a tiny replica of a Harley-Davidson V-twin engine. "Two hundred years ago they discovered how to keep water out of a watch, because if you had moisture in a watch, it was shot," Hyland says. "Then these guys invent the first watch that brings water back in."
He shows me two extreme skeletons by Richard Mille. Hyland's rather dressy RM 014 is an homage to the builders of Italy's Perini Navi shipyards, who have produced yachts for media titans Rupert Murdoch and Silvio Berlusconi. The rectangular see-through case is contoured like a mainsail.
Hyland lavishes more time and affection on his limited-edition RM 050, originally designed for Felipe Massa, the Brazilian Formula 1 driver. Its case incorporates a frame of polymer composite shot through with carbon nanotubes. Hyland winds up the watch, and a ghostly golden second hand begins rotating above what appears to be several hundred suddenly awakened gears and levers. A double chronograph, the RM 050 can split seconds.
Hyland remembers when John Simonian, founder of Westime and CEO of Richard Mille Americas, gave him his first glimpse of this model. "I just drooled," he says. He returned a few days later to make the RM 050 his own. "It was love at first sight—and second sight. I had to have it." Only ten RM 050s were produced for anyone other than Massa. Hyland will wear his only on special occasions, such as when he's meeting with the actual Richard Mille, the bon vivant French businessman who launched his eponymous brand in the late 1990s.
At the Richard Mille boutique, you can see what elevated company Hyland keeps. There are skeleton watches endorsed by tennis champ Rafael Nadal and reigning PGA champion Bubba Watson. There's actor Jackie Chan's watch, a dragon slithering around the complicated movement, and a version of the model that Pharrell Williams wore to perform "Happy" at this year's Grammys, an extreme skeleton featuring a smiling titanium skull.
Wael El Saadi, the boutique's trim, affable director, describes the impact timepieces like these can enjoy in L.A.'s elite circles. "When you go to park your car, whether it's a Bugatti or Lamborghini, you walk away with a piece of paper," he says. "The valet has it, so you cannot impress the person you're meeting with your nice car. How many diamonds on a pinkie ring can you wear? How many blue diamond cuff links or tie tacks? A man cannot bejewel himself, so wealth whispers. When you're wealthy, you want to whisper. Your Richard Mille watch is your business card, sending a message about your taste and level of wealth, and you're whispering."
There are few people who can identify a Richard Mille or a Greubel Forsey on sight, but a good percentage of that group seems to be in the market for the kind of residences Hyland lists and sells. In his profession the extreme skeleton watch, spotted by a client who shares his fervor, can become, as he puts it, "the icebreaker to end all icebreakers."
"I can be talking real estate or talking cars with a client," Hyland says, "and all of a sudden we get into watches, and you go in a totally different direction: It's as if you discovered you both spoke French."
The full article is available here.
Enter Text…