The United States is bound to see a lot of changes in the future. One of the most satisfying is the growth of single-family homes. Thanks to a strong economy and low mortgage rates, homeowners are seeking new dwellings for their families. Likewise, 2015 will see an upsurge of renters who prefer new multi-family homes.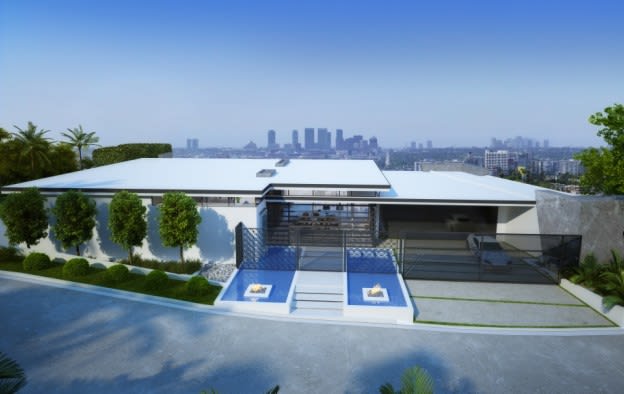 Rendering of 1108 Wallace Ridge, Beverly Hills. Breaking ground this month.
David Crowe of The National Association of Home Builders has said that 2014 was a positive year for builders, but the climate will only continue to improve. He added that this is likely due to the anxiety potential homeowners have recently felt over a poor economy that was spurred on by the mortgage crisis.
All of that is changing now that both the public and the private sector has improved in recent years. According to the Bureau of Labor Statistics, unemployment in the United States is down to 5.9 percent. That figure is down by 1.3 percent in 2014. Projections are that unemployment in 2015 will continue to drop. This bodes well for builders who expect single-family production to increase by 2.5 percent in 2015 and even more in 2016. Indeed, the experts believe that 1.1 million new homes will be build in 2016, which is up from 991,000 in 2014. Multifamily homes have seen an even larger jump in production, though projections are that they will remain static at about 356,000 new buildings each in 2014 and 2015. Along with new home construction, homeowners are taking on large remodeling projects on a steady basis. Surprisingly, remodeling, which has significantly increased for the last six quarters, is now at its all-time high. However, those numbers are expected to drop as more homeowners choose to buy new homes rather than remodel their existing dwellings. The downside to this growth, if there is one, is that demand may outweigh the supply. With more Millennials moving from multi-family homes, builders could see themselves stretched in many communities. On the upside, this vast need may require an upsurge in construction employees. Some say that housing demand could create as many as 2 million jobs in 2015. This further improves the economic landscape, but it could also create an even larger need for new home production. Low mortgage rates are key in keeping single-family home production high. Current mortgage rates are very low, hovering at about 3 to 4 percent, but that is not likely to remain the case for long. Experts believe that mortgage rates will elevate once more to about 6 percent by 2017. However, as long as unemployment remains low, that 6 percent figure should not affect the number of new homes being built in future years. Though the United States is seeing an increase in single-family home production, the number of new homes being built is not steady throughout the nation. States that are still struggling with unemployment may not see an increase in housing needs anytime soon. These states include Alabama, Arizona, Nevada, New Jersey, New Mexico, and Rhode Island. Indeed, these states remain well below what is considered to be normal production levels and are projected to remain so at least through the next two years. Conversely, states that are experiencing a surge in employment, largely due to energy production, will continue to grow at a rapid pace for years to come. In the end, builders in the much of the nation will have plenty of opportunities to showcase their skills in the coming months.
1108 Wallace Ridge, Beverly Hills. Represented by Branden Williams and Rayni Romito Williams.