It's impossible to ignore the current evolution in the relationship between workers and the spaces they occupy. Especially when those 'offices' are now in their homes. As work processes and community relationships evolve, we now find ourselves blurring the live/work lines, but what does it look like when some of the most revered commercial architects turn their attention to personal residences? How does an architect who plans urban spaces for millions of people treat a humble abode, and what can we learn from their adaptive synergy?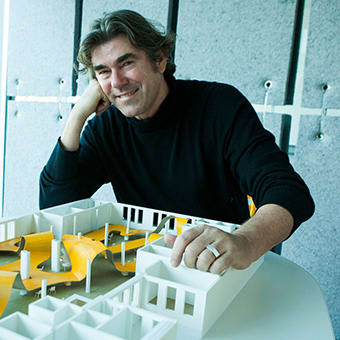 Photo credit: clivewilkinson.com
Clive Wilkinson FAIA, FIIDA, RIBA
Born in South Africa, prestigiously schooled in the UK, and with over 140 awards, Clive Wilkinson and his eponymous Culver City based firm deserve all the accolades bestowed upon them. With a client list of enviable workplace design that includes Disney, Google, Microsoft and TBWA it's hard to imagine Wilkinson could successfully dip into the realm of residential real estate, yet his scaled down functionality appears seamless.
This is no more evident than in his former personal residence in West Hollywood. His contextual ingenuity is realized via his trusted mediums of stucco cubic forms, polished concrete, exposed wood beams, and vast open plan spaces. Continued outdoors by the softened landscaping and an oversized pool. The master suite is located on the ground floor, with the upper level devoted to a flexible live/work space (allocated long before the current needs of a home office).
551 Norwich Dr, West Hollywood | $4,195,000. Represented by Brett Lawyer | View Listing
---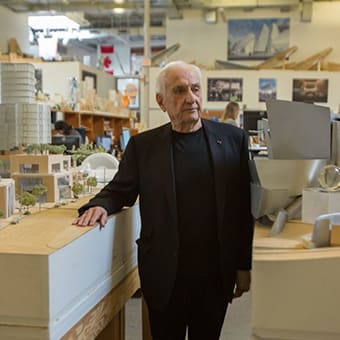 Photo credit: Los Angeles Times
Frank Gehry FAIA
This Canadian born 'Starchitect' is likely California's best known master draftsperson. Raised from a young age in Los Angeles and a graduate of USC, Gehry had firmly stamped his vision throughout L.A. County before reaching global status with his free-form undulating titanium clad attractions.
His early career began at Victor Gruen Associates, followed by a side-stepping stint in the Air Force before continuing studies at Harvard Graduate school of Design, he instead returned to work at numerous firms before traveling with his family to Paris to work with the revered André Remondet and study the works of Le Corbusier.
He partnered with Greg Walsh (Sci-Arc) from the 1960's to the mid 90's with various incarnations of the Gehry powerhouse, solidifying the practice as 'Gehry Partners' in 2001.
He undertook a number of home renovations during this time, the St Ives Residence, commissioned in 1976, included a new addition around three sides of a white 1939 Modernist stucco house (lived in by Al Pacino and featured below).
He quickly followed this with a controversial renovation of his personal Santa Monica residence and numerous citywide commissions ensued. His landmark Chiat/Day 'Binocular' building and various other municipal buildings firmly established his name and landed him the prestigious Pritzker Architect Prize in 1989.
In 1997 Gehry vaulted to a new level of international acclaim with the opening of the Guggenheim Museum in Bilbao, numerous other world-class curvaceous structures followed and Los Angeles was bestowed the Walt Disney Concert Hall in 2003. Gehry remains one of the most recognized architects in the world, now you can own a Gehry work of your own.
8952 St Ives Dr, Sunset Strip | $4,495,000. Represented by Jonah Wilson | View Listing
---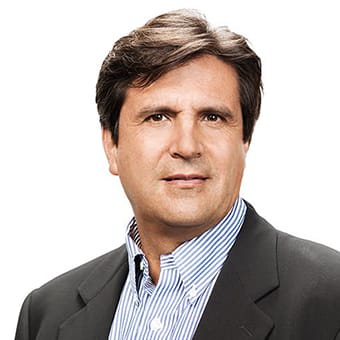 Photo credit: som.com
José Luis Palacios, AIA
Boasting an outstanding body of work, currently in excess of 35 million square feet, this Ecuadorian native hones his craftsmanship through his extracurricular love of mathematics and physics. His mantra when "making" buildings is to offer simple and artful solutions to complex problems with a pragmatic and yet innovative approach.
Such skills elevated his status quickly to the rank of Design Director at venerable architects SOM, a vast collective of industry heavyweights responsible for some of the world's most technically and environmentally advanced buildings. Palacios' projects are just as diverse, from the New Los Angeles Courthouse, to the Sunset/La Cienega Residences and the beautiful renovation and adaptive reuse of The Desmond in DTLA.
It's no surprise that his own personal residence offers just as much detail, precision and thought. Hilton & Hyland is pleased to represent 'The Treehouse', an exemplary offering of Palacios' work perched among the foliage of Bel-Air. A modernist home truly designed by one the world's most important contemporary architects in practice today.
1140 Roberton Ln, Bel-Air | $4,995,000. Represented by Mick Partridge | View Listing
---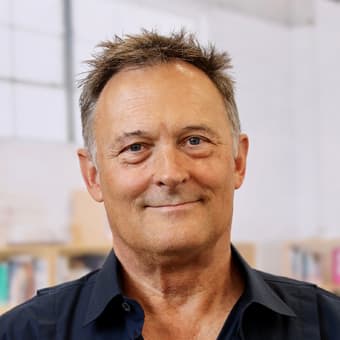 Photo credit: rios.com
Mark Rios, AIA
A homegrown arbiter of architecture, Mark Rios is a dedicated Angeleno design disciple in every sense of the word. It's hard not to see his love for Los Angeles throughout his endless projects within the City of Angels.
Rios is a  founding partner of the famed, and highly decorated group, Rios Clementi Hale Studios. The 30+ year practice recently rebranded itself simply as RIOS. This mononymous moniker paves the way for the firm to collaborate across all visual disciplines. Their emphasis remains on architecture and landscape architecture, while they also incorporate interior design, graphic design, product design, branding, and urban planning.
Rios is no stranger to the powerhouse that is land and structure, an AIA fellow since 1999 and an ASLA fellow since 2006, he followed his degree from USC with both a Master of Architecture and Master of Landscape Architecture from Harvard University's Graduate School of Design.
He proudly merges these two disciplines seamlessly in his work with bold projects such as Grand Park, The California Endowment, and The Mark Taper Forum.
A Rios designed home proudly graces the Bel-Air landscape, a property whose exquisite finishes and details are only matched by its outdoor spaces and landscaping . . . which is to be expected of course.
833 Stradella Rd, Bel-Air | $29,500,000. Represented by Linda May & Drew Fenton | View Listing
Written by Judith Parker at Hilton & Hyland