Mark Twain cleverly said "Buy land, they're not making it anymore." And land becomes even more rare and desirable when it's surrounded by tropical ocean water. A private island is one of the ultimate trophy properties one can own, offering instant status, unparalleled privacy, and the opportunity to set the rules of your own island kingdom.
Johnny Depp, Larry Ellison, Leonardo DiCaprio, and Richard Branson are a few members of the elite club of private island owners who are living out their Swiss Family Robinson and Robinson Crusoe fantasies. But it's probably safe to say they're not fighting off natives or living in tree houses bound together with weathered rope. Private island owners are often visionaries seeking a blank canvas to create their own private paradise, bringing in materials to build resort-like amenities.
The private island lifestyle unlocks a level of freedom few have experienced. With accessibility limited to a boat, or plane if your island has a landing strip, you won't have to worry about your neighbors or the paparazzi dropping in unexpectedly. You are free to experience the ivory white sandy beaches and explore the exotic tropical forests without interruption from the outside world.
Here are two of the finest examples of private islands for sale, represented by Hilton & Hyland.
THE CROWN JEWEL OF THE FIJI ISLANDS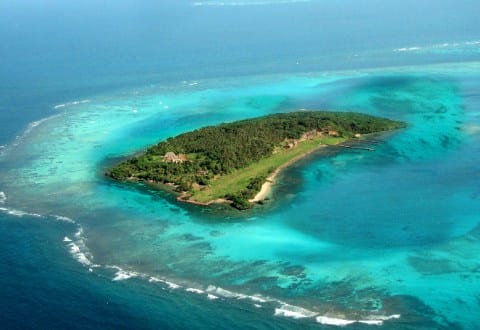 Katafanga Island, Fiji
A timeless and rare opportunity to own one of the last freehold islands in the South Pacific paradise of Fiji. Katafanga Island, also known as the Blue Lagoon, is strategically encircled by a natural 5,000 acre bioluminescent turquoise blue lagoon, with breathtaking sugar white beaches.This sprawling 225 acre island of unspoiled beauty, laced by swaying coconut palm trees and natural habitat, is 1 mile long by 1/3 mile wide with 150 foot elevations. The impressive coral reef, which encompasses a pristine blue lagoon, magically has a natural opening of 200 feet wide, thus allowing for luxury yachts over 200 feet to enter and dock, and have the serene protection of the lagoon. The island could be a spectacular home for a world-class resort, which is under development. The majority of the vast infrastructure is completed at a cost of $20 million. Included in the sales offering are 20 private villas, a runway, golf course, ring roads, water reservoir, jetties and employee housing. Conceivably ideal for a hotel entrepreneur, boutique spa/resort owner, or simply for a luxurious island getaway.
MORE PHOTOS & INFORMATION | Represented by Trista Rullan
GEORGES ISLAND, HONDURAS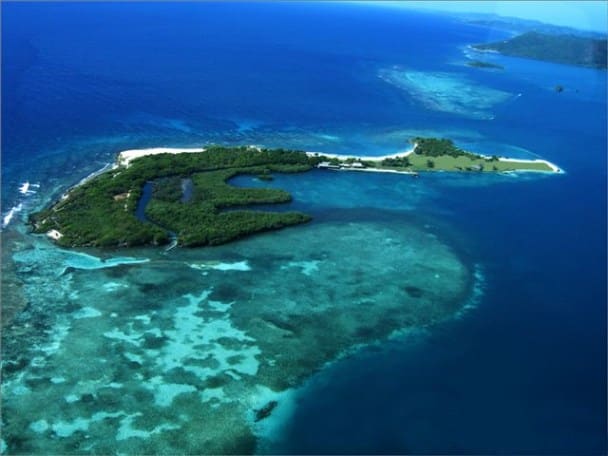 Georges Island, Honduras
One of the most breathtaking private islands in the turquoise Caribbean Ocean, Georges Island is located in the secluded Port Royal Bay, part of the Honduran Bay Islands and very close to Belize. Situated on the the world's second largest coral reef, one can experience unrivaled snorkeling and scuba diving in the crystal clear tropical waters that surround the long stretching sandy beaches of this 29 acre island. The fully self-contained island also boasts a 800 meter certified firm grass runway and includes a dreamy villa, which offers four bedrooms with en-suite baths with both indoor and outdoor showers. Additional amenities include a rock-lined fresh water pool, hammock terrace, and boat dock making this a true paradise.
MORE PHOTOS & INFORMATION | Represented by Trista Rullan