There is nothing better than coming home to a clean, organized home. When the stress and clutter of work are brought with you at the end of the day, it can impact how clean you keep your space. By the time you finally recognize your home is no longer neat and tidy, the mess is too much for one person to handle on their own. Hilton & Hyland recently sat down with Kimberly Stewart, Founder and CEO of The Realm, a full-service luxury home and office organization company, to answer some of our questions on organizing your home and, more specifically, your primary bedroom closet.
Hilton & Hyland(HH): How important is it to have a systematic approach when organizing a luxury master closet?
Kimberly Stewart(KS): It's everything. We start every project with a consultation to review the space, the client's goals, and if they are comfortable with donating items and moving things around. Coming up with a game plan prior to the organizing days is essential so we can account for purchasing, any custom design work, and overall just help the project run more efficiently. 
HH: How has organizing luxury spaces transformed over the years?
KS: I think the biggest change we've noticed is that there is a need for more specified custom millwork when clients are building or renovating their homes. I think that the designers and architects can look to us as an extension of their team – which has transformed the way that luxury spaces are designed. Everything is designed with more intention as well as functionality. Creating custom drawer inserts, racks, and systems that work for clients' kitchens, pantries, closets, bathrooms, garages, etc., has been something that we have loved to be a part of. There are wonderful brands out there that offer great organizing solutions, but the custom aspect has really allowed us to cater to our clients' needs. The materials we are able to work with offer more variety In terms of aesthetics. We think that's the missing gap in the market and where we come in.  
HH: When did you realize that you have a knack for organizing?
KS: Organizing has always been a part of my life and world; it's how I make sense of things, and it keeps me grounded. It's second nature to me – the ability to find and see clarity through the chaos.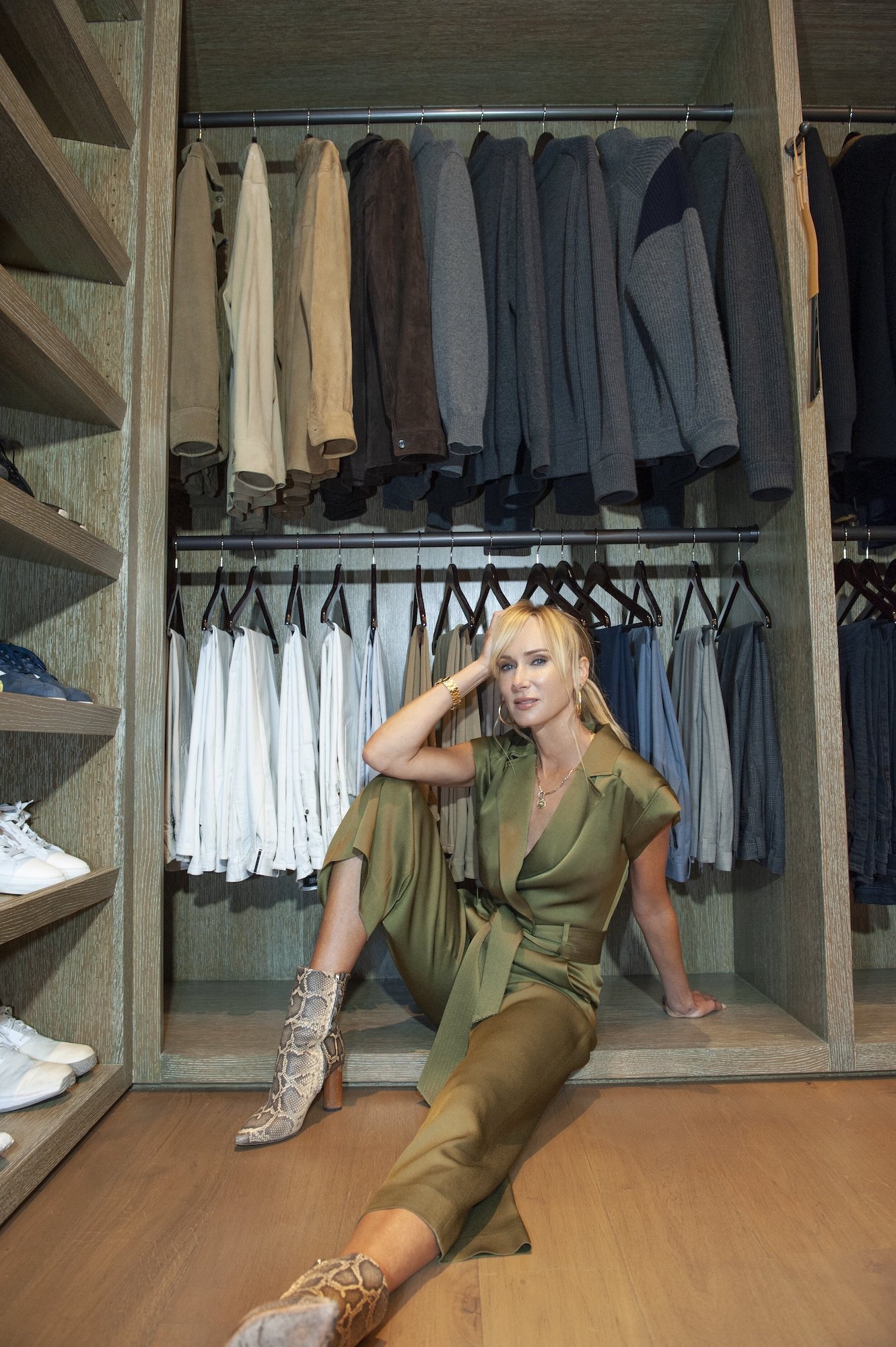 HH: What areas around the home make your life less stressful when organized?
KS: Definitely the kitchen, bathroom, and closet. I think when you have children creating organized zones for their day-to-day activities really helps because it sets them up for success, and everyone knows where everything is. Life is hectic, so creating mindful systems helps everyone in the household. 
HH: Does organizing a bedroom closet differ per home?
KS: Yes, every project differs because every client is so unique and has different lifestyles and environments. Being mindful of the client's goal and setting them up with a system for success is what we strive for. 
HH: What does your dream bedroom closet look like?
KS: That's really tough because I have so many! Again, depends on the home, but it would definitely involve beautifully concealed cabinetry, well-lined suede drawer inserts, and great cabinet and door hardware. All the details are really the dream for me. We've worked with clients that have really well-thought-out design systems. I think one of our favorite features would be the revolving shoe rack. It just makes sense and is such an elegant way to display your shoes and is so mindful of space. 
HH: What is one common misconception about organizing, especially a bedroom closet, that people should avoid?
KS: I think holding onto unwanted or unused items and trying to find a space for them is always going to lead you back to square one. Declutter and donate, then evaluate your needs. I also think a lot of items, such as pants, are better suited for hanging instead of being folded. Creating visibility within your closet is always the goal. 
HH: Can you tell us about the key elements to consider when organizing a luxury closet?
KS: It's a process, but you need to evaluate the space as a whole, and taking measurements is crucial when we're not provided with as-builts. We like to assess all the items the client has and would like to keep, the current systems, and how we can improve their systems and move things around to achieve their goal. The goal is usually to declutter, which can be emotional at times, but trusting our vision helps the process run smoothly.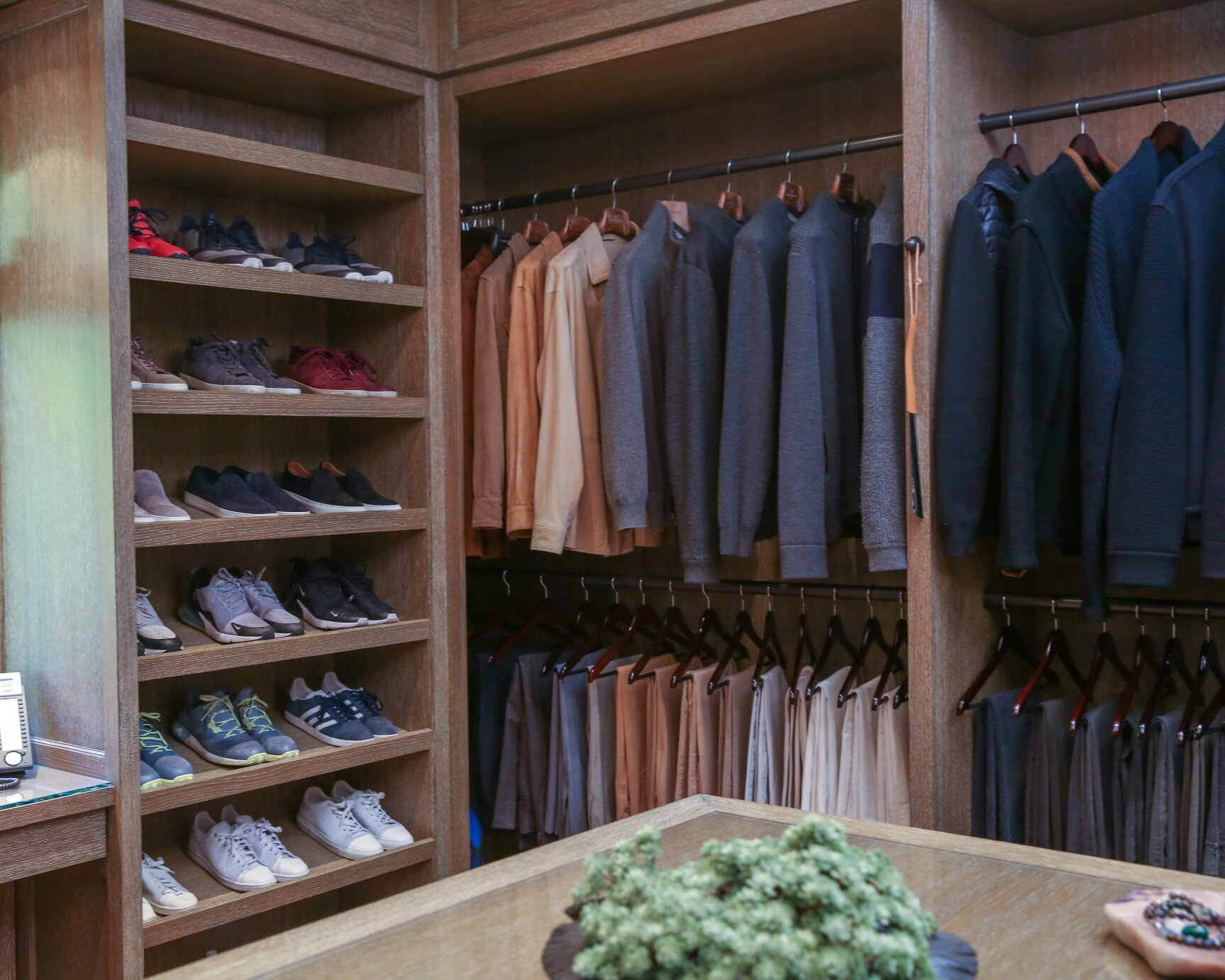 HH: What are some effective storage solutions for maximizing space in a luxury closet?
KS: I think taking advantage of custom millwork to create spaces for each article and drawer inserts is so helpful if that option is available. Planning out which items will be hung, which will be folded in drawers or shelving, and finding beautiful baskets or bins have really set our spaces apart. We have yet to find the perfect hangers, but it's something we're passionate about and would love to create. 
HH: How do you determine the best layout and design for a luxury closet?
KS: It truly differs and depends on the client's needs. We always like to account for more storage space to allow for growth over the years. We prefer hanging space as opposed to drawers, as we hang most items but think it's nice to have concealed drawer spaces as we love a minimal look, and some items can be stored away, such as intimates, activewear, and basics. 
HH: How do you incorporate personalized touches or customization options into organizing a luxury closet?
KS: We always like to work within the client's aesthetic and try our best to create or match the hangers, bins, and dividers to the materials in the existing environment. We label everything, and finding fonts or label clips that suit their personality and space is a special and subtle touch. 
HH: What are some essential features or accessories that can enhance the functionality and aesthetics of a luxury closet?
KS: Beautiful lighting and mirrors. You want to create an environment that feels like a sanctuary and that you feel really good getting dressed in. Beautiful hangers that clothes don't slip off of and well-designed shoe and bag storage. 




HH: How do you ensure that a luxury closet remains organized and clutter-free in the long run? 
KS: It takes a team! I think creating a system that works for the client and that they are proud of helps with maintenance. We also provide photo binders to the household teams so they know where everything is supposed to be placed. We like to come back to freshen up the spaces seasonally as well. 
HH: What are your recommendations for properly displaying and organizing a collection of designer shoes or handbags in a luxury closet? 
KS: If the option is available, we love to have handbags displayed on shelving that is concealed by glass or wood with dividers to help keep the dust away and keep the bags pristine. For shoes we loved the revolving shoe rack. It allows for each pair of shoes to have their own space, which provides visibility and keeps them in good condition. 
HH: Can you provide tips for maintaining the organization and cleanliness of a luxury closet on a regular basis?
KS: Doing a deep clean seasonally will help keep everything pristine as dust collects. The photo binder system is also really helpful as it is a nice visual aid to refer back to and helps our team and household teams maintain the new organization system.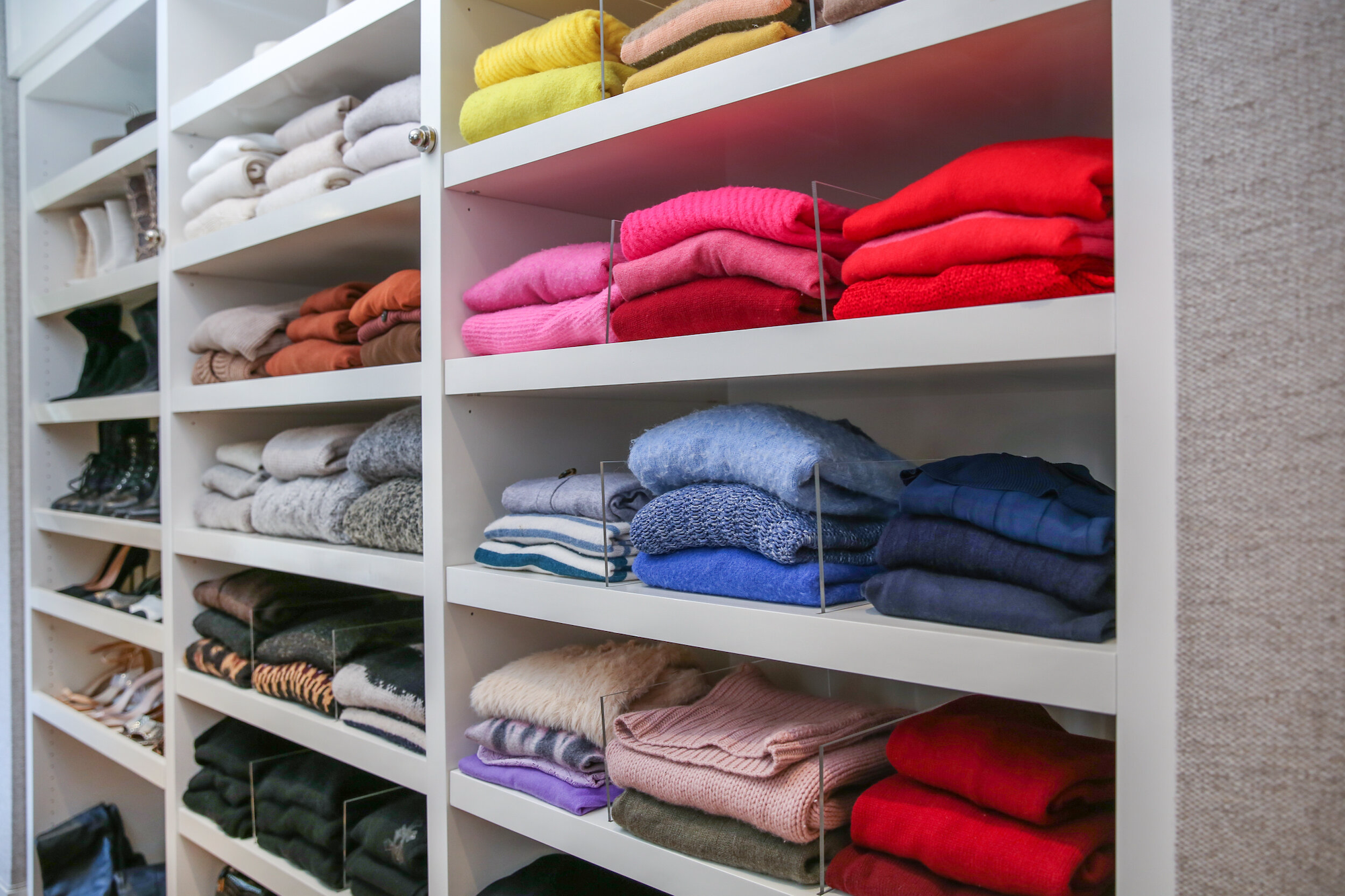 HH: Are there any specific lighting techniques or fixtures that you recommend for illuminating a luxury closet effectively? 
KS: We love the use of recessed lighting within the wardrobes themselves and around the mirrors. We prefer warm to cool lighting as we think it's more flattering and there are wonderful LED temperature options available. Overhead lighting can be harsh, but there are great pendants and chandeliers that make for a beautiful statement and can be equally as functional. 
HH: What is one thing that people can do on their own to organize their bedroom closet?
KS: I think reviewing the items in your closet seasonally and donating any items that are not used or fit within your current lifestyle is the best place to start. That's the first part of our process. Keeping only the things that you love allows you to live more minimally and be mindful of what you bring back into your home. 
Learn more at TheRealmKS.com.