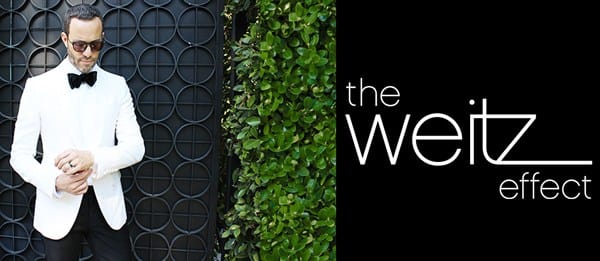 @theweitzeffect | TheWeitzEffect.com After a successful run as a leading talent agent at WME (William Morris Endeavor), fashion guru Andrew Weitz split just over one year ago to launch his eponymous style consulting firm for gentlemen, The Weitz Effect. His current client roster includes former clients and a host of leading business executives throughout the Los Angeles area. He spoke to Hilton & Hyland about emerging trends in men's fashion, and what that means moving forward.
H & H: What are some trends that you've seen in the recent months that you think will continue to evolve in the next year?
AW: One of the biggest trends still happening right now (and not going away anytime soon) is the slim cut suit/blazer & slacks. That said, high-end fashion designers are already producing baggier clothes again, but I don't think that's going to resonate with consumers right away. Many gentlemen are finally feeling comfortable in the "slimmer" look, so they're not quite ready to so quickly jump back into the baggy fit again.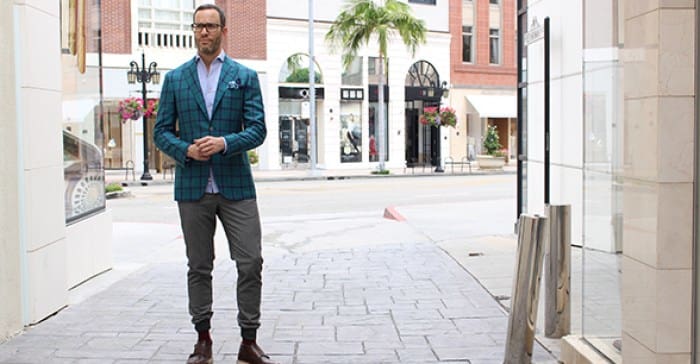 Style Trend: Slim Cut Suit/Blazer & Slacks Another trend that's coming back is pleated pants – a single or a double pleat. This is very Italian. When I tell my clients about this, every single one says (in their own words) "I've got plenty of suits like that in my closet". But, today's cuts are completely different and much more fashion forward than they were 10/15 years ago. It's the same for the lapels on a blazer/suit jacket. Lower lapels than we had in the 80s and 90s are back, but just like pleated pants, the cut is a more modern version of those from decades past and is much more stylized. Style Tip: In regards to the trends above, the proper way to wear a slim cut pant is to have little to no break so that the bottom of the pant sits slightly above the tongue of the shoe. If you really want to make a fashion statement, the pant should be cropped at the ankle. As for other trends, there is a definite new trend in luxury timepieces. Men are going back to smaller faced watches. Instead of the 44/46-millimeter watch, men are swinging down to a 40/42-millimeter which highlights a more elegant, upscale look while still maintaining a sporty feel. However, it's all relative to a man's stature, but look around and you'll start to notice smaller faced watches.
H & H: Any specific style people are finally coming around to?
AW: Besides slimmer cut suiting, yes! Designer sneakers. The sneaker phase has been around for the last 5 years, but most men are now really embracing it. . We like to put a designer sneaker on our clientele because the sneaker works well with a slim cut suit, slack or jean. It also gives the client a smart, business, casual look while remaining elegant and stylized. The designer sneaker replaces the Nike, New Balance, Reebok look, as sneakers from Lanvin, Common Projects and Tod's maximize a man's style without compromising the comfort of wearing a training sneaker.
H & H: Has anything else caught your eye that you think is exceptionally distinctive, here in Los Angeles?
AW: Designer sweatpants. Although most men won't wear these as a stylish casual pant (the way they are meant to be worn), wearing a designer sweatpant with a cuffed or elastic bottom can be paired with a dress shirt and a blazer, a funky sock and a cool shoe or sneaker for a stylized funky and hip look. Most men will be skeptical about this, but it is a great look if done properly. From both ends of the brand spectrum, Vince and Brunello Cucinelli do it best.
H & H: Thanks Andrew.