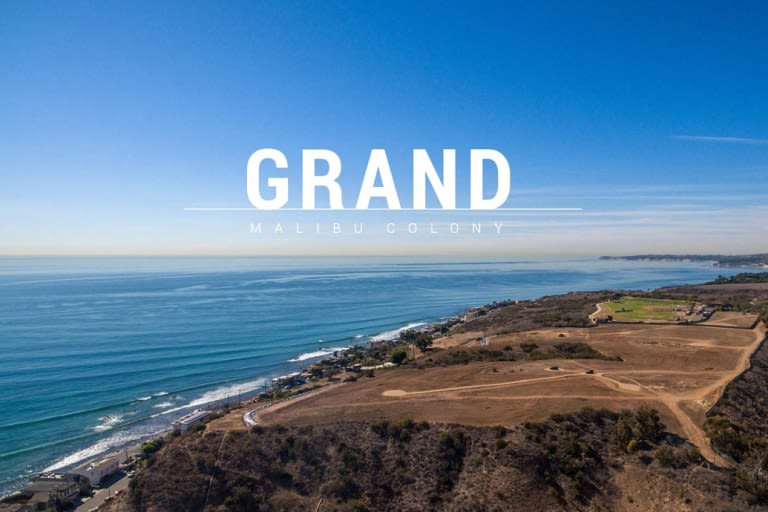 Malibu's almost mythical reputation as the most magical beach town in the world is one that has persisted for decades. People from around the world travel to experience the unique energy the area exudes, and it's seldom you see someone leave disappointed or underwhelmed. It's this amazing aura that makes Rodrigo Iglesias and Rick Hilton's newest offering so exciting.
GRAND is an approximately 24-acre vacant parcel situated on a mostly level coastal bluff between Pacific Coast Highway and Malibu Road in Malibu, CA. The parcel features incomparable coastline views and may be the last guard-gated compound on the California coastline. After a 10-year entitlement process, the City of Malibu and the California Coastal Commission have approved a Vesting Tentative Tract Map (VTTM) for the subdivision of the Property into five (5) residential lots. These lots are set to range from 113,818 square feet to 252,132 square feet, and the City of Malibu has issued Coastal Development Permits (CDPs) for homes ranging from 10,434 square feet to 11,990 square feet.
Walking access to Malibu Road's beach is approximately 1/10 of a mile from the property – truly a once-in-a-lifetime opportunity. The Property is zoned Planned Development which is unique to the property and allows for five single family residences and a requirement for the donation of 1.75-acres to the City of Malibu for recreational use (which land donation is incorporated into the approved VTTM).
The GRAND is located in the epicenter of Malibu within minutes of Nobu and the Malibu Country Mart. In less than an hour's drive, the owner can be at the Hollywood Bowl enjoying a romantic summer night's show, shopping on world-famous Rodeo Drive, taking in the world-class opera music at the Dorothy Chandler Pavilion, or watching the sunset over the gorgeous Pacific Ocean from the Santa Monica Pier.
For more information on this magnificent opportunity, click here.