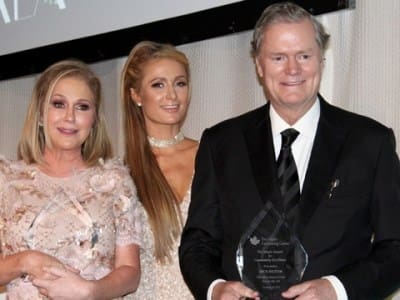 Each year The Maple Counseling Center (TMCC) holds a gala in support of its mission of providing mental health treatment services to underserved members of the Los Angeles community.
Celebrating its 43rd Annual Gala, The Maple Counseling Center presented Rick and Kathy Hilton with the Community Excellence Award in honor of the positive impact they continue to make in the mental health field throughout the city.
Hundreds of guests gathered at the iconic Montage Beverly Hills this past Wednesday, October 25th to celebrate the couple of the hour.
This year's theme, Access for All, is symbolic of the broader challenges facing the mental health industry, particularly the fact that nearly half of the city's residents are in dire need of treatment but do not have access to affordable mental healthcare.Over the past thirty years, Rick Hilton, and his wife Kathy, have remained prominent figures in social and philanthropic circles in both Los Angeles and New York City.
"We are very grateful for the honor," said Rick Hilton, Chairman of Hilton & Hyland. "We understand that mental health is highly stigmatized in this nation but we believe mental healthcare is a human right."
Hilton continues, "We take great pride in finding new ways to provide mental healthcare access to all. We hope our contributions will not only allow The Maple Counseling Center to establish new and innovative programs with a greater reach, but promote the benefits of mental health care for all."
For more than 40 years, Los Angeles-based TMCC has hosting on its annual gala to raise much needed funds so it can provide mental health treatment to adults, children, couples and families regardless of their ability to pay.
For more information on TMCC, visit http://www.tmcc.org