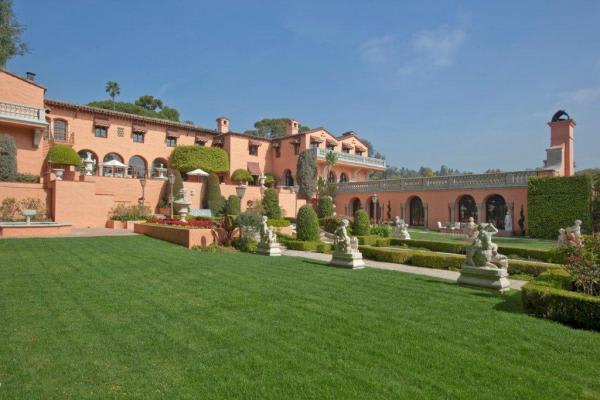 NINE months after the billionaire British heiress Petra Ecclestone set this city buzzing with her purchase of a 123-room estate for $85 million, the real estate community here is hoping the sale will help propel prices high enough to crack the elusive $100 million barrier.
Even in this town of fast fortunes and extravagant mansions, the record purchase price, for Candy Spelling's Manor in Holmby Hills, by Ms. Ecclestone, the daughter of the Formula One chief executive Bernie Ecclestone, was a showstopper. Ms. Ecclestone was only 22 years old, after all, and already owned a 20,000-square-foot home in the London neighborhood of Chelsea valued at $87 million.
One interesting twist in the script is that the deal to buy the Manor from Ms. Spelling, the widow of the producer Aaron Spelling, would most likely not have been possible — especially in the mere 48 hours it took to finalize — without another prospective buyer's negotiation on the home with Ms. Spelling nine months earlier.
In late 2010 Dmitry Rybolovlev, the Russian potash fertilizer billionaire, quietly made a visit to Los Angeles with his eldest daughter, Ekaterina. He made offers on at least two of the most famous mansions in Beverly Hills and Holmby Hills, including the Spelling manor, before deciding not to buy a home on the West Coast, at least for now, according to people familiar with their deliberations who declined to be named for confidentiality reasons.
Instead, Ekaterina, using a trust linked to her father, bought the former Citi chairman Sanford I. Weill's penthouse at 15 Central Park West for $88 million, a record price in New York. Since then Mr. Rybolovlev's messy divorce has put that apartment and a home he bought for about $100 million in Palm Beach, Fla., in the crosshairs of his wife's lawyers.
While to some the $85 million sale here may have been an outlier, to brokers it is a hopeful comp that has helped heat up the high end of the Los Angeles market.
"The market is just on fire the last several months," said Rick Hilton, a co-owner of Hilton & Hyland, a brokerage in Beverly Hills and an affiliate of Christie's International Real Estate. (Mr. Hilton is also the father of the celebutantes Paris and Nicky Hilton.)
Mr. Hilton said the inventory for premium properties was in short supply. For those following Manhattan real estate, it's a familiar story.
"You have a lot of wealthy people that are nervous about the stock market," he said.
As in New York and Miami, foreign money is pouring into Los Angeles — from Russians and Chinese, as well as Germans, Britons and Indonesians — who are eager to park their money in real estate, brokers said.
Bidding wars are back, as are New Yorkers. One Brentwood home Hilton & Hyland listed about three weeks ago for $10.25 million drew three potential buyers, all investment bankers from New York, Mr. Hilton said. It went into escrow after 10 days on the market, he said.
Last year Hilton & Hyland handled $1.2 billion in real estate transactions, up from $1 billion in 2010, and they have about $250 million in pending transactions this month, said Jeffrey Hyland, Mr. Hilton's partner at the firm.
There have been some big transactions recently, including Jennifer Aniston's $35 million sale of her home in the Trousdale Estates section of Beverly Hills to a co-founder of an investment firm in Orange County, a record per-square-foot celebrity sale, brokers said. In fact, three of the top five sales in the city in the past decade have happened in the past 18 months, brokers said.
But none have rivaled the $85 million Ms. Ecclestone paid Ms. Spelling, even if her original asking price had been $150 million. The French-chateau-style mansion, with 56,000 square feet, sits on more than 4.6 acres, and includes a screening room, a bowling alley and a parking lot for 100 vehicles.
Since the purchase she has "Petra-fied" the home, as W magazine put it, painting many of the rooms dark colors, including her 7,000-square-foot master suite, which is now black. With the help of the celebrity designer Gavin Brodin, the house was transformed from "an old 'Dynasty'-like set to a massive V.I.P. lounge," W wrote.
The Spelling home often received poor ratings from architecture critics and others who said it dwarfed other estates in Holmby Hills. Still, Ms. Ecclestone actually found it homier than other mansions she toured last year, said Mr. Hilton, her broker on the purchase.
Her Los Angeles housing search began in earnest last spring ahead of her $19 million Italian wedding in August to James Stunt, a British businessman. The couple wanted to live at least part of the year on the West Coast.
She was initially interested in the Fleur de Lys, a Holmby Hills estate built by the Texas billionaire couple David and Suzanne Saperstein and modeled after a French palace, which was on the market for $125 million. "She preferred the Spelling house; she felt it was more of a family home," said Mr. Hilton. "It was not as formal." A spokesman for Ms. Ecclestone declined to comment.
So Mr. Hilton drove Ms. Ecclestone eight blocks to the Spelling manor, which Hilton & Hyland also was listing. There, in just two days, they struck a deal at $85 million.
It seems that Ms. Spelling was eager to sell for that price because Mr. Rybolovlev had already negotiated with her down to that number in 2010, said one person familiar with the discussions.
In October 2010 the Russian billionaire had been on a Los Angeles housing search of his own. He rented the famed Beverly House compound in Beverly Hills from Leonard M. Ross, a real estate magnate, for about $600,000 for a 45-day stay, Mr. Ross said.
The sprawling property, with its descending series of long pools, has 18 bedrooms and more than 50,000 square feet in the main house alone. William Randolph Hearst lived there until his death, and John F. and Jacqueline Kennedy spent part of their 1953 honeymoon there.
And in a bit of movie nostalgia that appealed to Mr. Rybolovlev, the house was the setting for scenes involving a Hollywood producer in "The Godfather." (After conferring with someone who has worked there for 38 years, Mr. Ross said that the scene where a horse's head is found in the producer's bed was apparently not filmed at the house.)
Mr. Rybolovlev made an offer between $85 million and $100 million for Beverly House, but he and Mr. Ross could not agree on a price, said Mr. Ross, who has owned the property for 35 years. Back then he was asking $165 million, a price Mr. Ross said he set after seeing that Prince Bandar bin Sultan, the former Saudi ambassador to the United States, had put a $135 million asking price on his 95-acre estate in Aspen, Colo.
"I felt this had more value," Mr. Ross said while giving me a tour of Beverly House on Tuesday. (Mr. Ross paid less than $2 million for the compound.)
While in Los Angeles, Mr. Rybolovlev, with his daughter Ekaterina in tow, also toured the Spelling manor with Mr. Hilton and was interested enough to negotiate, but in the end he pulled out, said a person familiar with the matter.
Mr. Hilton declined to comment on Mr. Rybolovlev's housing search. Sergey Chernitsyn, a spokesman for the Russian, declined to discuss which homes he toured.
Despite its history and grandeur, Beverly House was not among those homes that Ms. Ecclestone seriously considered, Mr. Ross said. Nevertheless, he believes that sometime soon a home in the "Golden Triangle" of Beverly Hills, Holmby Hills and Bel Air will break through the $100 million sale price. He is currently asking $95 million for the majority of his compound.
With the Rybolovlevs' Palm Beach home deemed off-limits because of legal wrangling over the divorce, maybe Ms. Rybolovlev, 22, could find a warm getaway home in Los Angeles to complement her Central Park apartment (which, at 6,744 square feet, is about the size of Ms. Ecclestone's master suite at the Manor).
With more heiresses in the city, perhaps that $100 million ceiling would be broken in no time.