Malibu – a city with one of the highest demands for luxury housing – has two new listings that will be going up for auction on Wednesday, May 27th at 4pm PST, in cooperation with ConciergeAuctions.com. Known for its beachfront properties, spacious living and breathtaking ocean views, Malibu is unforgettable.
Perched atop a knoll with direct access to Malibu's best private beach, Lechuza, is the stunning 31654 Broad Beach Road.
"You can go to the beach, but beach-goers can't come to you, unless they're invited," says listing agent Rodrigo Iglesias of Hilton & Hyland.
It's a gorgeous, newly-renovated 4,456-square-foot-spread with a gated driveway that has previously been rented by Khloe and Caitlyn Jenner. With four beds, three and a half baths, high ceilings throughout and a hot tub on the entertainment deck, this property is the epitome of California beach living.
For more information on the auction of 31654 Broad Beach Road, visit Concierge Auctions.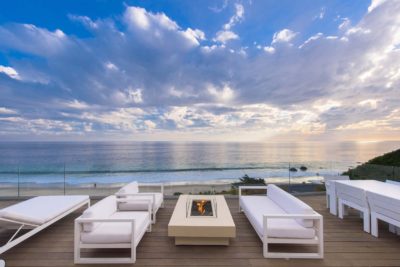 Nestled in a gated community with 24/7 coastline views is 6763 Las Olas Way. This sunlit townhome has a spacious three bed and three bath layout with fully upgraded amenities.
Located less than three miles from Malibu town center and on the southern tip of Zuma Beach, homebuyers will be hard pressed to find a more exquisite destination.
Whether enjoying a cup of coffee or a glass of wine from the private balcony, this home provides the feeling of a beachside resort that, "you never have to leave," Iglesias said.
For more information on the auction of 6763 Las Olas Way, visit Concierge Auctions