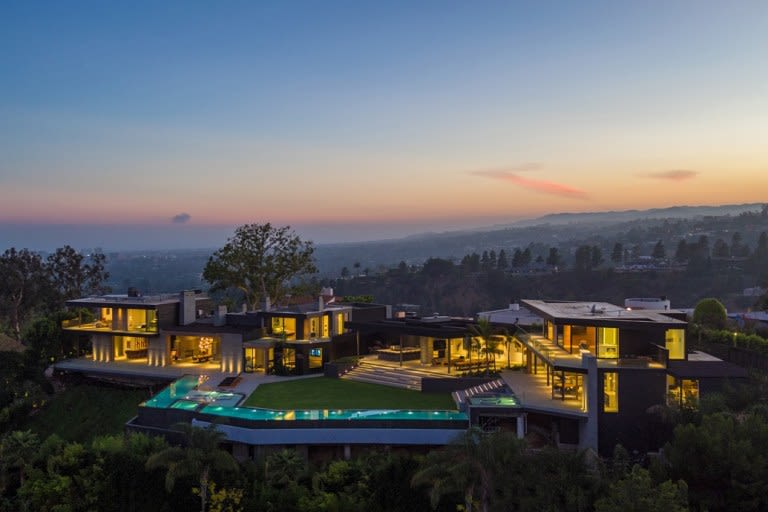 Jesse Lally, Branden Williams and Rayni Williams hosted a launch party for their marvelous 1520 Gilcrest Drive listing last night. The event saw high-powered agents, and potential buyers flood the expansive estate to tour one of Los Angeles' most breathtaking residences.
The newly constructed home is truly luxury in its purest form. "We sought to deliver a complete product with only the highest end finishes, materials, and design," said listing agent Jesse Lally. There is no question that this goal was accomplished.
The 15,000 square foot modernist home, which sits on a 1.1-acre lot, is the latest of renowned developer John Saca's masterpieces. Crafted with the intention of making the home impress in the highly competitive Los Angeles luxury market, stained cedar wood and a board-formed wall are some of the home's standout features.
The home includes six bedrooms, eight and a half bathrooms and an incredible collection of furnishings and art. A guest house is linked via an 850-square-foot gallery that includes works by Andy Warhol and Damien Hirst, pieces that are both available for purchase.
Beyond the expansive interior, the home includes one of the most awe-inspiring views Los Angeles has to offer. A 210-foot-infinty-edge pool and a seamless indoor-outdoor home theatre help give this home a luxury feel unlike any other home.
To learn more about this opportunity contact Jesse Lally by clicking here, or Branden and Rayni Williams by clicking here.