Mansions for Sale in Beverly Hills, Bel Air, Malibu, & Rolling Hills
Cozy doesn't cut it for the millionaire and billionaire home buyers seeking a mansion, or mega-mansion, to call home. More like personal five star resorts, these mega homes are measured in the tens of thousands of square feet and feature outrageous amenities, entertaining spaces, and special rooms you have to see to believe.
Hilton & Hyland represents some of the finest real estate in Los Angeles and has prepared a list of some of the biggest and most extravagant mansions for sale in Beverly Hills, Bel Air, Malibu, and Rolling Hills. More than just a big home, these estates are rich in history and design, and have been home to some of the world's most influential people.
#1 – The Legendary Beverly House | Beverly Hills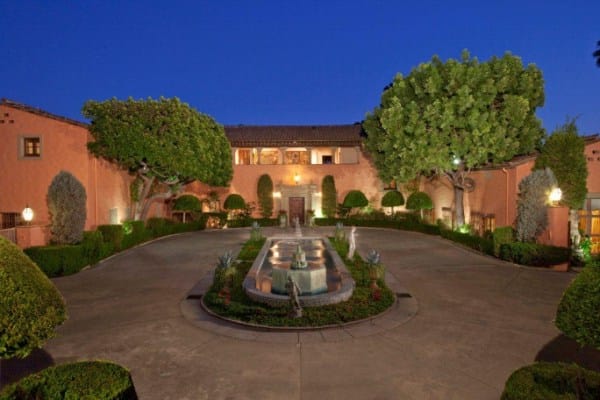 Beverly House | Beverly Hills Mansions

With an appearance in the classic movie The Godfather as well playing host to John and Jacqueline Kennedy during their honeymoon, the Beverly House may be as famous as its inhabitants. Sited on approximately 6 flat acres atop a private knoll three blocks from Sunset Boulevard, the Beverly House was built by banking executive Milton Getz and later purchased by Marion Davies in 1946 for William Randolph Hearst, historical figure and most powerful publishing magnate of the 20th century.
Built of terra-cotta stucco, the H-shaped residence exhibits a perfect combination of Spanish and Italian style, with intricately carved ceilings and paneled walls, French doors, balconies, arched ceilings and floor-to-ceiling windows, which overlook the famous cascading waterfalls to the pool and the Venetian columns beyond the pool house. There is also a formal dining room, breakfast room, and family room with outdoor terrace accommodating up to 400 for sit-down dining. A garden level contains an art-deco night club, wine cellar, and one of two projection rooms in the residence. Additional features of Beverly House include a commercial kitchen, lighted tennis court with indoor bar and media center, guest house above eight car garage, separate security cottage, separate two bedroom apartment and two story gate lodge with kitchenette and four bedrooms.
MORE PHOTOS & DETAILS | Represented by Jeff Hyland
#2 – The Borman Estate – Frank Gehry 1989 | Malibu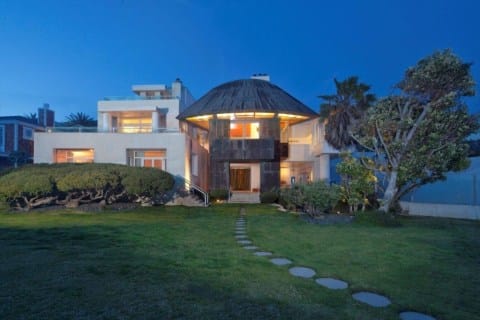 31250 Broad Beach Rd | Malibu Mansions

Designed by world renowned architect Frank Gehry, this beachfront Malibu mansion is an architectural connoisseur's dream. Weighing in at over 11,000 square feet with 6 bedrooms, 10 bathrooms, and an unprecedented 160 feet lot along Broad Beach, this dramatic masterpiece earns the title as one of Malibu's largest beach homes. A full-sized beachfront tennis court, lap pool, and four garage bays with parking for a dozen vehicles makes this the perfect getaway pad for the beach seeking tycoon.
Represented by Jeff Hyland and Drew Fenton
#3 – Hacienda de la Paz | Rolling Hills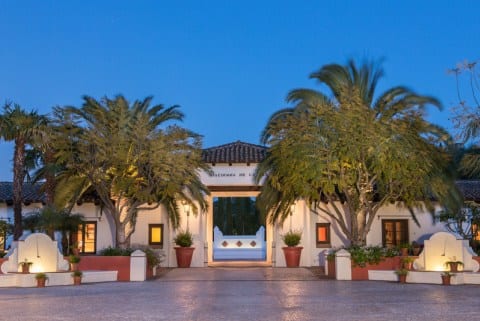 Hacienda de la Paz | Rolling Hills Mansions
There's a reason this Rolling Hills mansion was featured on the cover of the L.A. Times. Hacienda de la Paz is one of California's most unique and stunning homes with staggering stats that include 50,000+ square ft, 9 bedrooms, 25 bathrooms, underground Morocan-style baths, outdoor clay tennis court to French Open Specifications, and an indoor tennis court to US Open Specifications that converts into a 350 attendee ballroom with orchestra and full catering facilities.
Perched on the Palos Verdes Peninsula, Hacienda de la Paz features aromatic manicured grounds that include marble fountains, rose garden, orchards that produce 24 varieties of fruit and nut trees, and jetliner views of the Pacific Ocean, Hollywood Hills, and downtown L.A.
MORE PHOTOS & DETAILS | Represented by Marcie Hartley
#4 – 9904 Kip Drive | Beverly Hills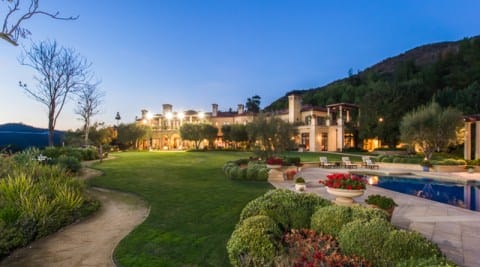 9904 Kip Drive | Beverly Hills Mansions
A long private drive leads to this nearly 20 acre Beverly Hills mansion, beautifully landscaped for maximum privacy and security, and is just minutes to the Beverly Hills Hotel. Over 30,000 square feet of living space provide for large scale entertaining and world class art collections. All principle rooms face acres of gardens and grounds with spectacular views of canyon and city lights as the background. The main house comprises of 7 bedrooms, 13 baths and include luxurious amenities including a wine cellar, elevator, gym, and game room. This sprawling estate also includes a mosaic-tiled pool & pool house, tennis court, and staff/guest house with three bedrooms and full kitchen.
MORE PHOTOS & DETAILS | Represented by Jeff Hyland
#5 – William H. Doheny Estate | Bel Air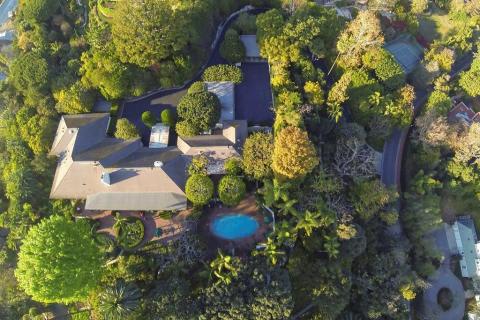 475 Bel Air Rd | Bel Air Mansions
Located at one of the most sought after locations inside the East Gate of Old Bel Air, the legendary William H. Doheny Estate occupies 3.63 acres four blocks north of Sunset Blvd. Unparalleled privacy for a property of this magnitude, this one story Hollywood Regency style Bel Air mansion boasts over 10,000 sq. ft with 8 bedrooms, and 14 bathrooms, a long private and gated driveway with parking for approximately 15 cars and 4 enclosed parking spaces. The estate highlights beautiful city and ocean views.
The Doheny family is one of the premier families in Los Angeles.
Edward Laurence Doheny drilled the first oil well near downtown Los Angeles over 100 years ago and helped found the Union Oil Company. His subsequent success in the oil industry made Doheny one of the world's wealthiest men. The home on Bel-Air Road was built by William H. Doheny and his wife Onnalee. They lived there for over 50 years after selling their home on Stone Canyon.
MORE PHOTOS & DETAILS
Represented by Rick Hilton, Judy Feder, Mich Rogers, Tyrone McKillen
You can view all of Hilton & Hyland's estates for sale here.