Everyone's favorite stony, jazz-loving, small-screen gumshoe is back! Less than one year after "Bosch" ended its seven-season run on Amazon Prime, the show's highly-anticipated spinoff, aptly titled "Bosch: Legacy," has hit the streamer's ad-supported sister platform, Freevee (formerly known as IMDb TV). Set a year and a half after the events of the original's series finale and based upon best-selling author Michael Connelly's 2016 novel "The Wrong Side of Goodbye," "Legacy" sees titular character Hieronymus "Harry" Bosch (Titus Welliver) trading in his badge to work as a private eye, with his daughter, Maddie (Madison Lintz), following in his law enforcement footsteps by joining the ranks of the LAPD Hollywood Division. And dare I say, it's even better than its predecessor!
Gritty, gripping and intense, the inaugural season's storyline revolves around Bosch and adversary-turned-associate Honey Chandler (Mimi Rogers) working together to take down villainous hedge fund manager Carl Rogers (originally played by Max E. Williams, the role was recast with Michael Rose for the spinoff) after he skates on a murder-for-hire charge thanks to a hung jury. The fact that episodes are being released piecemeal only serves to make "Legacy" all the more enthralling.
There is bad news when it comes to "Bosch's" best-known location, though. The cantilevered pad Harry called home on the original series gets red-tagged following an earthquake in episode one, forcing the detective to temporarily move into his office. While the turn of events is heartbreaking, it is necessary for the narrative. Welliver explained to TVLine, "I think the idea is to sort of 'separate Harry from his perch,' and disorient him. But it was very much a big part of a discussion, and it's by design. So, yes, the fans should kind of look at it, observe it and be concerned and then, ultimately, kind of figure that as with all things we do, we paint Harry into a corner and then give him a brush to paint his way out."
In the meantime, as Bosch decides whether or not to make the pricey repairs required to save his beloved homestead or to cut bait and sell, audiences can instead feast their eyes upon another dazzling piece of real estate, the contemporary manse belonging to Rogers, which figures front and center in the storyline.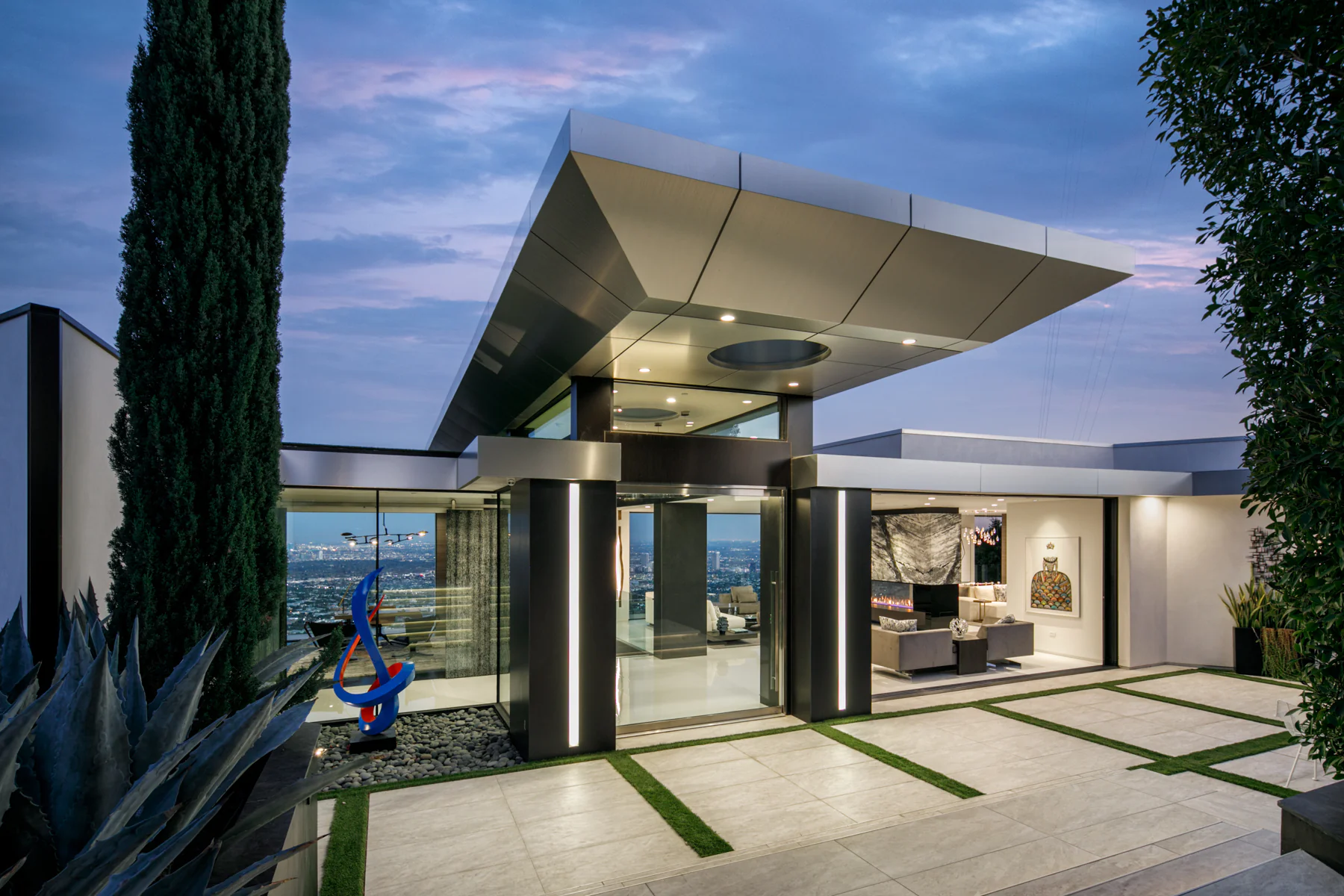 In a rather humorous twist, the architectural stunner can be found a literal stone's throw away from Harry's house at 1 Bode Dr. in the Hollywood Hills. In fact, some of the best views of Harry's place can be had from the foot of the dwelling's driveway! So Bosch certainly didn't have to go far to surveil Rogers! (Please remember this is a private home. Do not trespass or bother the residents or the property in any way.)
Situated atop a private bluff overlooking virtually all of Los Angeles, the estate is the brainchild of celebrity architect Michael Mueller, who spent more than eight years on the project (the permits alone took two years to secure!) before it was finally completed in 2019. He detailed to Forbes, "Back in 2003, I was driving around looking for properties up in the hills and I came across this tiny little sign at the bottom of the hill that said, 'For sale by owner.' So I rang the buzzer. Someone came down the hill. Mind you, there was no house here; it was just all mountain. And guess who it was? It was Leslie Nielsen!" The "Naked Gun" actor, who had owned the lot since 1951, was apparently supremely protective of it, only agreeing to sell to Mueller after interviewing him four times and being made privy to his ambitious architectural plans, which required a "carving out of the hilltop to create the most impressive views in Los Angeles, sweeping across the skyline and mountains to the ocean."
Featuring five bedrooms (all ensuite with walk-in closets) and eight baths spread throughout a whopping 10,000 square feet, the completed residence was certainly worth the wait! And there's good news for deep-pocketed "Bosch" fans because the pad is currently up for grabs! Repped by Jonathan Nash of Hilton & Hyland, the abode is being offered for $19.99 million.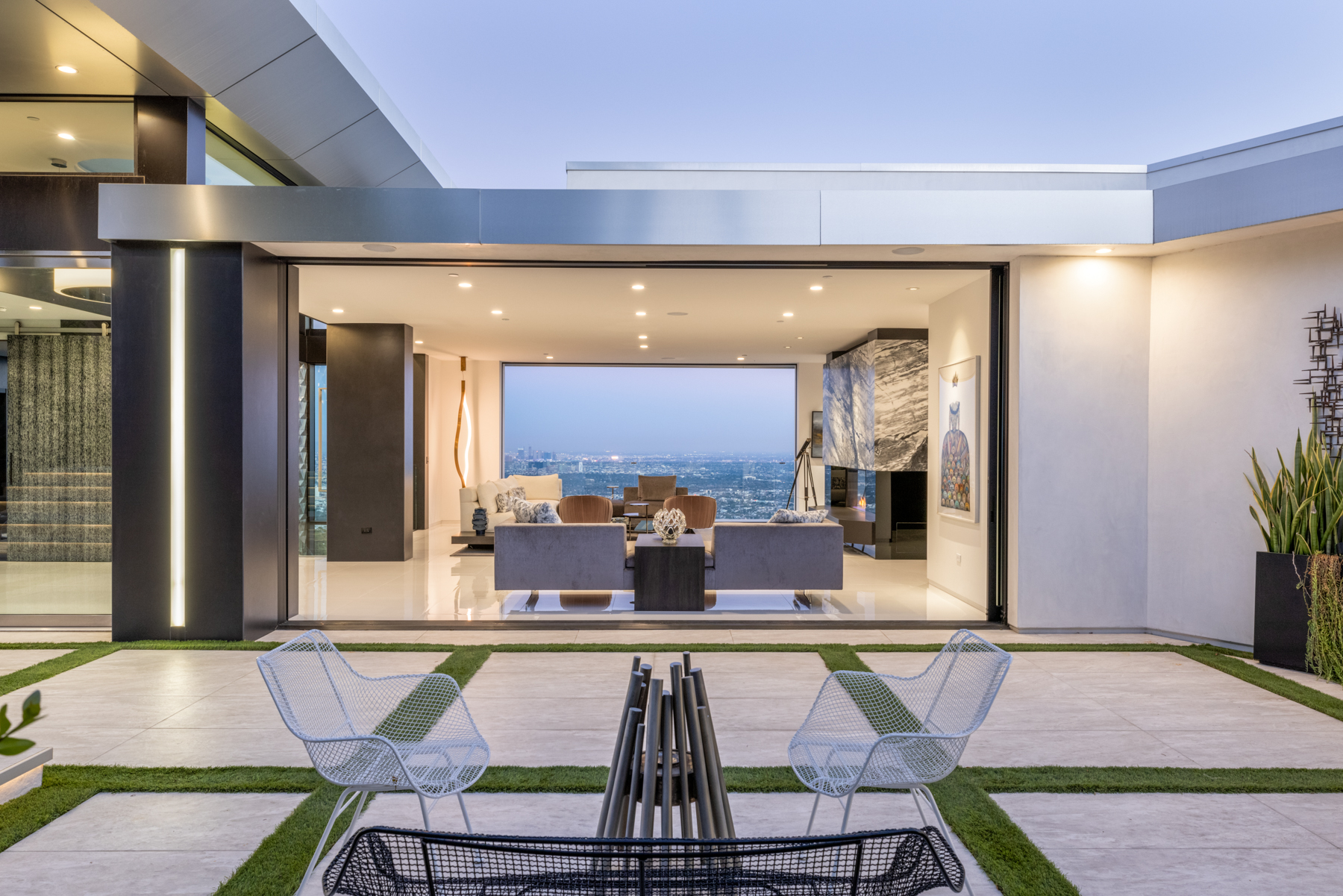 Sited on a sprawling 0.99-acre lot at the end of a long, gated driveway, the residence is a wonderland of views and indoor/outdoor space, with walls of glass making up almost the entire rear side. Mueller told Forbes, "This property had to be all about glass, all about floating. The big key design is that the inside becomes the outside, especially in California where you can leave the doors open."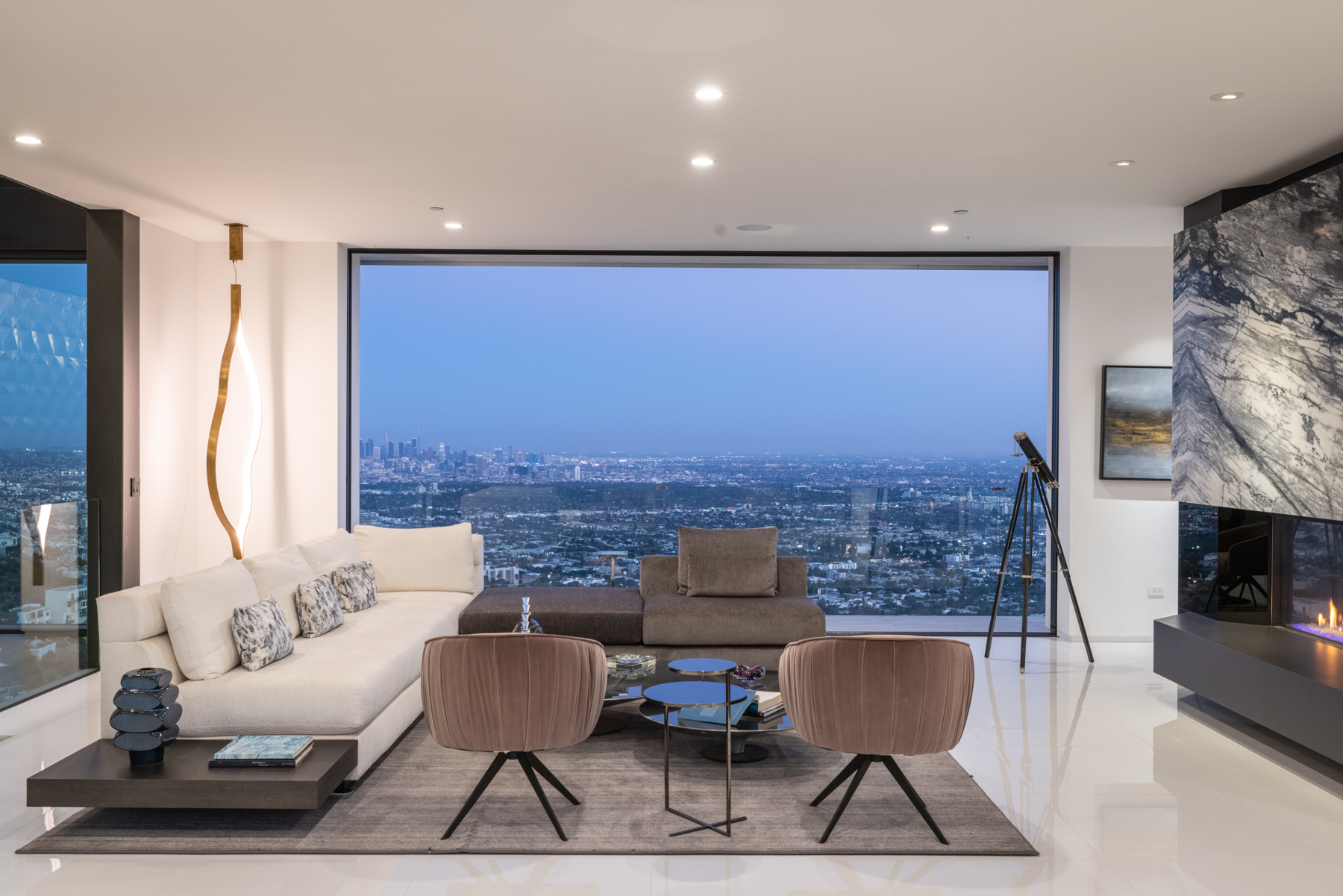 Inside, generous living spaces, all exhibiting a Hollywood Regency flair, abound. An entertainer's showcase, common areas include a media room, an office, a library, a fitness studio, a formal dining room backed by a wine wall, a kitchen outfitted with dual islands and high-end appliances, and three separate living rooms, one with a towering double-sided fireplace enveloped in granite.
Jetliner views stretching from downtown L.A. to the Santa Monica Mountains greet residents at nearly every turn. As Mueller expressed to Forbes, "I would say that living in this house is like living in the sky in a modern world where you are surrounded by all the beauty that Los Angeles has to offer."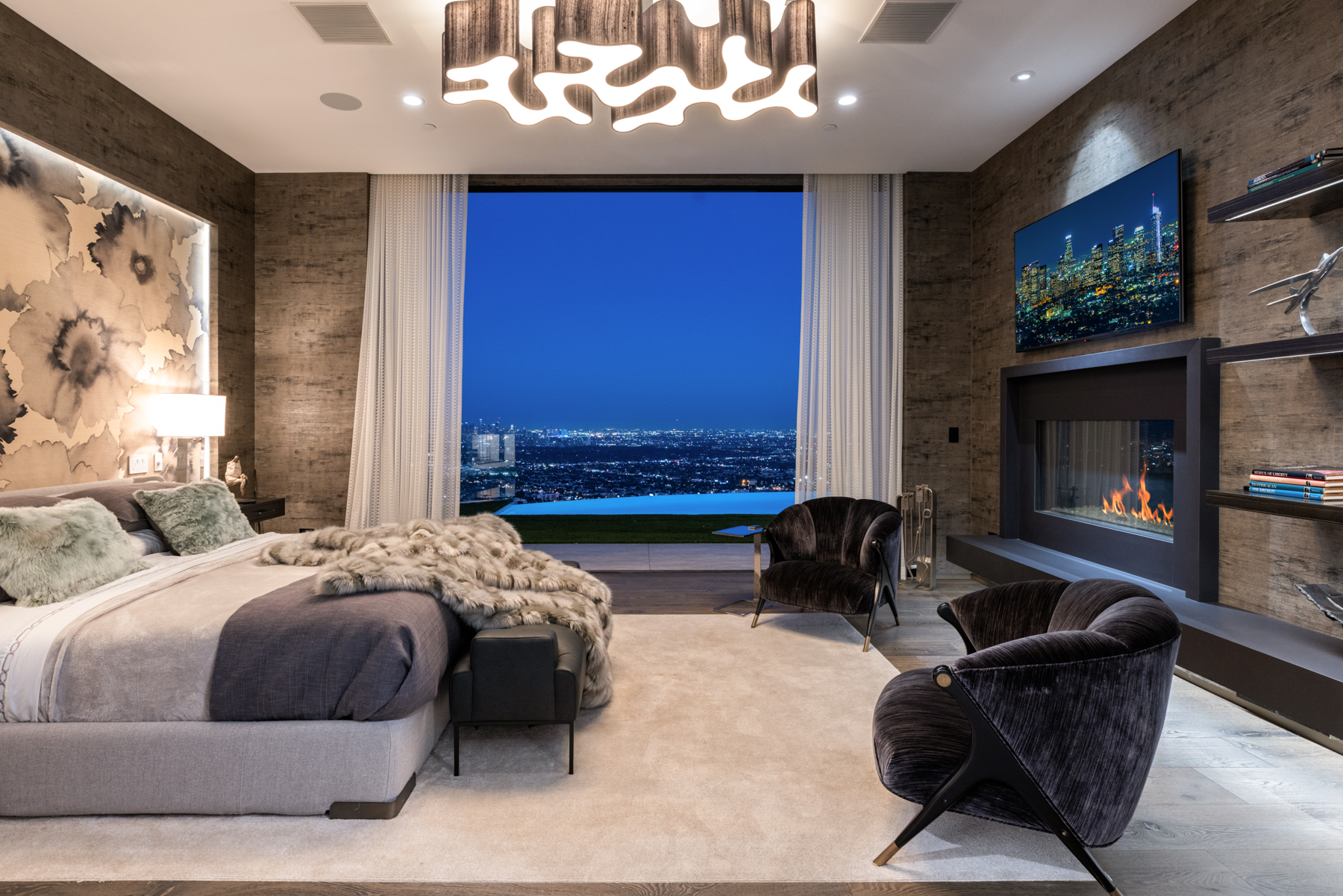 The primary bedroom is a genuine retreat made complete by a fireplace fashioned out of black slab stone, a chandelier custom-designed by Mueller and a two-story dressing room featuring hand-scraped oak flooring.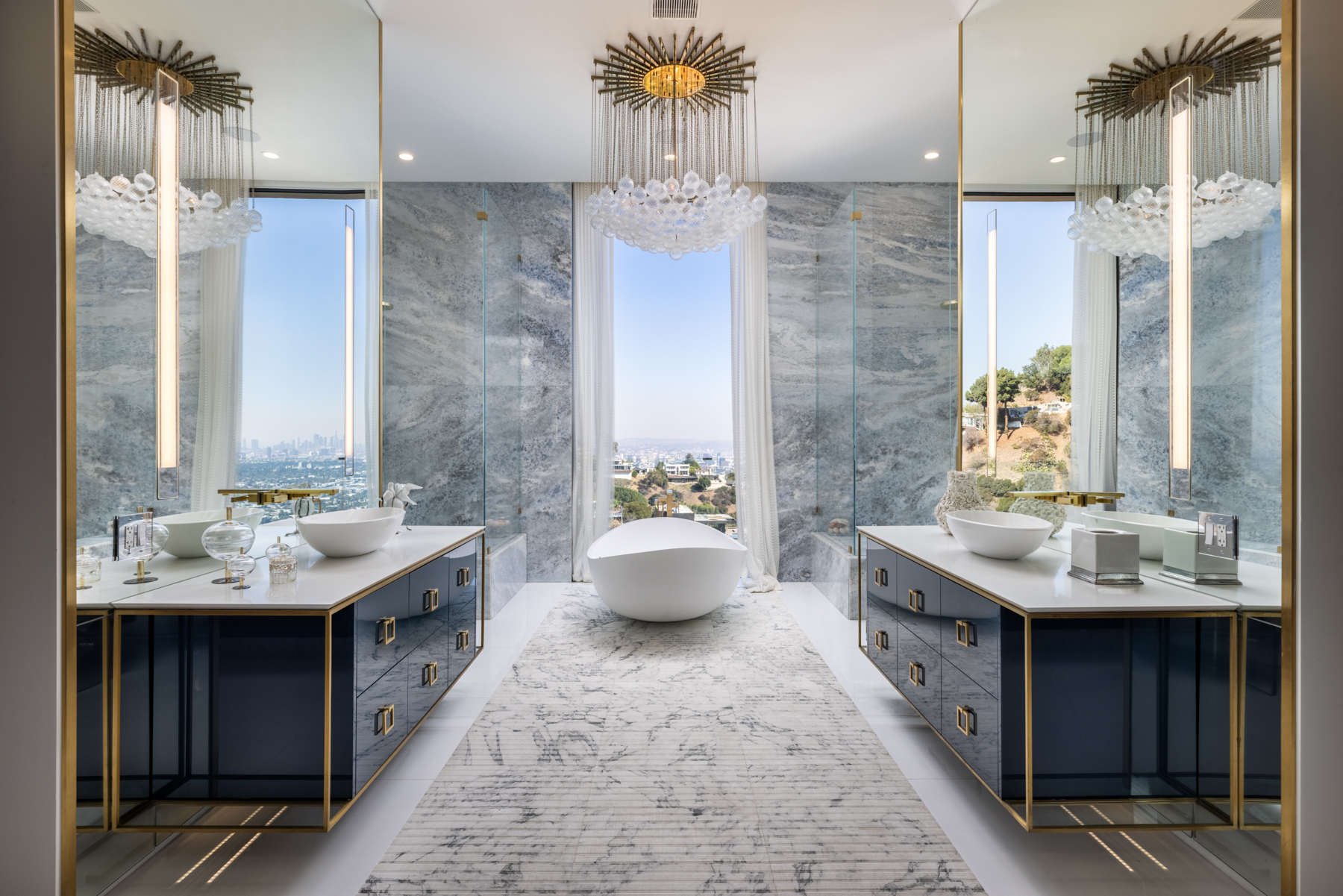 But it is the ensuite bath that is truly jaw-dropping! Boasting a central standalone soaking tub, custom vanities and dual showers outfitted with Italian blue quartz, the enclave looks more like it belongs in a tony spa or an exclusive hotel than a private home. You certainly don't need Calgon to take you away in a space like that!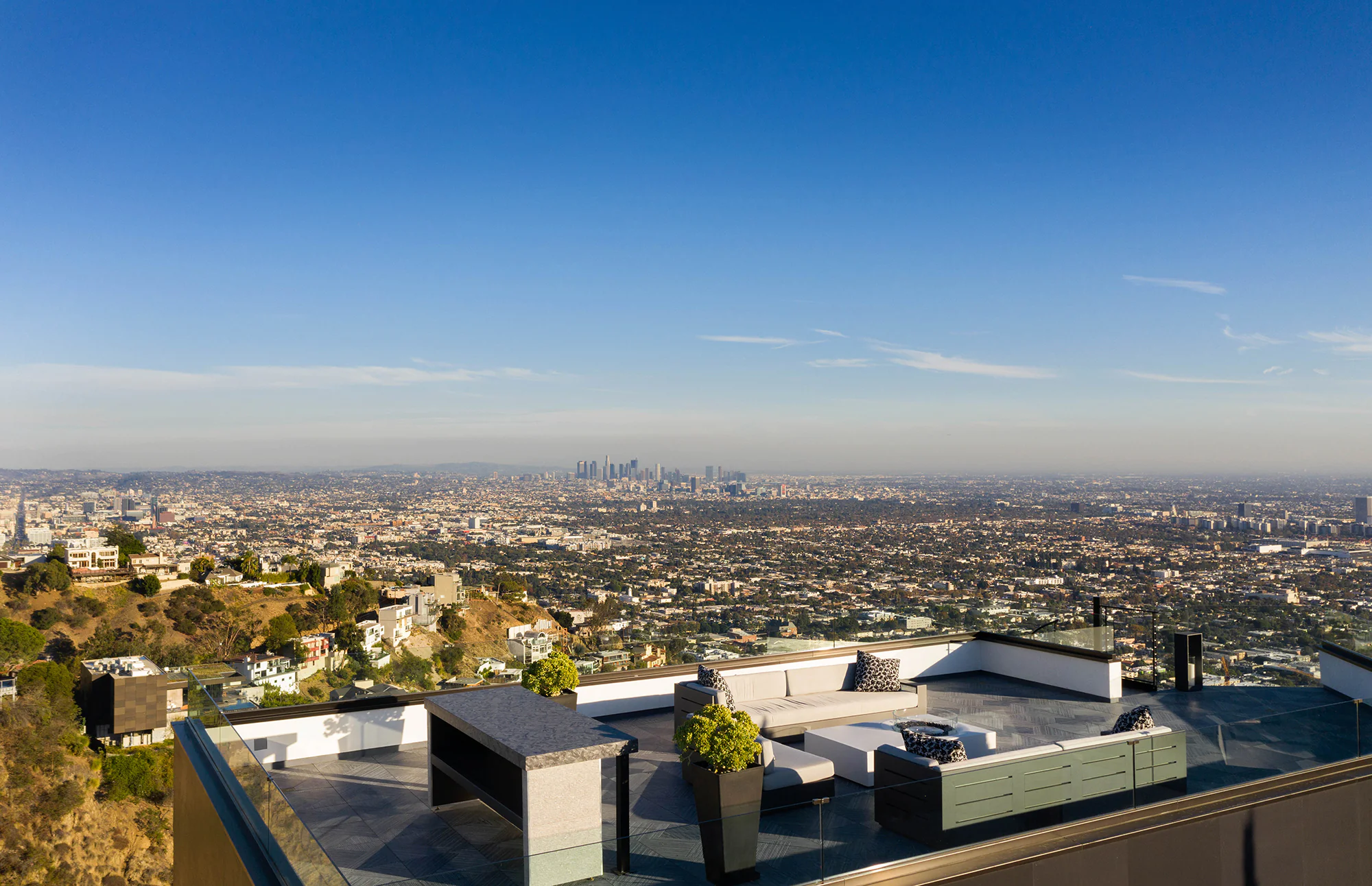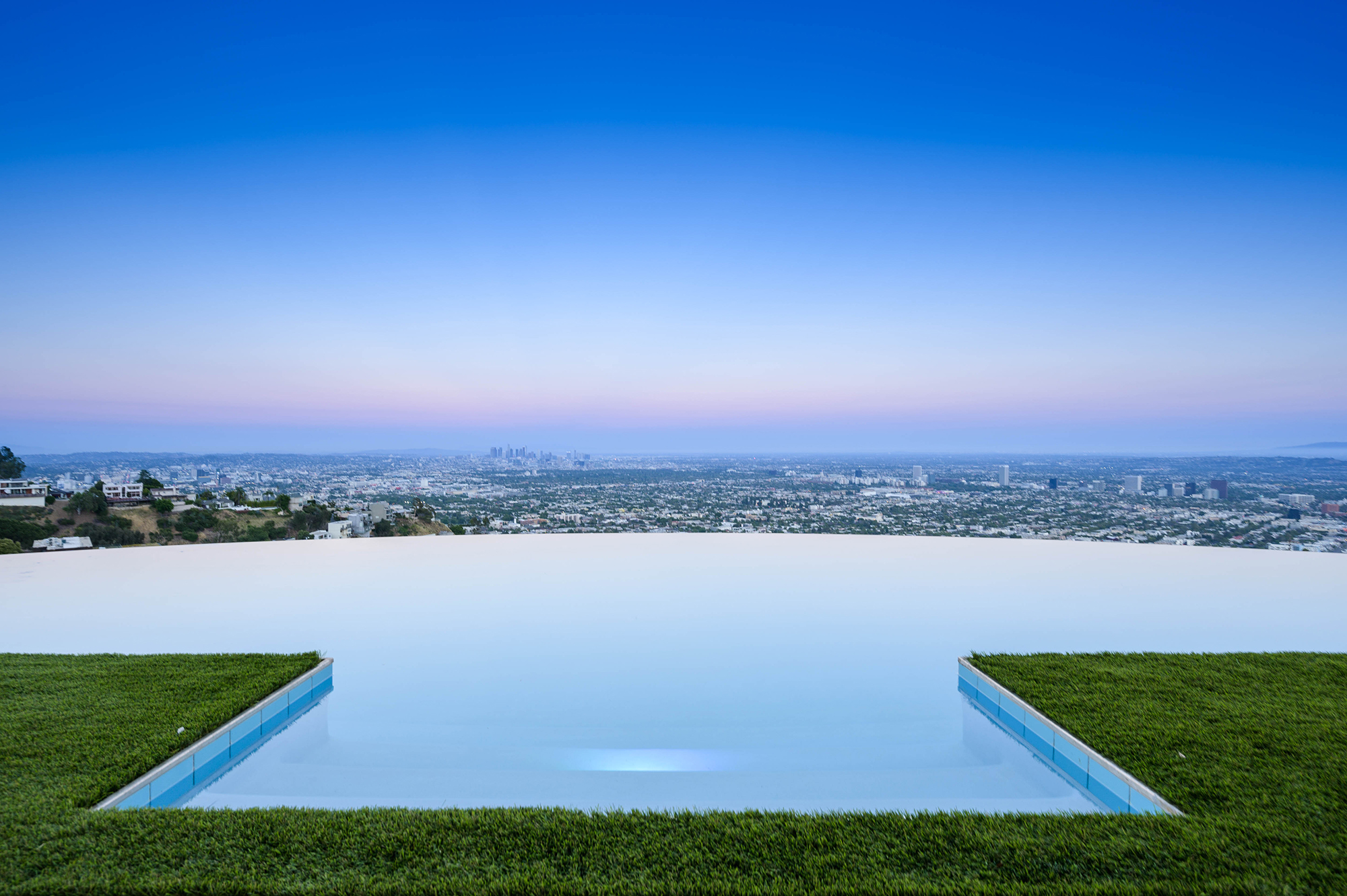 Luxurious through and through, it is easy to see why the property was selected to portray the home of billionaire Carl Rogers.
---