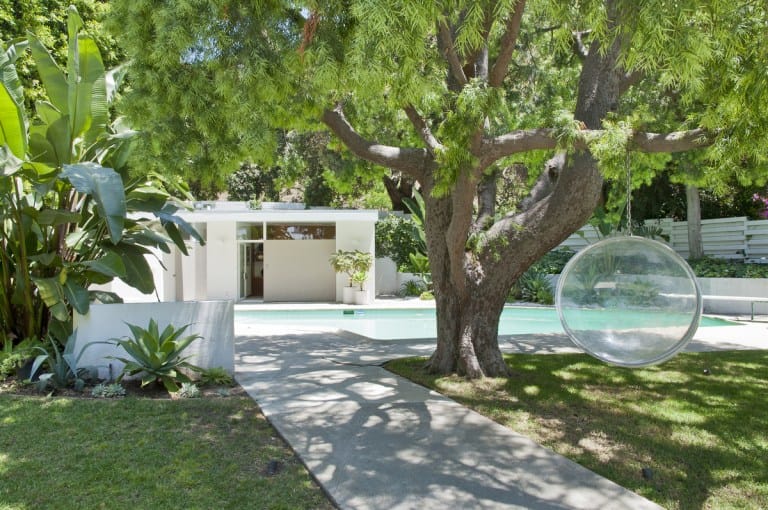 Judy Feder has listed two gorgeous, very distinct properties on Coldwater Canyon Drive.
The first property, at 1210 Coldwater Canyon Drive, is an exceptionally well-presented 1950 mid-century modern classic, and represents a rare and exquisite departure by Austrian architect Victor Gruen, a renowned design pioneer. The property is a showcase example of the era, featuring huge windows that look out upon a lush rear garden and clerestories that flood several of the rooms in splendid natural light.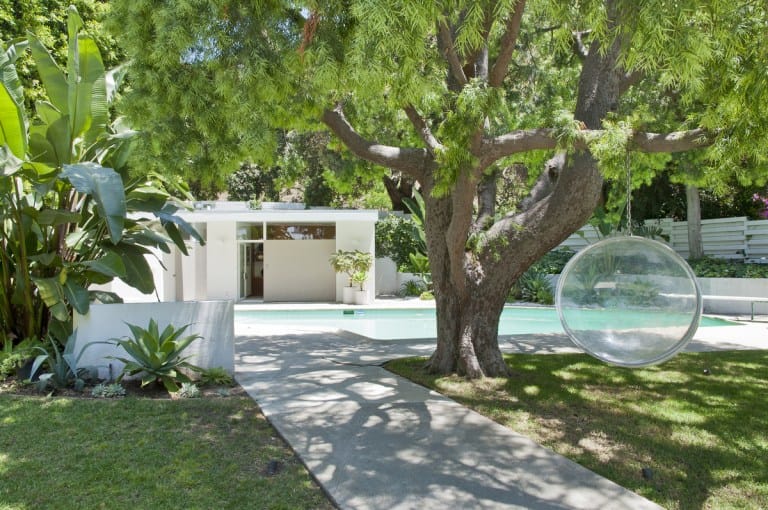 This remarkable architectural gem evokes a sense of class that newer moderns work hard to emulate and fully conjures both the cool and glamor that makes homes of this vintage so highly sought after and imitated. The property is owned by Parisian fashion designers with an impeccable eye for blending authenticity with sophistication. The home sits on an expansive lot and features a front sculpture courtyard and sprawling garden with pool and guest house.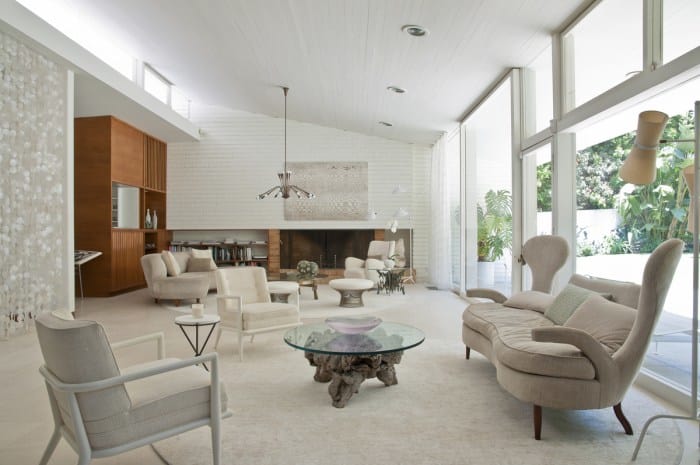 "The Gruen Effect" is named after Victor Gruen, born in Vienna in 1904 to a Jewish family. Gruen, born Viktor Grünbaum, left Austria in 1938 for New York City, where he made a name for himself designing shops and retail spaces. This was a particular challenge during the lean years of the late 30s.
Gruen argued that good design equaled good profits. The designer started making storefronts all over the country. And in his travels across the United States, Gruen saw how much time Americans spent riding around in their cars, cut off from the city and from each other. This was especially true in the suburbs.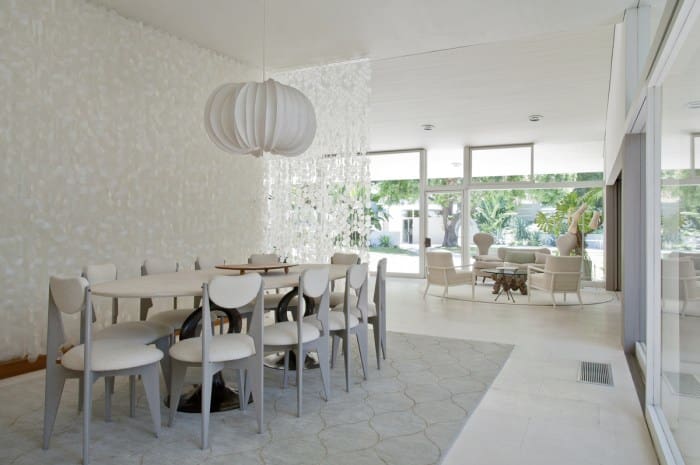 Victor Gruen imagined designing an environment full of greenery and shops – an indoor plaza of sorts which could be an island of connection in the middle of the sprawl.
Throughout his career, Gruen turned city centers into pedestrian-only spaces full of public art and greenery, and lined with shops. He made plans for Boulder, Fresno, Ft. Worth, and Kalamazoo. The Kalamazoo plan became the first outdoor pedestrian shopping mall in the United States. Gruen even had a concept for a pedestrian mall in New York, and actually got Manhattan to close down Fifth Avenue for a couple weeks, as a test.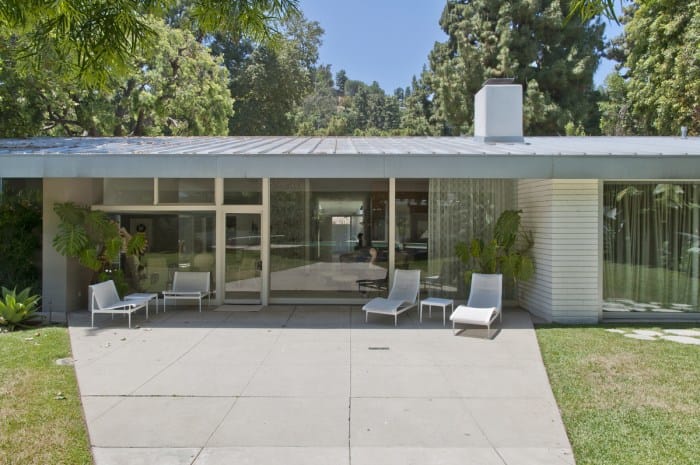 For Gruen, the exteriors were never the focal point of his renowned designs. It was the life and the atmosphere within the mall. Those fountains, the cheesy statues, the elevator music piped in through all those speakers—those are all part of the Gruen Effect, and they helped turn shopping malls into spaces where people felt comfortable staying and spending time and money. This effect, from a design standpoint, is seen throughout this beautiful home.
The other property, at 2200 Coldwater Canyon Drive, has played home to celebrities including Ariana Huffington and numerous leading entertainment executives.

The home is a beautifully-restored tennis court estate steeped in Hollywood history. Sited on over an acre of new lush landscaping, the completely private property features five bedrooms, five full and two half baths, an open chef's kitchen and multiple spaces for indoor/outdoor entertaining. The home also includes a chic master suite with dual baths and closets which open out to the serene pool area with a cascading waterfall fountain and pavilion.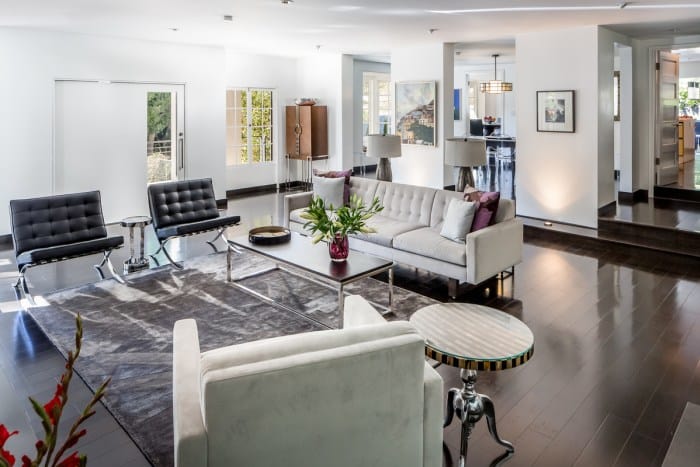 "On 60,000 square feet, the home is beautifully lit, the court includes north of 7,000 square feet in the front of the home, greeting guests immediately with a sense of welcoming, which was redone two years ago," said Judy Feder. "It's truly a beautiful setting, completely private and gated allowing for the utmost security, including the electric gates.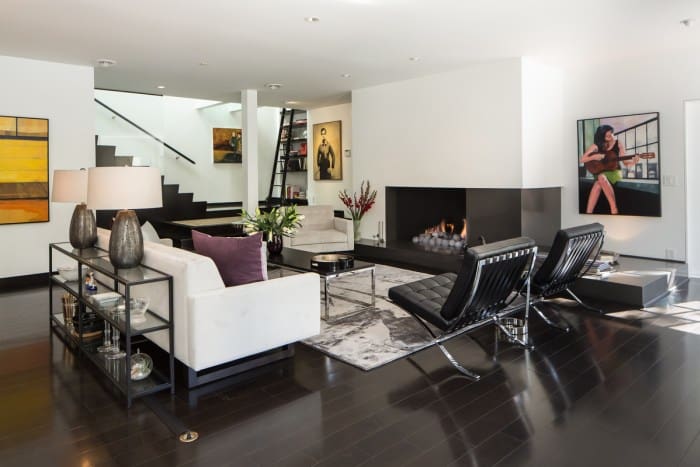 Seven cars can be parked inside the gates. We've recently reduced the price, but we expect that the home will sell soon, and will be a distinguished asset to the most discerning buyer."

"The house was built originally in 1922, so this is truly a spectacular Los Angeles historic home, the real embodiment of one-of-a-kind," Feder added.