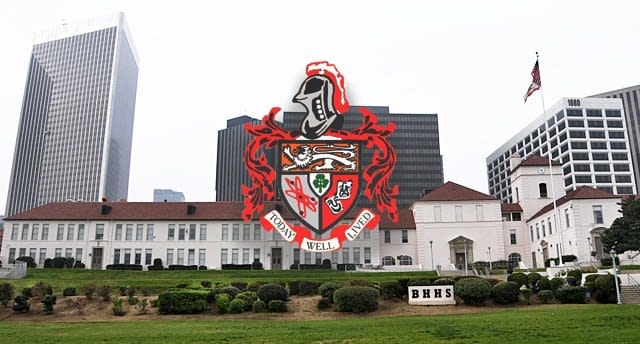 Hilton & Hyland returns to Beverly Hills High School Career Day to speak for the third consecutive year this past Wednesday. Hilton & Hyland, alongside leading executives in over 80 fields ranging from Cedars-Sinai Medical Center, Raytheon, FBI, Saks Fifth Avenue, Beverly Hills Fire Department to The Wallis Annenberg Center for the Performing Arts, provided a welcome opportunity for students to both garner valuable insight and network with premier institutions regarding not only their interests, but more importantly — their futures.
Hilton & Hyland's continued support puts a spotlight on the brokerage's ongoing commitment to mentoring youth and paving the way for the next generation of real estate professionals. Altruistic endeavors such as this, along with our philanthropic arm "Hilton & Hyland Helping Hands" combine to represent our dedication to the local community.
The students were split into various speaker sessions, sorted by industry, and an eventual Speaker and Alumni networking lunch to further promote personal career development. "Mentors and those who came before us opened a plethora of opportunities for us, so helping out the next generation is something we take seriously and something we actively strive for daily," Charles Black, Executive Vice President said in discussing their participation.
As a proud supporter of the Beverly Hills Education Foundation, Hilton & Hyland recognizes the importance of participating in countless charitable efforts throughout the year that will benefit the Beverly Hills Community.
To learn more about Hilton & Hyland's philanthropy, click here.