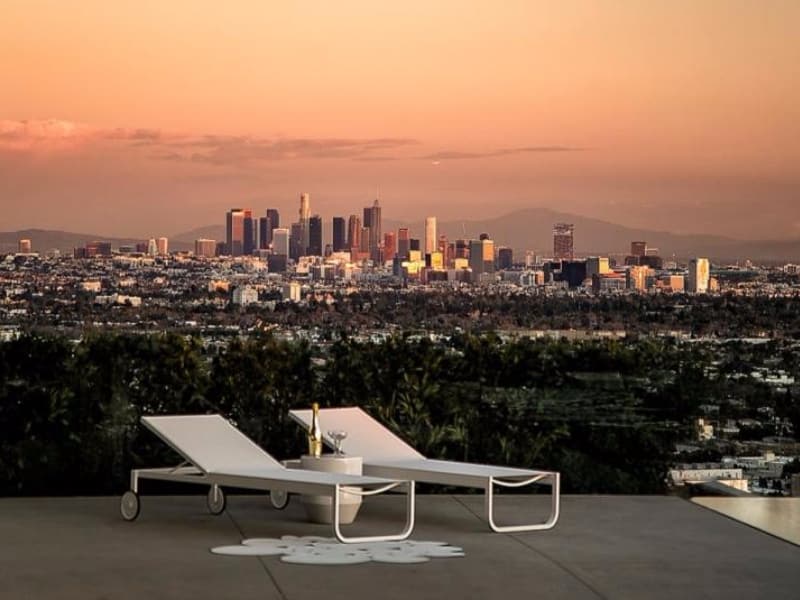 In the most recent article of Christie's International Real Estate blog Luxury Defined, the current uprising of the art scene in Los Angeles is discussed in great detail. Acknowledging the city is historically known for its creative energy and uniquely relaxed atmosphere, the article concludes that Los Angeles is slowly emerging as an art force to be reckoned with among New York, Paris and London. With the architectural reference points of Los Angeles being just as diverse as its art, the many vibrant neighborhoods are redefining the art, architecture, culinary, and even the real estate landscape. The secret is the appeal of Los Angeles, which extends 360 degrees to its natural wonders – the mountains, the desert and the ocean. Categorized by neighborhood, Hilton & Hyland selected properties that are not only conveniently located in the pulse of Los Angeles, but seamlessly reflect it in its sophisticated design and state-of-the-art amenities and technology.
BEVERLY HILLS
Whether it's the high concentration of luxury brands that have flagship stores here or the once-upon-a-time home of Marilyn Monroe, it is no secret that Beverly Hills is very open and daring in its cultural and commercial architecture.
1006 NORTH REXFORD DRIVE



The magnificent 1.1-acre landmark encompasses an elegant main residence and guest house – the former home of Marilyn Monroe and many other stars. Architect Paul Williams' vision, who masterfully married French Country and Tudor elements, has been restored to the magnitude of Hollywood's greatest period.
THE SUNSET STRIP
Art and design have always been about pushing the envelope, much like The Sunset Strip itself. Best known for colorful billboards, endless nightlife, exquisite boutiques and delightful restaurants, The Sunset Strip is the ultimate location and home to some of Southern California's finest properties in the coveted Bird Streets. 1822 Marcheeta Place, for example, greets you with a dazzling water feature which leads to the first split-level swimming pool in all of the Bird Streets. A true work of art, 9380 Sierra Mar Drive is guaranteed to catch your eye with its uniquely shaped infinity pool overlooking all of Los Angeles.
8516 HEDGES PLACE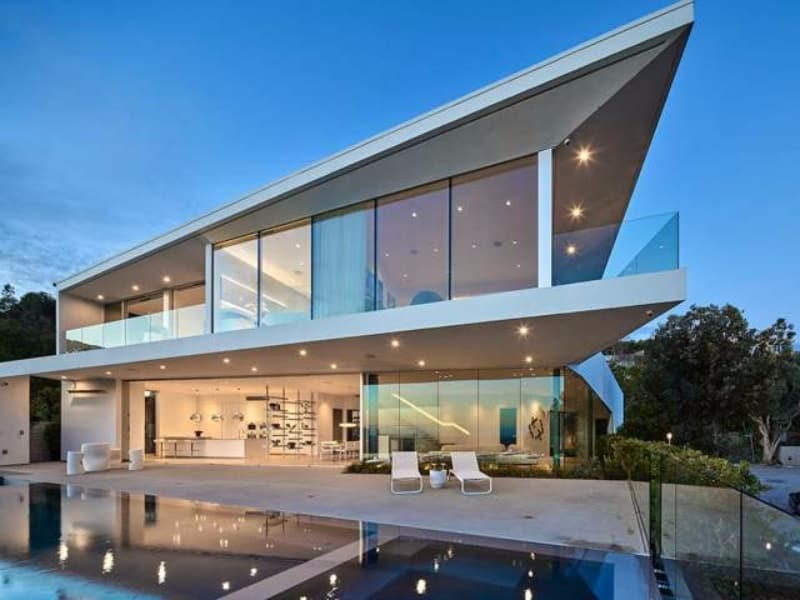 Rising up from one of the last great promontory view sites along The Sunset Strip is a one of a kind contemporary design by world-renowned Belzberg Architects. Explosive views spanning Downtown Los Angeles all the way west to Century City and the Ocean beyond. Located one minute from The Sunset Strip with local amenities such as The Tower Hotel, Equinox Gym and fine dining on Sunset Plaza are all within walking distance.
BEL-AIR
The opulence of Bel-Air's residential architecture is unmatched. While you can find gorgeous single-level ranch homes and simple two-story structures, the luxury estates steal the spotlight. Tucked away behind security gates and enormous hedges, this exclusive district presents a level of privacy that has made it a preferred destination.
850 LINDA FLORA DRIVE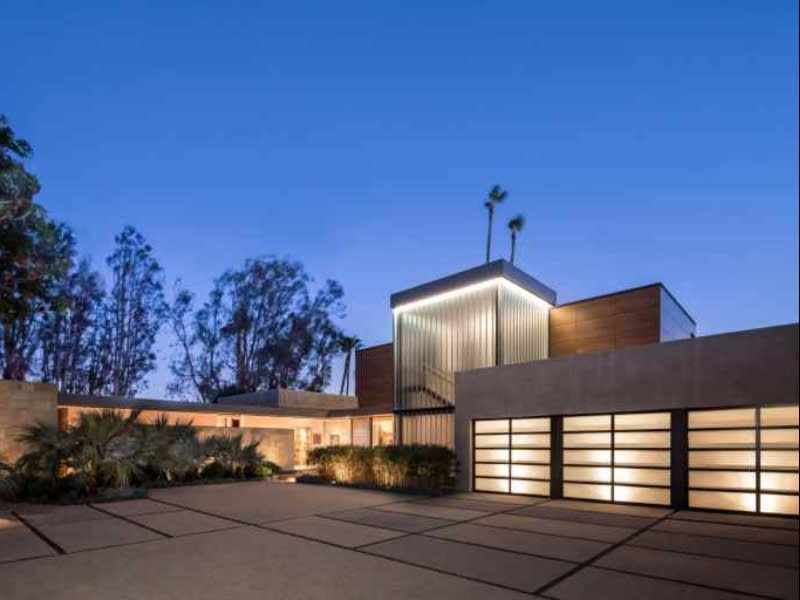 No expense was spared in designing this contemporary architectural masterpiece in Bel-Air. The façade's horizontal lines are accented by a striking, translucent glass vertical wall – inspiration for the home's "Lantern House" name by architect Michael Kovac. Contemporary features such as seamless glass walls and a central reflecting pool maximize indoor-outdoor living, while the dining room and other living spaces feel warm and inviting with natural materials such as wood and leather.
MALIBU
Long hailed as a jewel of Southern California's gorgeous Pacific Coastline, the city of Malibu remains one of the most coveted destinations in Los Angeles. Between its miles of breathtaking beaches, lush rolling hills, and an exclusive oceanfront lifestyle, Malibu is home to a community that includes some of the wealthiest and most influential people in the region who live in a mix of upscale properties including beautifully restored architectural works and award-winning new construction.
MARISOL MODERN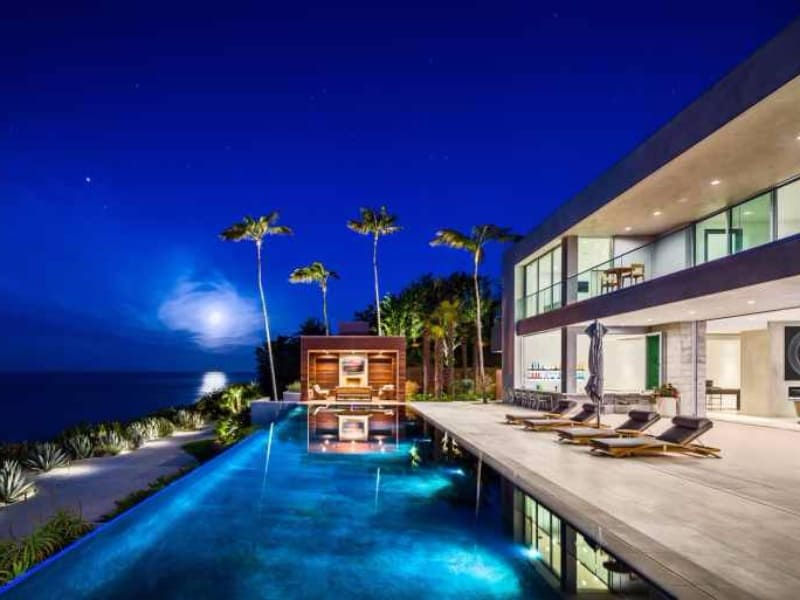 This unbelievable modern home graces Malibu with amazing whitewater and island views. Designed with the finest architectural integrity and two-time winner for best custom home, this paradise will truly applea to the most discerning buyers. The dramatic entrance is flanked by tropical landscaping and art that reveals wide walls of glass opening to an infinity pool and Pacific Ocean. This contemporary masterpiece dares to peel back its silky skin to reveal muscular board-formed concrete walls to remind guests that at its heart, the private oasis is the perfect blend of a structure for living and and a work of modern art, where a world of privacy and tranquility awaits.
HOLMBY HILLS
Holmby Hills is widely known as the gem of the "Platinum Triangle" – and for good reason. Many Holmby Hills estates boast panoramic views of the entire Los Angeles Basin and are in prime location – with Rodeo Drive just minutes away and an easy drive to Malibu. Home to rich history, the neighborhood is a haven for film enthusiasts and Hollywood's elite – boasting The Spelling Manor and the record-breaking Playboy Mansion.
THE MANOR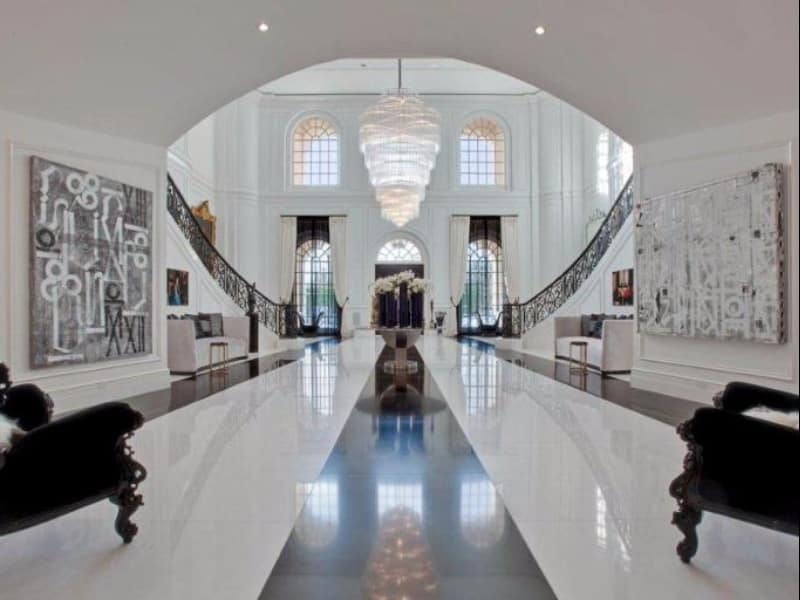 The Manor's elegance and grandeur put the property in a category of luxury all on its own. Perched atop approximately five acres of exquisitely landscaped land in prestigious Holmby Hills, the 56,000-square-foot masterpiece is larger than The White House. Originally built by entertainment royalty Candy and Aaron Spelling in 1988 and designed by architects James Langenheim & Associates, the French château-style residence boasts a nightclub, salon, flower-cutting room, spa with massage parlor, basement bowling alley, and a large fish tank full of exotic fish.
BRENTWOOD
Nestled between Westwood and Santa Monica, Brentwood is one of the most affluent neighborhoods in Los Angeles. Beginning as a Mexican land grant ranch sold off by the Sepulveda family, the neighborhood is now a hub for art and culture. Its modern development started in the 1880s and today it boasts some of the greatest cultural, architectural, and botanical wonders such as the Getty Center, and the George Sturges House.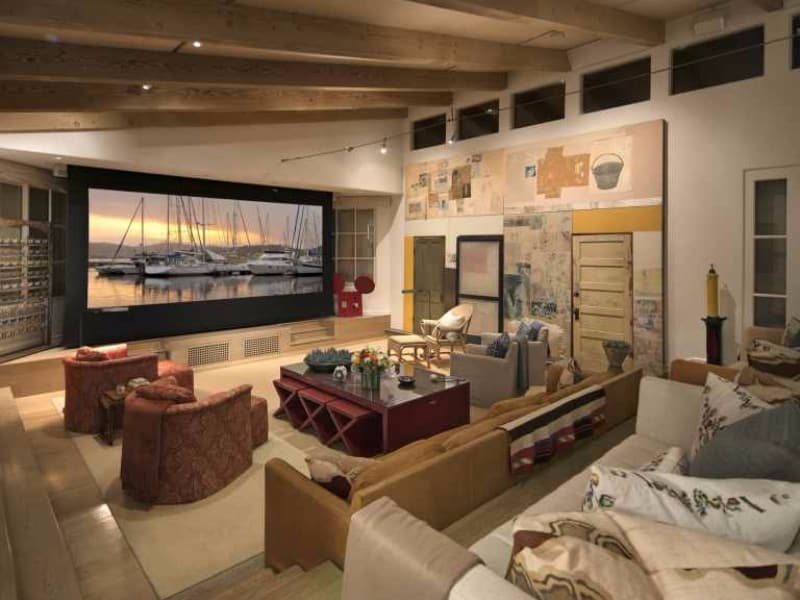 This world-class compound is perched on an approximately 8.3 acre promontory with breathtaking park-like grounds overlooking magnificent city, ocean and mountain views. Located in prime Brentwood just minutes North of Sunset Boulevard & situated up a long, private & gated driveway.
WESTWOOD
Bordering Beverly Hills, Bel-Air, Brentwood and Century City, multi-million dollar homes fill the almost-coastal village. Catering to both students and starlets, Westwood is home to cultural attractions like the Hammer Museum and Geffen Playhouse, not only exuding creativity, but welcoming it.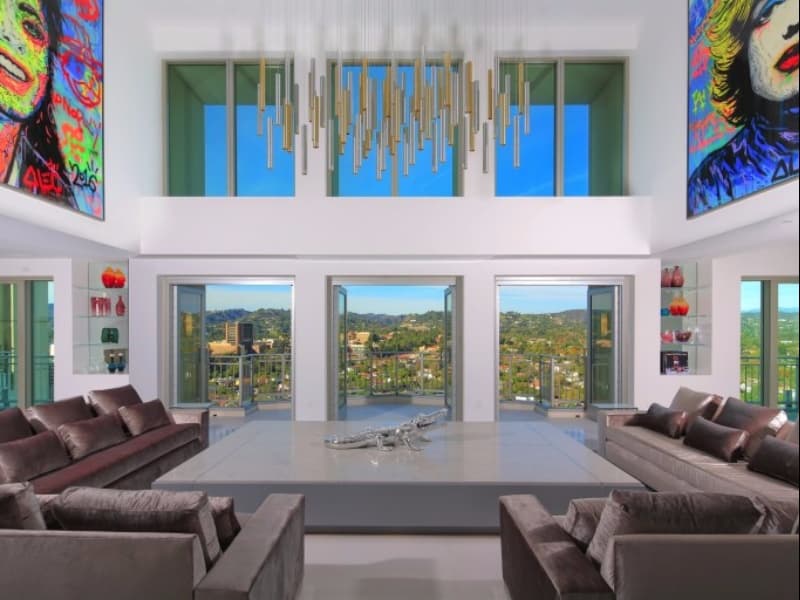 The finest and most unique penthouse on Wilshire Boulevard, spanning 6,000 square feet of exquisite interior with an approximately 3,000 additional square feet comprising arguably the largest outdoor terrace on Wilshire. In addition to the breathtaking views, stunning commissioned art pieces, and lavish finishes, the gorgeous two-story penthouse features a large center table in the living room specifically designed and flown in to accommodate dinner and dancing to follow, truly depicting the attention to detail.
To learn about the finest neighborhoods of Los Angeles, please click here.