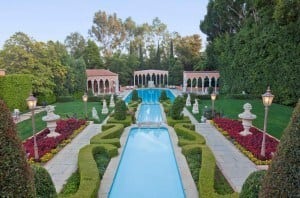 The former residence of William Randolph Hearst, America's greatest newspaper magnate, legendary Beverly House is sited on approximately 3.7 flat acres atop a private knoll, just three blocks from Sunset Boulevard. Ornate entry gates with a gate house open to gorgeous grounds with original landscaping by Paul Thiene. One of the city's longest private drives ascends to a courtyard with a remarkable sculptural fountain.The residence is one of renowned architect Gordon Kaufmann's crowning achievements. Built of terra-cotta stucco, the H-shaped structure exhibits a perfect combination of classic Spanish and Italian styles with panelled walls and intricately carved ceilings, French doors, balconies, arched ceilings, and floor-to-ceiling windows, many of which take in views of the famous cascading waterfalls, swimming pool and Venetian columns beyond the pool house.
" … everything you can think of it's got it," said Jeff Hyland, contact agent for Hilton & Hyland.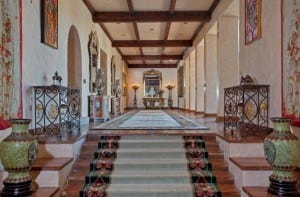 The main level is introduced by a 50-foot entry hall with a loggia, which reveals a living room with 22-foot high arched and detailed ceilings, as well as the handsome library with hand-carved woodwork and a staircase to a second-story wraparound balcony with bookshelves. The billiards room contains herringbone parquet floors, as well as a massive carved-stone fireplace mantel and intricately panelled ceiling, both from San Simeon. There is also a formal dining room, breakfast room, and family room with outdoor terrace seating up to 400 for sit-down dining. A lower level contains an Art Deco-style nightclub, a wine cellar, one of two projection rooms, and full spa facilities with a gymnasium and message room. The second story is host to double master suites, four guest suites, and four individual staff quarters. Additional features of Beverly House include a commercial kitchen capable of catering large gatherings, owner's and staff offices, stand-alone staff accommodations, an lighted tennis court with an indoor bar and media center, guest house above eight-car garage, and a gate lodge with its own kitchen and four bedrooms.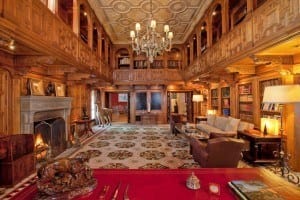 In addition to hosting John and Jacqueline Kennedy during their honeymoon in 1953, Beverly House has played a substantial role in major Hollywood productions including such classic movies as The Godfather and The Bodyguard.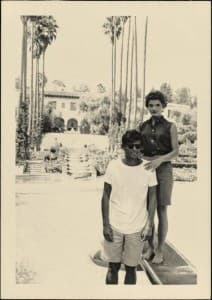 For more information on the Beverly House, or another property, please click the button below for assistance.