Reflective of the era they were designed in, mid-century modern homes were designed by those who believed the forward-thinking style could be a catalyst for social change to create a better, more tolerant society. While mid-century modern homes were built between 1945 and the early 1980s, it is safe to say this architectural, design, and hopefully social trend will never go out of style. Inspired by upscale prairie architecture, mid-century homes were designed by a generation of modern architects, such as Walter Gropius and Marcel Breuer, who fled the rise of Nazi Germany.
You will notice most mid-century homes share flat roofs but the key components lie in the open floor plans and floor-to-ceiling-glass windows. The giant sliding-glass doors motivated people to go outside and enjoy the nature around them. Traditional homes usually feature windows that children aren't tall enough to gaze out of. Walls of glass found in midcentury gems allowed children to become engaged and open-minded because the environment uniquely stimulated the senses, inspiring them and their families to explore the world through a new lens. Following World War II, they needed materials quickly and utilized materials such as steel, stucco, plywood, and aluminum to accommodate the growing U.S. population.
Today, not much has changed. In fact, it appears as though mid-century modern design has become more popular than ever. Masterpieces of the era's most notable – from Richard Neutra, John Lautner, and Rudolph Schindler – remain highly coveted. In fact, Hilton & Hyland has compiled a list of some of the most luxury mid-century modern homes below. Who knows – maybe you'll find a Neutra or a Lautner among them, but one thing remains certain: there is something for everyone.
ACTIVE LISTINGS
1210 Coldwater Canyon
Represented by Judy Feder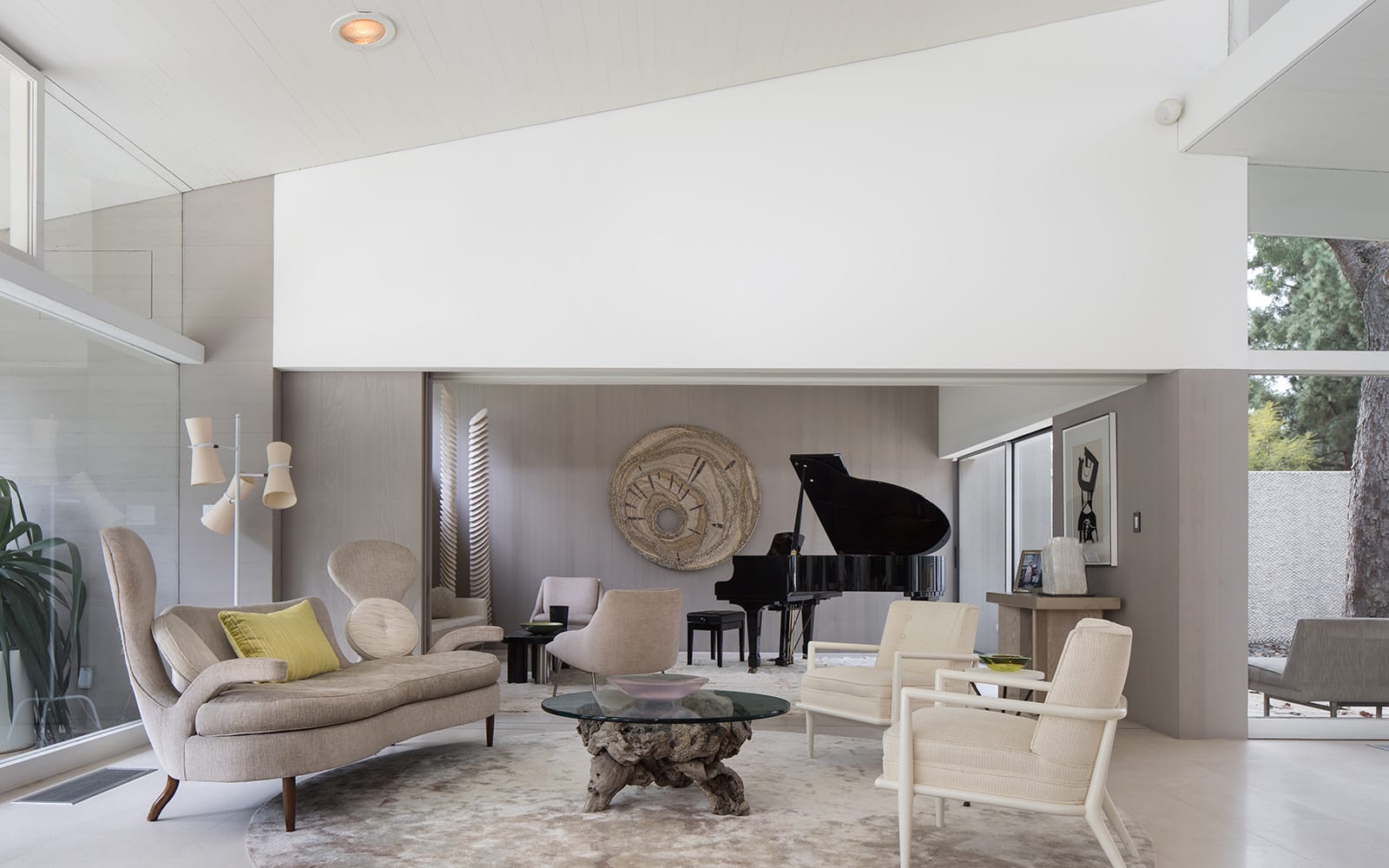 This exceptionally well presented 1950 mid-century modern classic represents a rare and exquisite departure by Austrian architect Victor Gruen, a renowned design pioneer. A showcase example of the era, the residence features massive windows that look out upon a lush rear garden and clerestories that flood several of the rooms in splendid natural light. This remarkable architectural gem evokes a sense of class that newer moderns strive to emulate and fully conjures the cool and glamour that makes homes of this vintage so highly sought after and imitated.
8015 Briar Summit Drive
Represented by Jonah Wilson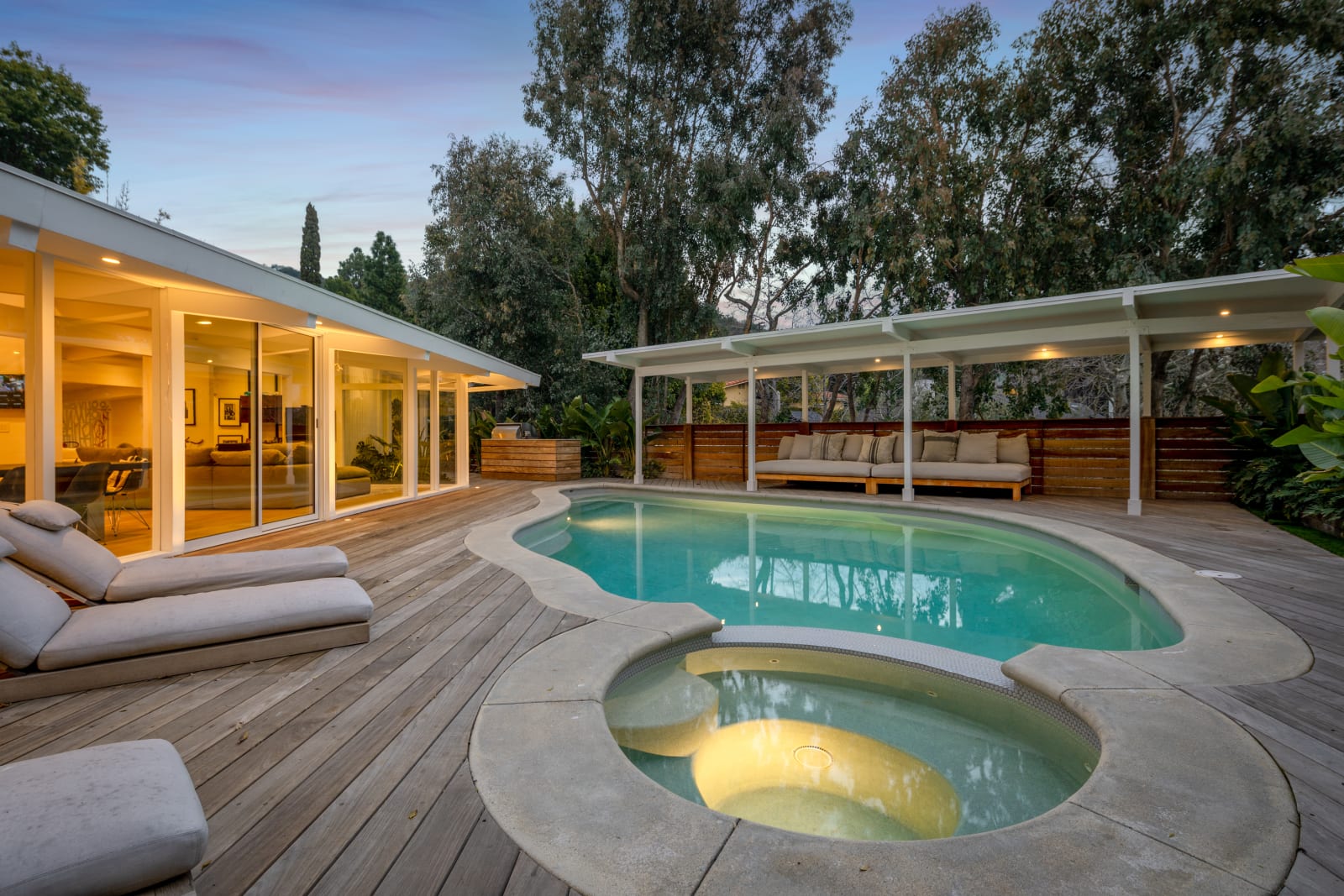 A classic example of midcentury post & beam architecture designed by Richard Dorman AIA, 1959, this warm modern architectural is bathed in sunlight and surrounded by dreamlike gardens with total privacy. Floating limestone stairs ascend through a front garden to the main entrance, leading to the great room featuring a custom 35ft installation by world renowned artist RETNA. Completely renovated two years ago, this gem's stunning quality and craftsmanship is unmatched.
201 Bentley Circle
Represented by Drew Fenton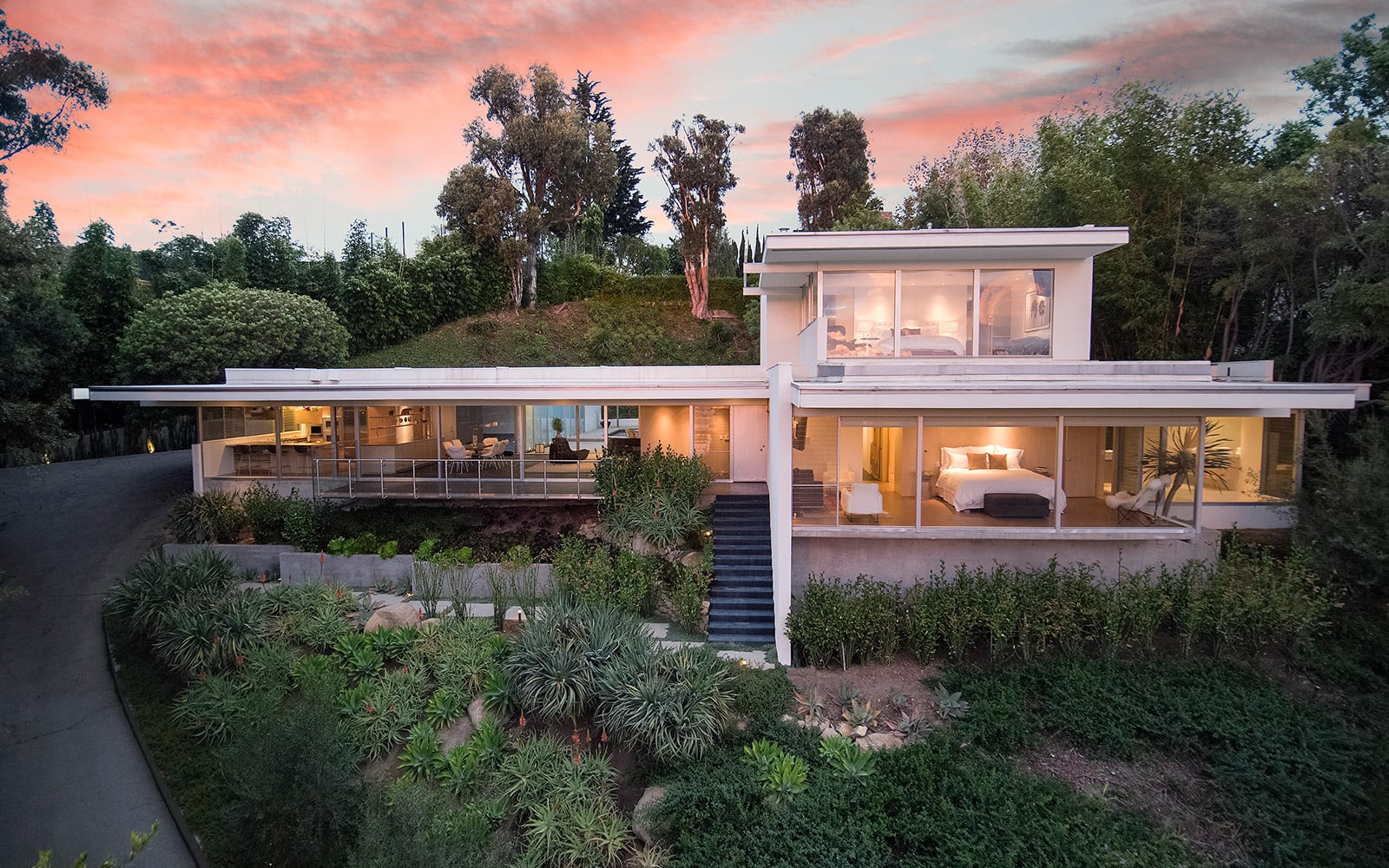 Built in 1954 by Richard Neutra, the Hammerman House is a rare and highly prized, impeccably maintained modern gem with views at every turn. Sited behind gates up a long driveway on over a half of an acre with expansive westward views reaching to the Pacific Oceans, this 4 bedroom, 4.5 bath residence is a masterpiece of modernism. There are very few Neutra's of this scale, setting, and quality remain on the Westside of Los Angeles. Updated and expanded in keeping with Neutra's original plans by a noted Neutra scholar/architect.
1107 N Hillcrest Road
Represented by Branden Williams & Rayni Williams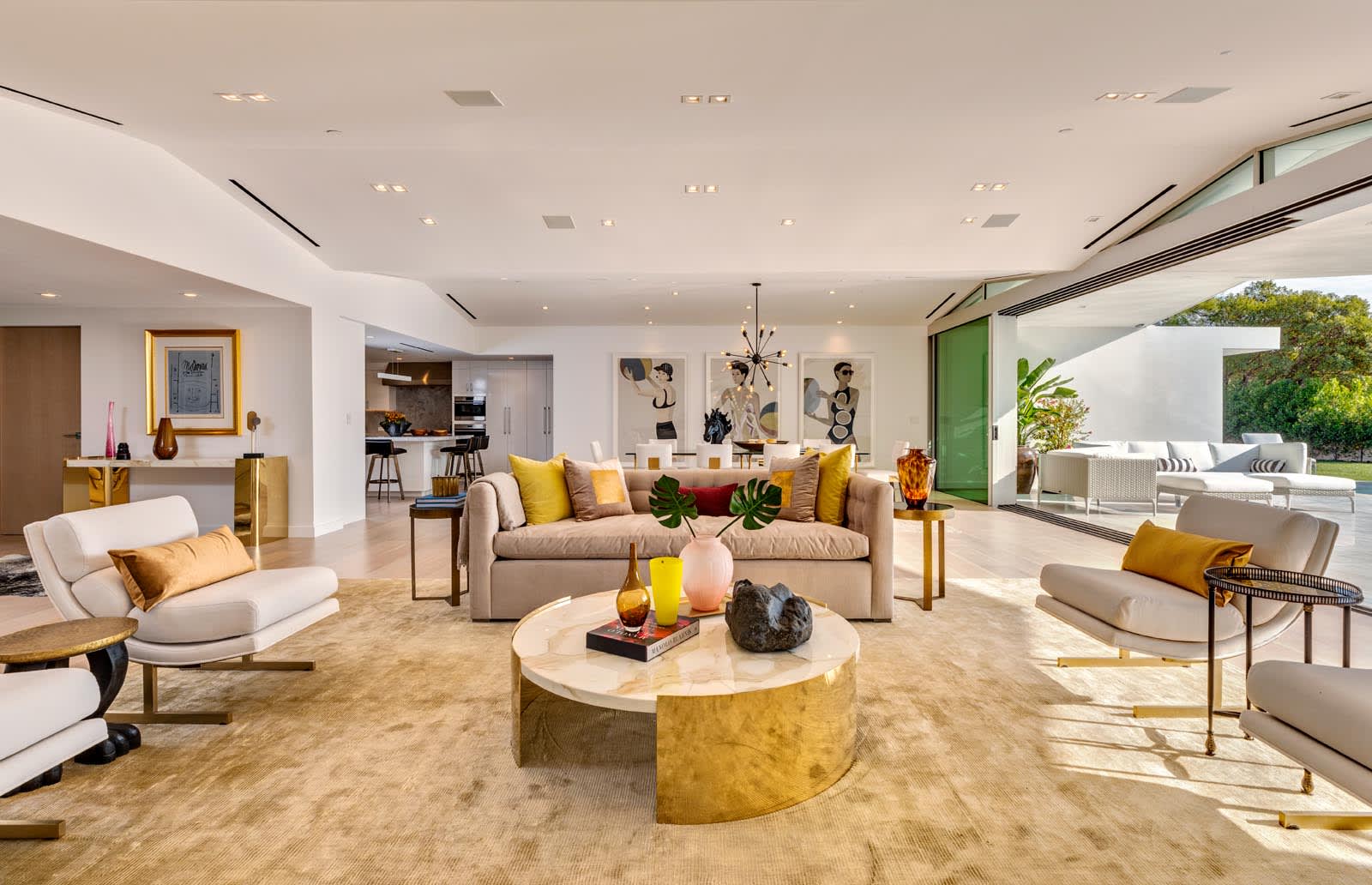 Honoring its heritage of style, class & luxury, this recently restored masterpiece is a love song to Trousdale's original form. A blend of mid-century modern style & contemporary function, a work of art where futuristic systems control your every need. A quintessential mid-century roofline adorns a living space crafted around the finest California indoor-outdoor floor plan.
2718 Claray Drive
Represented by Manuela Villa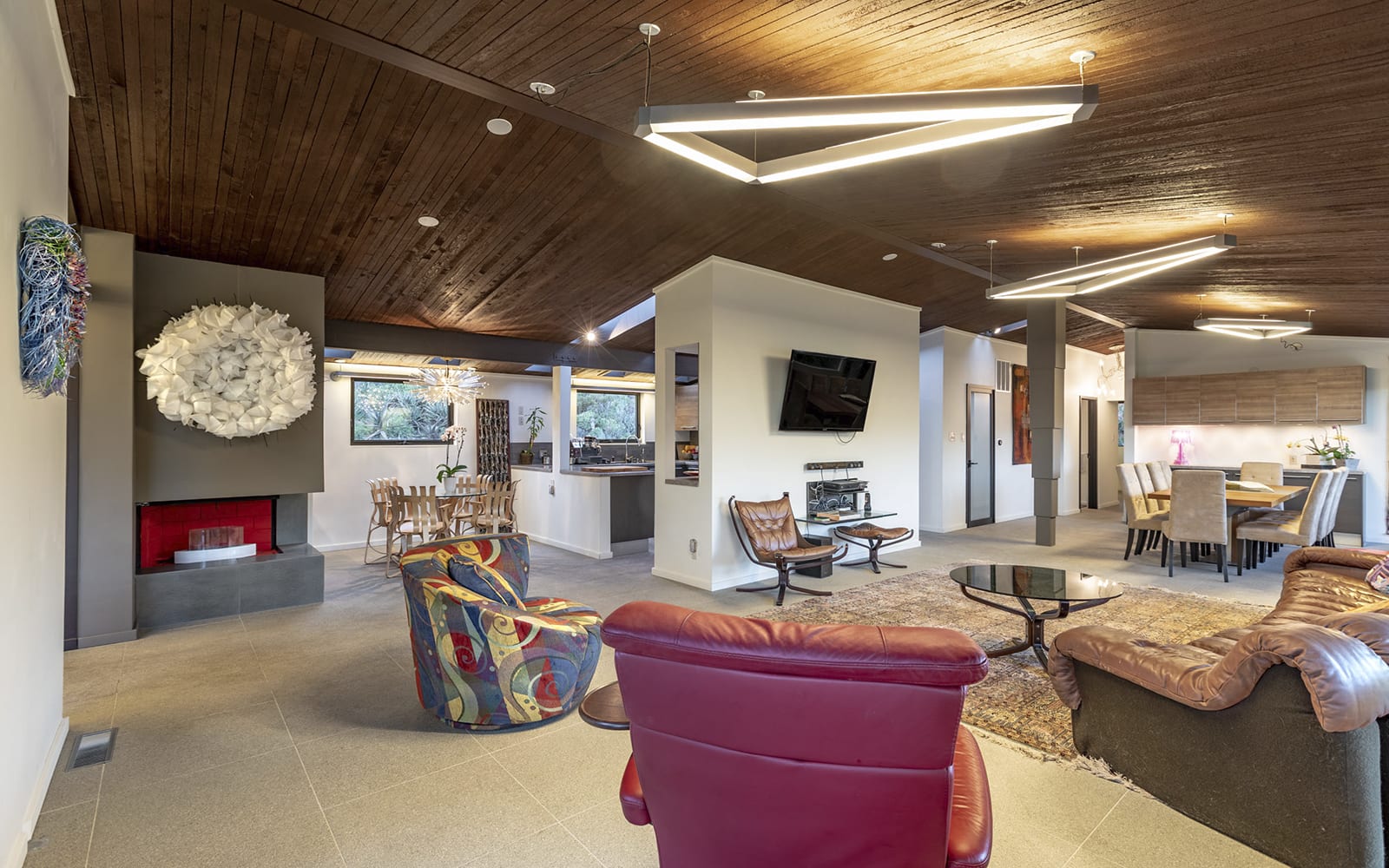 Originally designed by case study architect Rodney Walker, this iconic Mid-Century modern was tastefully remastered three years ago by architect Michael Gralla. With three bedrooms, two bathrooms, a detached multipurpose studio, and 3,010-square-feet of living space on a 3/4 acre lot, the possibilities are endless in this private inspirational oasis effortlessly connecting man and nature. Canyon views and exotic greenery at every turn creates the ultimate California lifestyle.
Represented by Branden Williams & Rayni Williams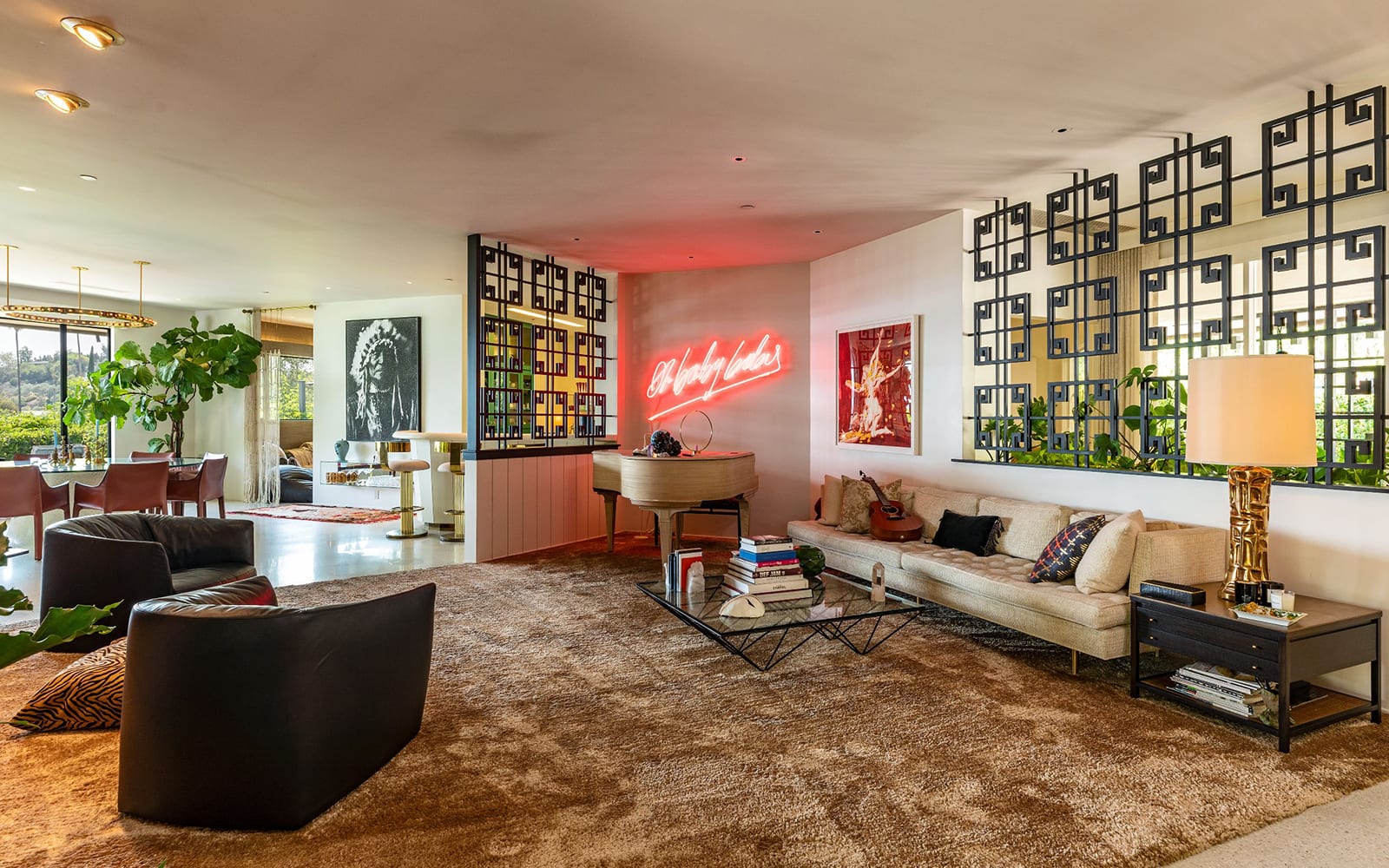 Paul Williams: The legend that gave us the Beverly Hills hotel, LAX's iconic Theme Building, and the hideaways of the greatest names in history, this was his finest work. Save for the renowned estate of Frank Sinatra, his only other Mid-Century Hawaiian gem. Among the stars on Hillcrest Road, the finest street in all of Trousdale, this masterpiece was the perfect candidate to task the discerning minds of Marmol Radziner with restoring. Spearheaded by the style master Brad Dunning, and the product of a fastidious two year restoration, this is the holy grail for the ultra-chic who seek nothing less than perfection.
1816 N Stanley Avenue
Represented by Brett Lawyer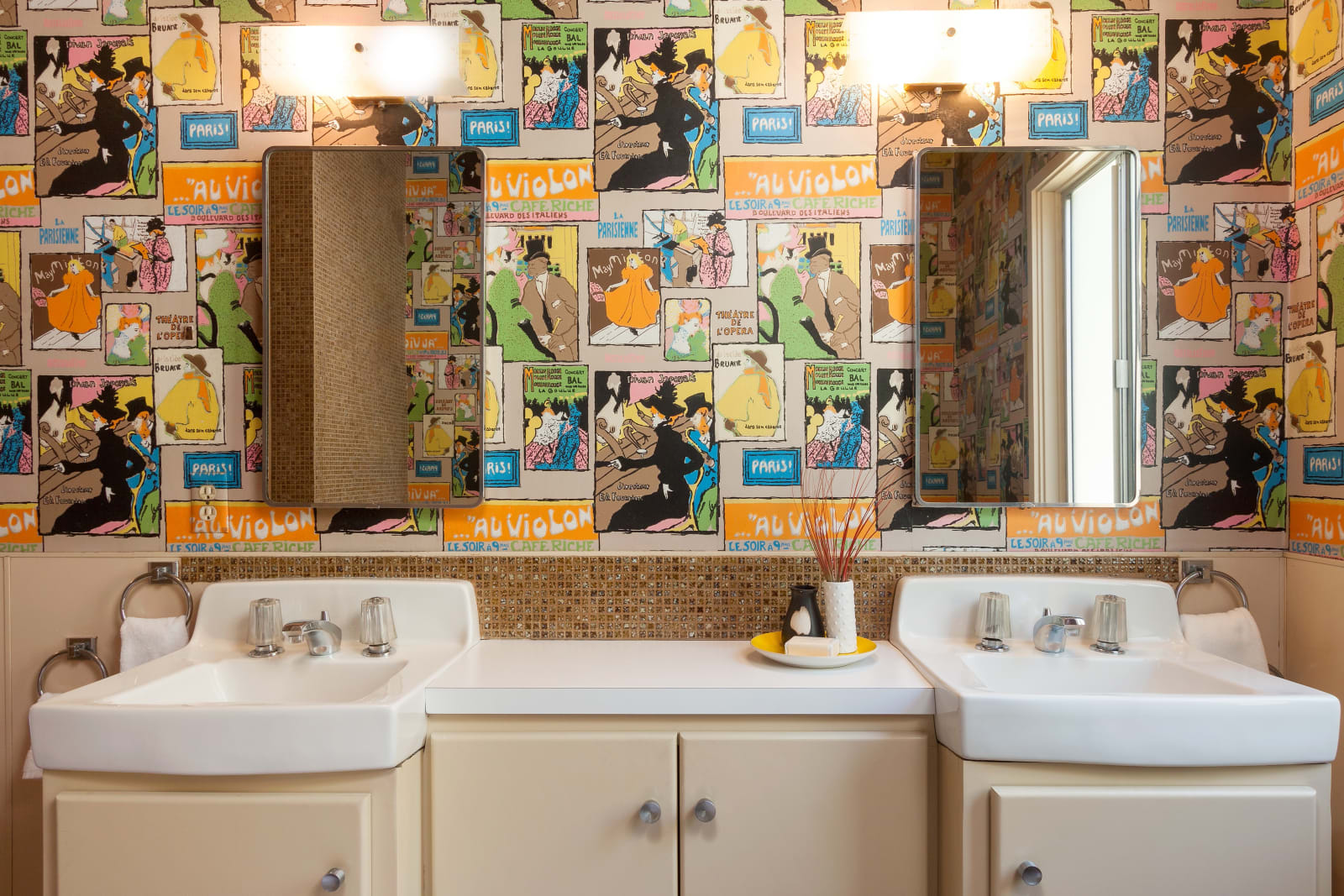 Brett Lawyer presents The Schustack Residence 1957 by Howard Lane, FAIA. Set on a large gated flat lot with great potential to expand, restore, or develop a new structure, this mid-century captures wide city views from the second story.
RECENT SOLDS
A. Quincy Jones-Designed Midcentury Modern
Represented by Christina Collins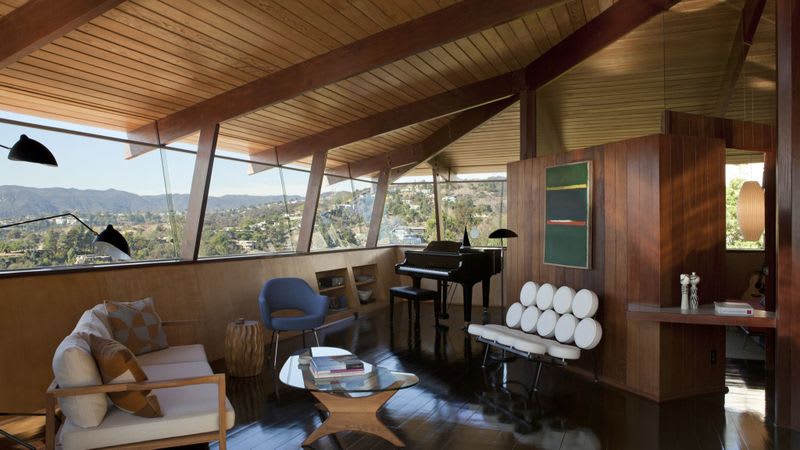 Built in 1950, this 4-bed, 2.5-bath Brentwood Midcentury Modern recently sold for $3.362 million. Designed by noted modernist A. Quincy Jones, Christina Collins represented the recently renovated and restored showplace. The eye-catching dramatic roofline and walls of glass are just a few of the home's standout finishes. The recent renovation stripped away years of paint and other elements, returning the estate to its original design details of raw wood and concrete.
Robert Skinner AIA in Trousdale
Represented by Rona Passman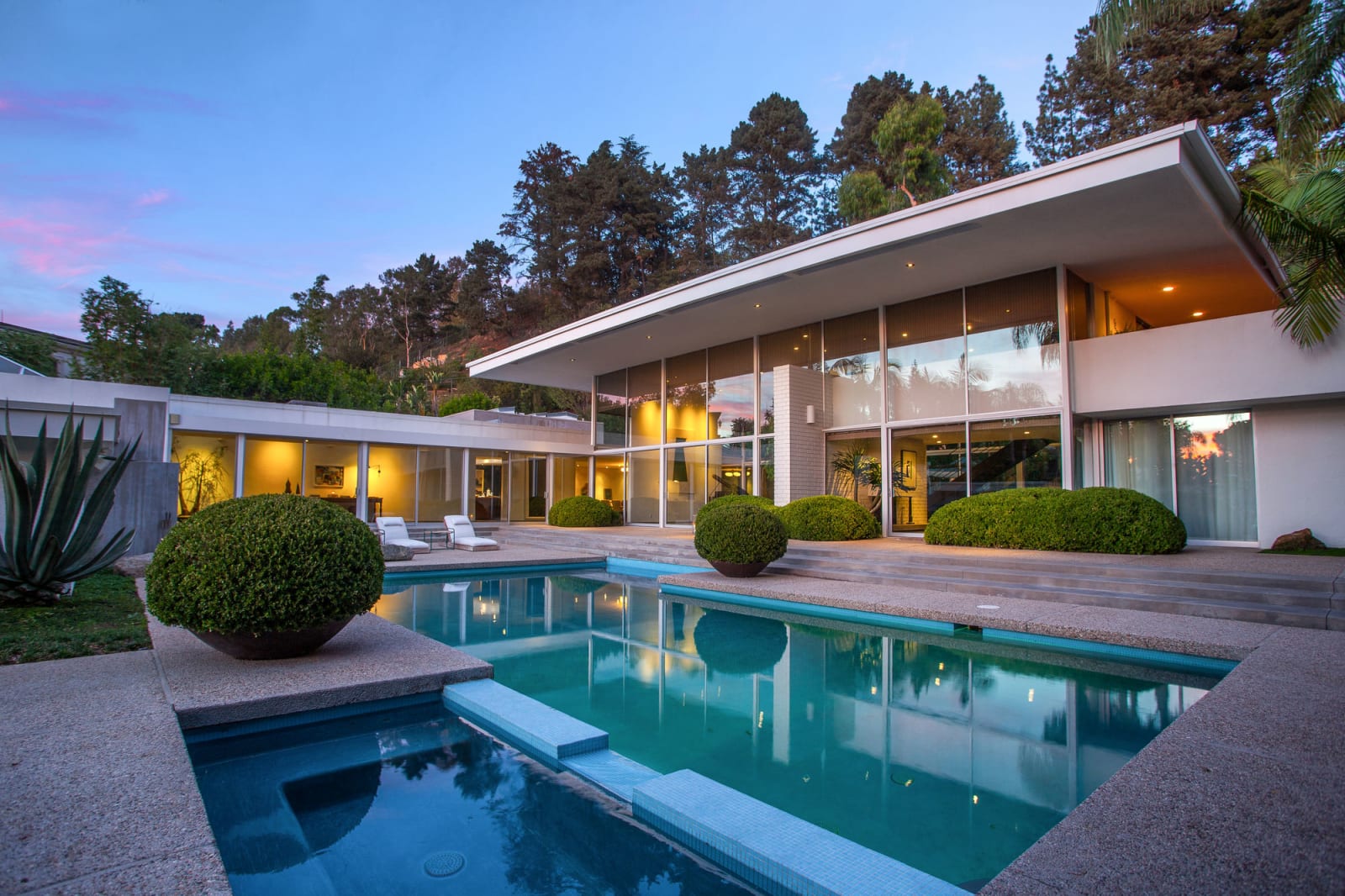 Built by Robert Skinner (AIA) in 1962, this exquisite mid-century masterpiece was recently updated with the finest modern luxuries while keeping true to era. Gated on a quiet cul-de-sac in coveted Trousdale Estates, this property is perfect for the connoisseur who wants to live in a work of art. Skylights flood the home with natural light and the open floor plan creates terrific indoor-outdoor flow. The picturesque pool area is a Southern California dream with an outdoor fireplace and multiple seating areas. Surrounded by lush, mature trees for privacy, this residence is a truly rare and special trophy property that could not be replicated today.