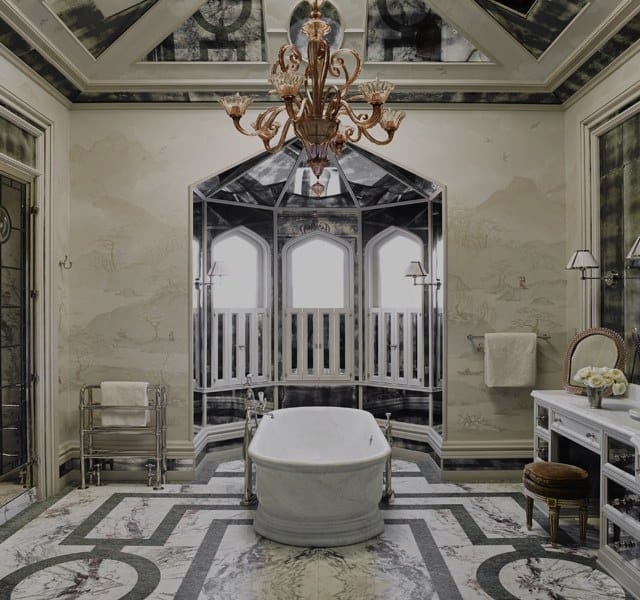 Bath spaces have always been a key element of luxury homes. Today's bathrooms, however, are just as much about creating an experience, as they are utility. The bath space that was initially intended for a mere wash and touch-up is now transforming itself into a private oasis with elegant touches. Needless to say, they have undergone a sea of change with the aspiration for beauty and indulgence reaching beyond the narrow confines of luxury. To no surprise, this birthed an evolution in art and design, with innovation and technology reaching unimaginable heights.
Since bathrooms are an amenity, their importance is far greater than we give it credit for. From bright and cheery to sophisticated and imposing, modern bathrooms have long gone beyond the limit of space and into peaceful havens for cleanliness and modern comfort. Contemporary details including an abundance of natural lighting, mid-century furniture, greenery to bring the outdoors inside, a freestanding bathtub, and minimalist design transform mundane bathrooms into stunning and rejuvenating spaces. These Hilton & Hyland contemporary sanctuaries are sure to have you bathing in the lap of extravagance.
1822 Marcheeta Pl, Los Angeles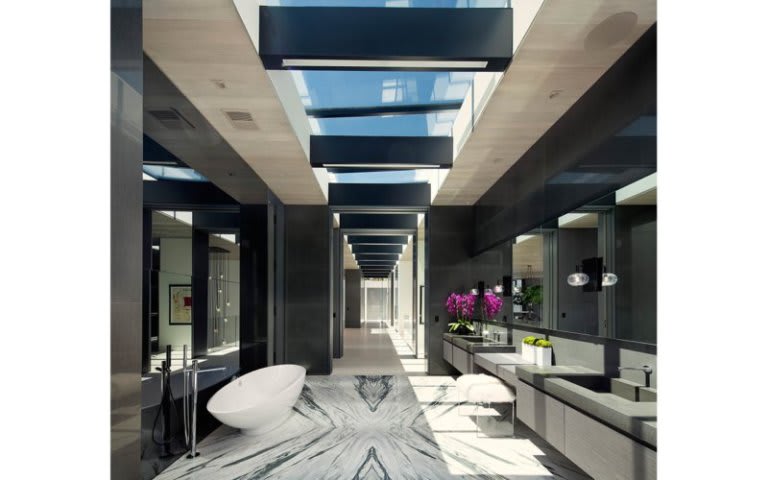 Limestone floors coupled with a stunning blend of an open glass and wood paneled ceiling provide an aura of calm sophistication, allowing just the right amount of sunshine or moonlight to dance across your skin after drawing a warm bath, depending on the time of day.
8516 W Hedges Pl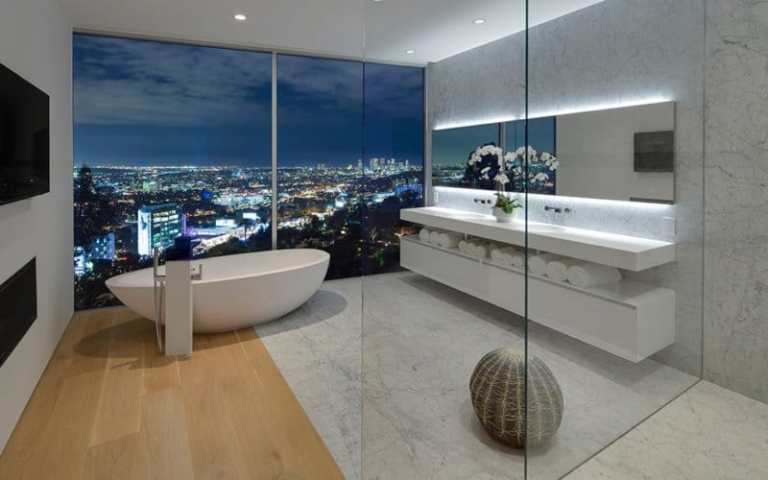 A minimalist but warm material palette is displayed throughout the interiors. Custom wide plank white oak floors flow throughout the living spaces. Finishes of the highest quality are used throughout including frameless glass interior doors by Rimadesio and Bathroom cabinetry by Antonio Lupi. Take evening soaks in the oversized tub and gaze out to the twinkling lights of Century City.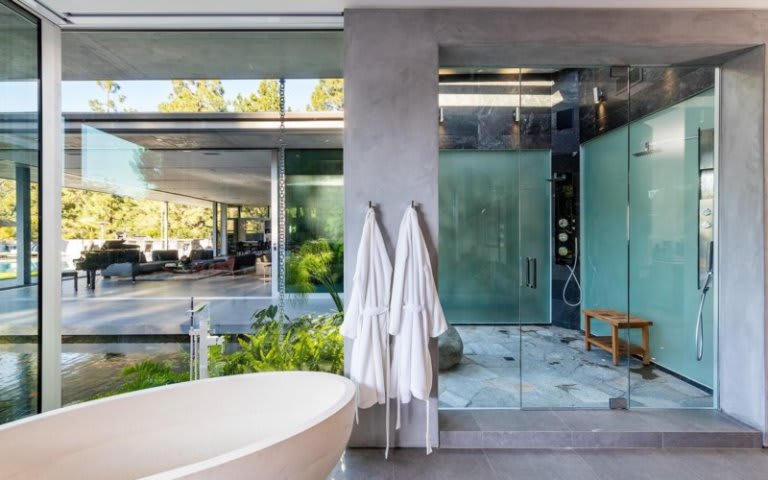 Rivaling a 5-star Bali resort, this luxurious bathroom exudes contemporary zen through its automated Fleetwood sliding glass panels – providing abundant natural light and creating indoor/outdoor living at its finest. A seemingly outdoor shower provides the utmost space and chic comfort, with a little help from a meditation rock to achieve serenity and elegance.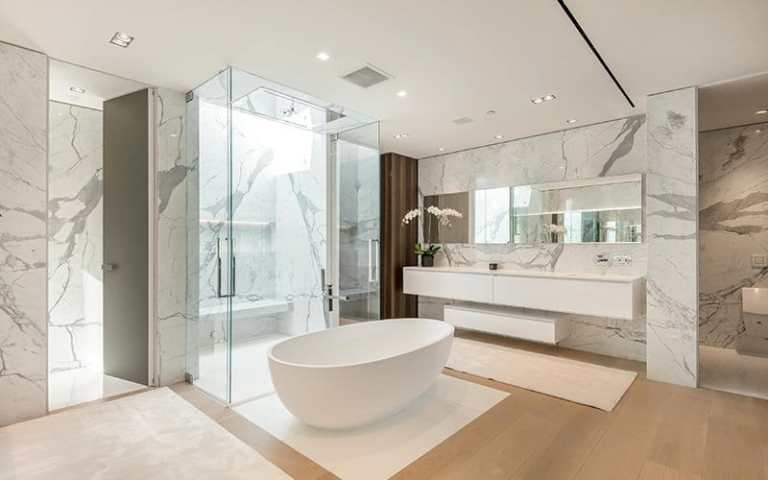 Smart is the new chic. The beauty about smart technology is its sleek glass aesthetic – literally. With the state-of-the-art glass shower and freestanding tub at the focal point, and the white and grey marble walls juxtaposed against the wood planks, the ultimate sense of luxury minimalism is conveyed in this master bath. Balance is key and it shows in this contemporary work of art.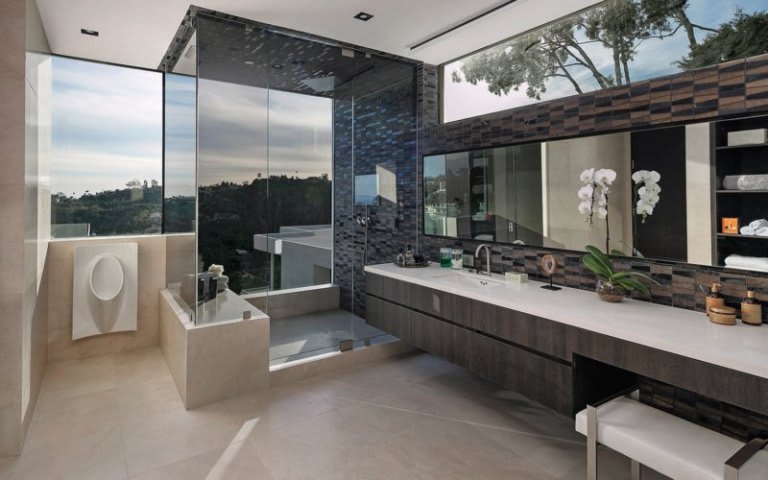 This bathroom takes its cue from ultra-luxurious resort living. Boasting a dramatic bright and open floor plan, breathtaking panoramic canyon, city and ocean views from your waterfall shower, in addition to surrounding glass walls, this exquisite bathroom seamlessly creates an indoor-outdoor flow in your own private getaway.
5904 S Village Dr, Playa Vista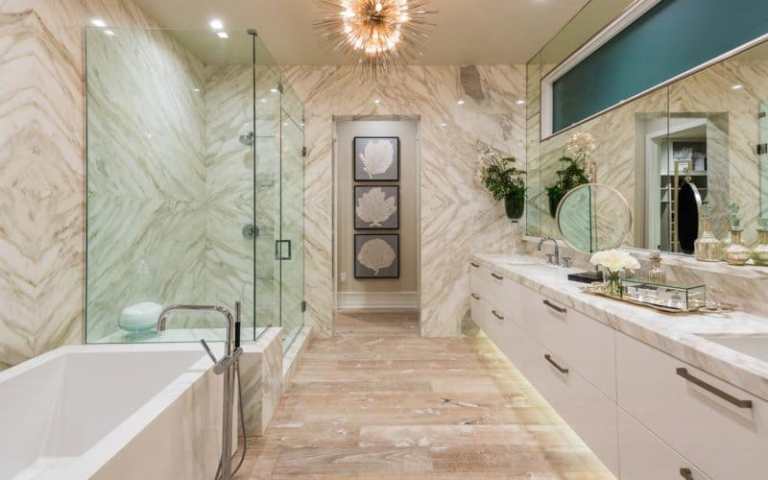 Stunning gold accents in this Jewel – Playa Vista master bath truly do all the talking, as well as add fine touches such as the gold fixtures, plants, and contemporary chandelier in the center.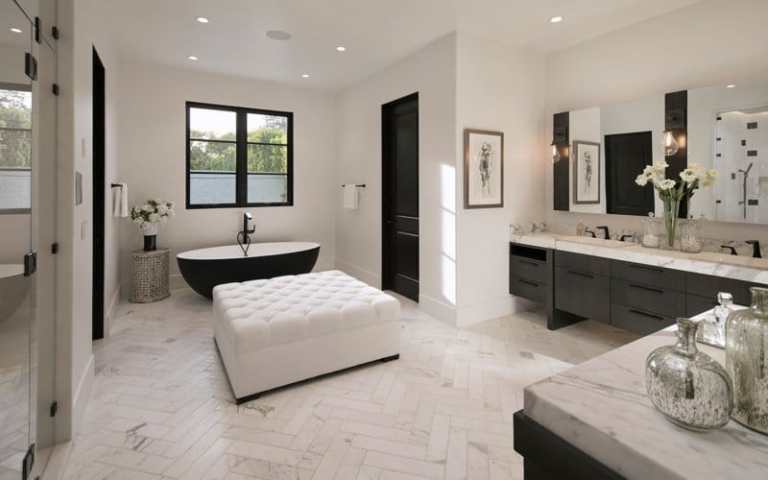 The beautiful contrast of black fixtures and white marble is as classic as it gets. With a comfortable and elegant seating area, this bathroom was designed for relaxation.