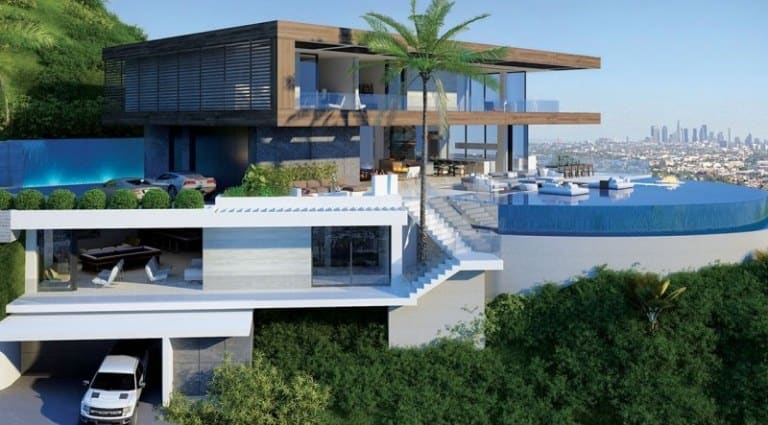 If 2016 is any indicator, with our historic Playboy Mansion sale, 2017 will only continue to bring more exciting breakthroughs, innovative design, pioneering trends, and state-of-the-art technology to the luxury real estate market. As it is, Hilton & Hyland has already set the new standard for luxury real estate this year when we listed the record-breaking Makowsky Estate in January. To put it simply, there is never a dull moment in this high-end industry.
International Buyers Crave an Extravagant American Lifestyle
This wealthy group is not expected to lose interest in U.S. luxury real estate anytime soon; instead, they are diversifying their scope. Foreign buyers are traveling far beyond their borders to discover safe investments and opportunities for long-term growth in an upscale home in an exclusive and affluent neighborhood such as Beverly Hills. The United States has always been highly desirable by international investors so as long as the luxury real estate market remains safe and profitable, the U.S. will continue to attract this wealthy group, especially Asian buyers.
Portfolio Banks Are Making it Easier to Finance Luxury Properties
It is an exciting year for luxury real estate as more and more portfolio banks are allowing buyers to put down less to acquire more. When the mortgage meltdown occurred in 2008, banks retreated and the jumbo mortgage market froze. The pendulum totally swung from left to right, going from Stated Income programs, to Banks requiring full documentation of income with 2 years of tax returns and a minimum down payment of 30-35%. With the ice beginning to thaw, mortgage guidelines are becoming more relaxed as the pendulum starts to swing towards the middle. Now that these loans have performed and produced higher interests, banks are getting more creative as the money supply tightens with higher interest rates. For example, instead of demanding two years of tax returns, banks are helping buyers get into luxury homes by only requiring one year of tax returns. There is more leverage on the loan amount with luxury buyers no longer having to put down 30-35%. Instead, they can be afforded a 25% down payment, assuming they have qualifying income, above average credit and at least 24 months reserves of their total monthly housing payment including property taxes and insurance.
Post-Election Period Calms the Market
Prior to an election, uncertainty looms and slight chaos emerges. While this wasn't your typical election and the dust hasn't completely settled, from a luxury real estate perspective, the market has managed to return to a place of neutrality as buyers' enter a time of restoration. The focus is redirected to the home and the uncertainty of the past can ultimately be resolved with the purchase of new luxury property.
The Top of the Los Angeles Market is Astonishingly Cheaper Than Peer Cities
$1 million would get you 220 square feet of luxury property in Hong Kong and 271 square feet in London. For the same price, you can get more than double the space, with about 692 square feet in Los Angeles. To paint a more vivid picture, $5 million can get you a single-family residence + backyard in Los Angeles as opposed to a 4×4 on top of the fish market in Lower Manhattan. That, coupled with lower property taxes and far more warm and inviting weather than our peer cities, Los Angeles has quite the advantage.
A Look at History
Throughout the remainder of the year, the luxury market will likely see more affordable prices given the recent period of high asking prices and decreasing absorption numbers (which, from a historical perspective, is usually followed by an increase in affordability). With the luxury real estate market becoming more accessible, we'll likely see an increase in total purchases made from now until the new year.