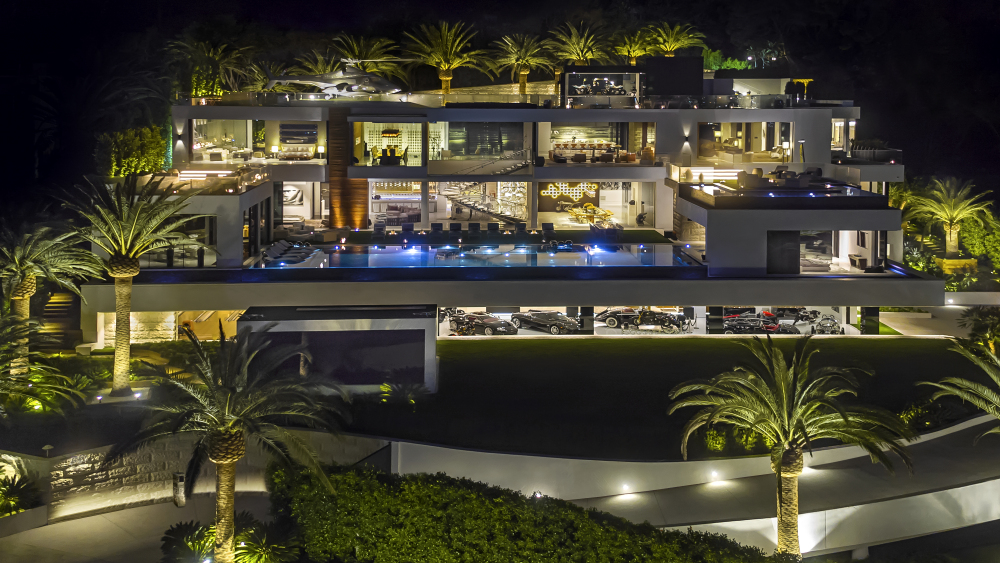 Homes built on spec are a hot commodity as demand continues to outstrip supply. The continued upward cost of Southern California's residential real estate attracts entrepreneurs willing to risk capital to construct larger and grander homes that appeal to buyers with lots of money to invest.
Today's spec homes range from bold bespoke visions intended for billionaires to smartly designed multi-level town homes like Jewel in Playa Vista set for turn-key occupancy by rising stars of tech and showbiz. Current square-foot averages are an irresistible lure to developers; per the most recent DQ News statistics, prices per square-foot averages are now $4,825 in Beverly Hills' coveted 90210 Zip Code, $4,838 in prime Santa Monica, $4,035 in Pacific Palisades, and $3,095 in Marina del Rey.
Pushing the spec home envelope to jumbo-sized proportions, a 38,000-sq.-ft., $250 million Bel-Air hilltop spec mansion from BAM Luxury Development Group's Bruce Makowsky comes with all the imaginable fixings, furniture, and finishes necessary for an ultra-modern, regal lifestyle, including a seven-person staff pre-paid for two years. The soaring sticker price reflects the prime Bel-Air locale, an optional $30 million car collection, California's largest rooftop infinity edged-Jacuzzi and the most advanced audio and video technology.
"Everything had to be the best," says Makowsky of the house's extravagant fit and finish, which he likens to a landlocked mega-yacht. The developer excavated the hillside 80 feet down to build out four levels behind a $7 million retaining wall. Rooftop decks and terraces are fully outfitted, adding 17,000 square-feet of living and entertaining space. He selected Branden and Rayni Williams (The Williams Estates) to rep the property because "they truly understand that California real estate is the most under-priced of anyplace, anywhere," says Makowsky.
"It's not an oasis, it's its own universe," says listing agent Branden Williams. When it comes to determining pricing for the singular property, the team went beyond weighing real estate comparables. "It's more emotional and takes in not only the replacement value but the feeling you get when you walk into the house," Williams says of the $250 million asking price that will net $6,500 per square foot when sold. "It's the best location in all of L.A. with neighbors who are titans of industry. How do you price that? This is the home of Iron Man. This is James Bond's home."
Though none yet surpass Makowsky's asking price, relatively expensive designed spec homes are found throughout L.A.'s most sought-after neighborhoods. Venice's Tami Pardee of Halton Pardee + Partners recently repped designer Kim Gordon's Milwood Avenue bohemian chic, five-bedroom, five-bath, 4,572-sq.-ft. spec house. The sale closed $600,000 over asking at $5.61 million.
Two contemporary designs from Mario Romano Design & Development are now on Pardee's slate. Romano, along with his wife, screenwriter Anya Kochoff Romano, are behind two unique homes, each sheathed in a highly sculptural aluminum skin. The five-bedroom, five bath, 5,700-sq.-ft. Preston House lists for $4.987 million; Romano's organically shaped Wave house (5,700-sq.-ft., five bedrooms, four baths) is for sale at $5.497 million.
These bold architectural statements are best understood as artworks. "People want stylized, soulful houses with character," finds Pardee. Due to changes in zoning and pushback from neighborhood groups, future spec homes in the area will most likely be smaller. "Those on the market now are a great value and won't ever be built again." Developers who command the highest prices commit to building something unique and beautiful, she adds.
The economy's turnaround propels spec homebuilders to invest in favored resort destinations too, targeting the upscale demographic. The 40-home Skye Palm Springs development (priced from around $1.4 to $1.6 million) on the edge of downtown, adjacent to the historic Tennis Club neighborhood, represents that growing trend.
"There isn't much new home competition and Palm Springs is on the upswing," says Todd Cunningham, principal, Woodbridge Pacific Group. The desert city continues to show strength in pricing and pace of sales, he says. Skye's architecture echoes mid-century modern design with double-height ceilings and sliding doors that telescope, allowing for indoor/outdoor flow.
"There's a ton of demand right now," says Hilton & Hyland's Kris Zacuto. "Developers are still seeing margins in an escalated market."