Regarded as one of LA's most revered Mid-Century modern architects, scholars and disciples of the genre love his work, but the elusive designer remains a quiet enigma, an Angeleno resident and alumni of USC's prestigious School of Architecture, Skinner lets his homes speak for themselves.
Skinner's significant contributions to the architectural fabric of Trousdale Estates, Coldwater Canyon and pockets of Beverly Hills abound, just listed is one of his most published, The Rowan Residence in the star-studded Hidden Valley Estates enclave. Skinner commissioned Julias Shulman to photograph the 1961 built home and it features in the third edition of Julias Shulman: Modernism Rediscovered, often deemed the the ultimate visual guide to Modernism.
Shortly after completion the Rowan Residence became home to the Beckets, an architectural dynasty themselves, and 9557 Lime Orchard Rd remained off-market for 40 years. In 2015, having fallen into disrepair, the iconic homestead was then purchased and reimagined by Greg and Jessica Cavic, they hired architect John Bertram and designer Sarah Shetter, and together, with the help of Shulman's photographs embarked on meticulous two-year renovation of the now 4,600 sq ft home. The warm and elegant space with walls of glass throughout create the ideal setting for indoor/outdoor living and entertaining, Judy Kameon was bestowed the task of recreating the verdant grounds, the result of which is a stunning legacy-property with a storied past, and enviable future.


9557 Lime Orchard Rd, Beverly Hills | $9,350,000 | Represented by Brett Lawyer | View Listing
Hilton & Hyland has also proudly brokered his most iconic Trousdale property, 400 Castle Place, one of the rare two-story properties within the dynamic Paul Trousdale developed Estate. Built in 1962, this Mid-Century treasure featured oversized entertaining spaces, two-sided fireplaces and a Slim Aarons worthy pool.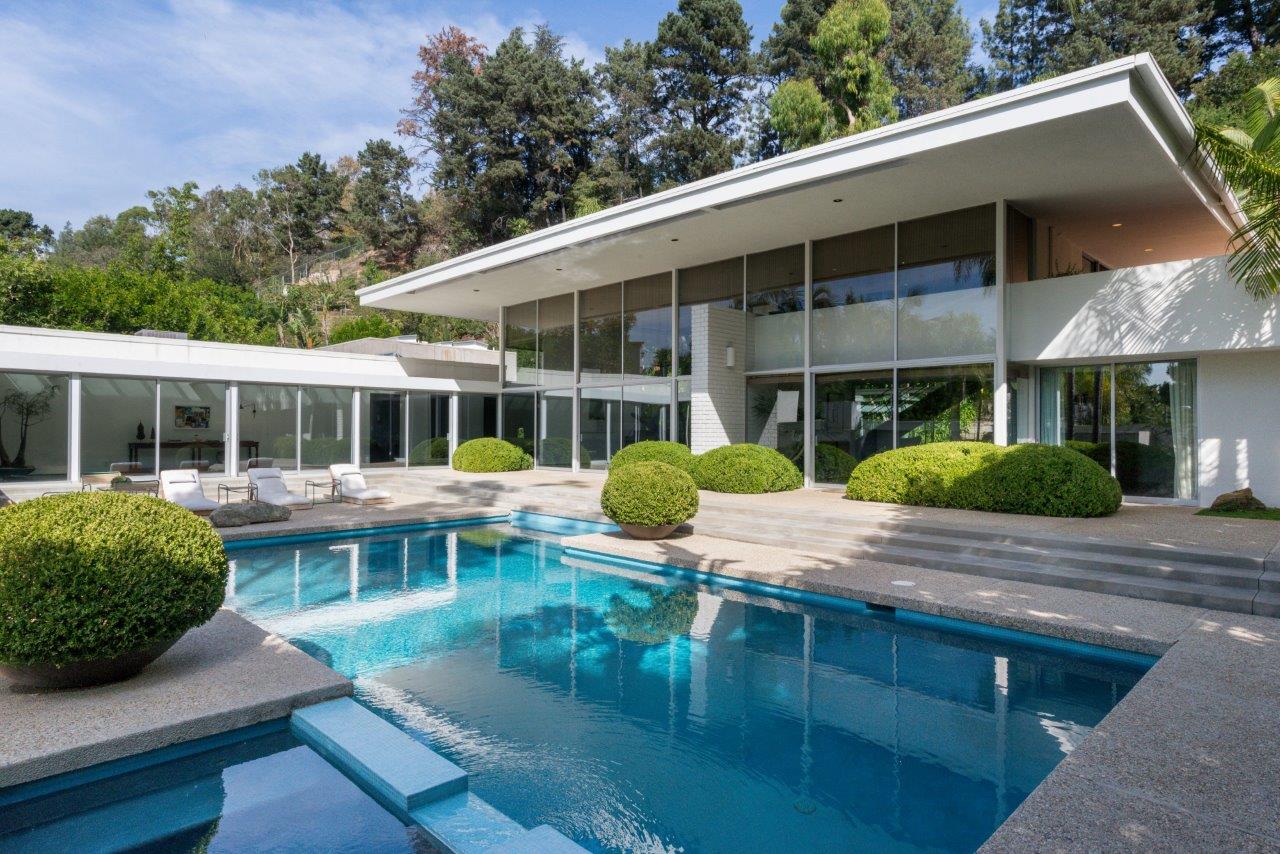 400 Castle Place, Beverly Hills | SOLD: $10,2990,000 | Represented by Rona Passman | View Listing
Story written by Judith Parker