Malibu, an iconic coastal paradise west of Los Angeles, is a 30-mile stretch along the Pacific and Highway One. Atop the list of sought-after locales and known for its world-class beaches, fine dining, hiking trails, and enchanting panoramas, Malibu is a sensational scene in our Southern California movie.
"Malibu is and will always be my home," said Chad Rogers, Estates Director at Hilton & Hyland. "Cruising down PCH as the sun sets and the sky turns from a beautiful blue background to a pink pastel portrait is truly magical."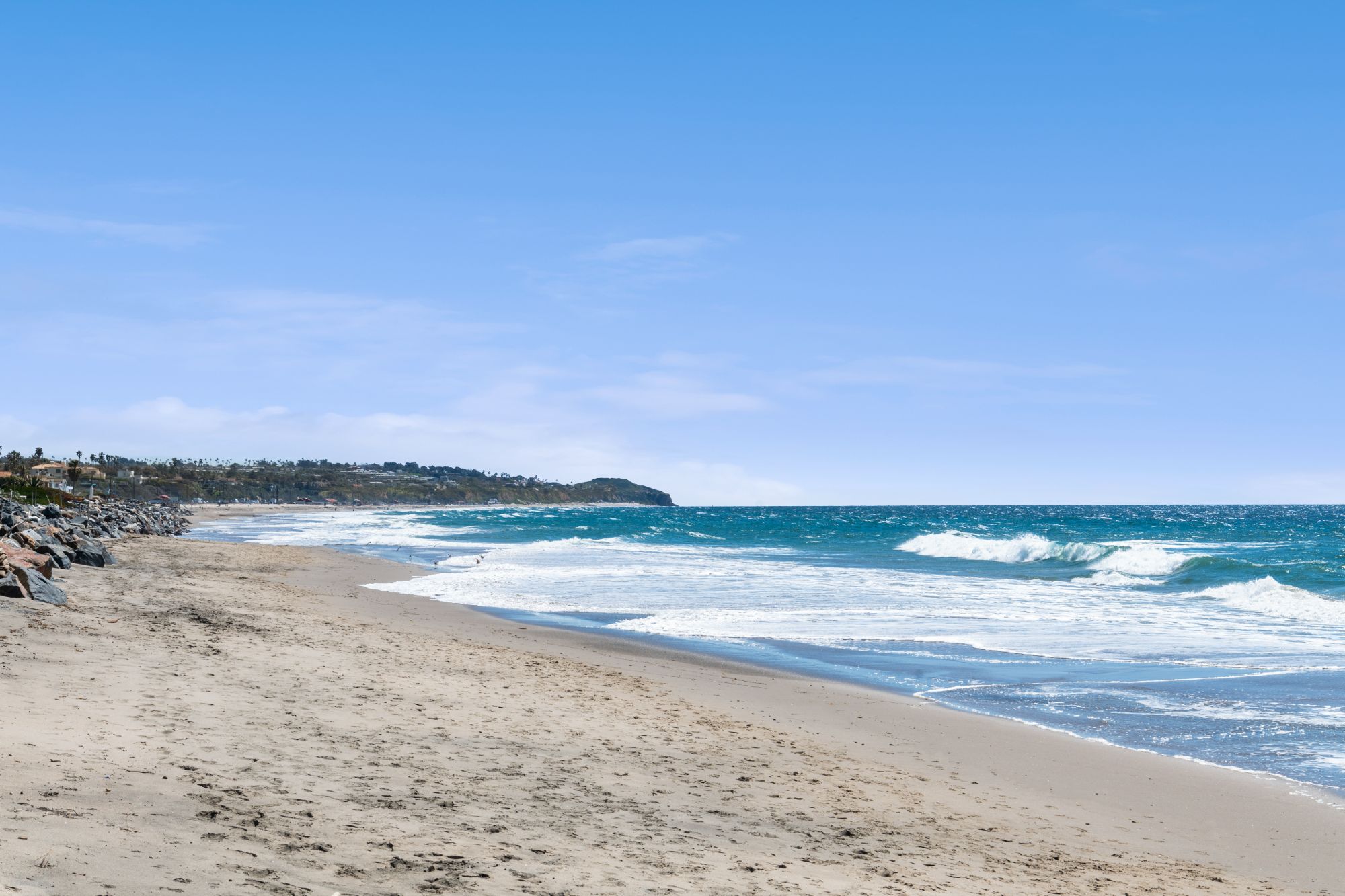 The original site of many Native American domiciles, Malibu land, has experienced generations of transition to become the global destination it is today. According to the City of Malibu, documented writing from the Chumash tribe is found from as early as 1542 and speaks to a Chumash village, Humaliwo, which would be recognized today as The Malibu Lagoon Museum. As the story of Malibu dates back centuries, it is complex and filled with stories of historical battles and fables.
While Malibu shares a deep history rooted in legend, the city proudly displays its artifacts and relics around local hotspots for the public to see. Speaking to the city's rich history are The Getty Villa, the Frederick R. Weisman Museum of Art at Pepperdine University's Payson Library, Paradise Cove Beach Cafe, and The Surfrider Hotel.
The Getty Villa
Paul Getty, a billionaire businessman and avid art collector, opened the Getty Villa in 1974. A location for the public to view an incredible assemblage of the world's finest Classical and Renaissance-era artworks. Designed by Robert Langdon and Ernest Wilson, in consultation with Stephen Garrett and Norman Neuerburg and, according to the Los Angeles Conservancy, were set on creating a "re-imagining of Herculaneum's Villa dei Papiri, a Roman villa burning in the eruption of Mt. Vesuvius in AD 79." Then, through the turn of the century, architects Rodolfo Machado and Jorge Silvetti captained significant renovation projects to the Villa's site plan, landscaping, and buildings. After completion in 2006, The Getty Villa Museum is the site of limited Greek, Roman, and Etruscan art, while the rest of Getty's expansive collection is at the Getty Center in Brentwood.
Paradise Cove Beach Cafe
Family-owned for about half a century, the 70-acre paradise in one of Malibu's exclusive coves was obtained through two separate acquisitions – purchasing the first 30 acres from Fred Roberts and the adjoining 40 acres from Bill Swanson. Aimed at creating the ultimate California Beach restaurant experience, Bob, Kerry, Timothy, and the entire Morris family have made the Paradise Cove Beach Cafe a staple in Malibu's legacy and one of the most visited destinations in the city. Part of the same restaurant family that built Gladstone's Malibu, The Jetty, RJ's the Rib Joint, Malibu Sea Lion, and a few others, the story of this coastal paradise is nothing without the Morris family.
Internationally, Malibu is renowned for its ultra-high-end lifestyle. Separated from the Los Angeles city center by imposing natural canyons yet connected by the Pacific Coast Highway, you are home no matter where you are in Malibu. "It's where people come to luxuriate in the sunshine and atmosphere and put all pretenses away," said Laura Kalb, Estates Director at Hilton & Hyland. "Winter or summer, rain or shine, you always feel like you've arrived when you're in a place as special as Malibu, California."
Compounds, estates, and charming abodes stretch the city of all architectural styles. Whether you are looking for a home in the guard-gated celebrity enclave of Malibu Colony or Paradise Cove, searching for a beachside mansion on Broad Beach, or looking for land to build your dream property, Malibu is for you.
Located in the exclusive gated Sea Lane enclave adjacent to the famed Paradise Cove beach, this contemporary masterpiece was originally designed by iconic Malibu architect Matt Kivlin with hardscapes by designer Jay Griffith. Situated on nearly an acre of lush grounds, this ocean-view estate compound is behind gates and walled for exceptional privacy, security, and seclusion — all while being just moments from one of the most exclusive and desired beaches in Malibu. With deeded private beach access to Paradise Cove and Little Dume, this is a rare offering on the beachside of Pacific Coast Highway. Represented by Chad Rogers and David Kramer.
With all-new interior finishes and spectacular whitewater and ocean views, this stunning architectural compound is luxurious, spacious, and awash with natural light. Set behind gates, with beautiful landscaping and exceptional privacy, the property provides expansive indoor and outdoor spaces for year-round dining, lounging, and entertaining. The home's backyard, which extends all the way to the sands of Broad Beach, has both covered and open decks and patios, a built-in sound system, a Jacuzzi, and a variety of sitting areas, including one right at the edge of the beach perfect for morning coffee, whale watching, cocktails, and star gazing. Represented by Laura Kalb.
An extraordinary combination of architectural quality, style, and character, this property is a rare find on Malibu's highly coveted La Costa Beach. Situated on an oversized 60' wide lot, boasting truly exceptional details and privacy rarely found in Malibu beach houses, the layout effortlessly adapts and accommodates anything from a quiet weekend with a loved one to a full house of family and friends. A truly exceptional and very special property. Represented by Stuart Vetterick.
Stunning, private, spacious, and gorgeously refurbished inside and out, this nearly one-acre garden property commands sweeping views of the ocean, islands, and coastline. Mature trees, vast wraparound lawns, and manicured gardens offer an idyllic oceanfront setting for indoor-outdoor entertaining and recreation. Located above beautiful Dume Cove at the end of a long-gated drive, the open-concept architectural estate features very high ceilings, huge windows, vanishing glass doors, and hardwood floors. Represented by Laura Kalb.
Located behind shared gates of the Rosenthal Estate are 38 magical acres of lush hills, a vineyard, a large flat building pad, a pool with a pool cabana, and serene ocean views. The original 2,369 sqft main house and guest house were lost in the Woolsey Fire, but the pool and pool structure are still on-site, as well as a storage structure and chicken coop. Completely private with a second gate, paved driveway, and offering easy access to some of the best hiking on the backbone trail, this property is truly one-of-a-kind. Represented by Chad Rogers.
Interested in Malibu homes? Please view our selection of exclusive properties here.